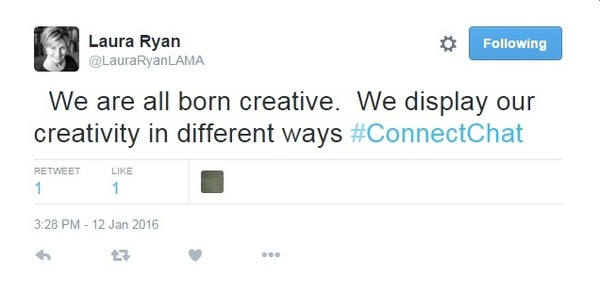 Think you're not the creative type? Think again! Creativity is an essential part of problem solving and becoming memorable to our customers, readers, or other stakeholders important to our business. We recently held a Twitter Q&A with creativity and innovation expert, Laura Ryan, president and founder of LAMA Innovation where she explains the difference between creativity and innovation, tips on how to produce better and bolder ideas, and creativity trends that we can expect in 2016. Check out the highlights from our chat:
Tell us more about LAMA Inc.
[We do] training and facilitation of creativity, innovation and strategic planning. We love what we do! Proud graduates of #ICSCreativity
How do you define creativity?
[The] ability to set aside judgement & inhibitions to propose, select and implement most novel and valuable ideas to solve a problem. Let's look at five other definitions of creativity:
Creativity is imagination inseparably coupled with both intent and effort #alexosborn
Production of ideas or outcomes that are both novel and appropriate to some goal -@TeresaAmabile
Making a change within a given context that sticks for a while @pucciogj
An associative and playful process that stimulates new and valuable thinking - @JohnCabra
Creative thinking is more than new ideas; it's living life open authentic and curious. It's a mindset and approach to everything we do - @Cyndiburnett
Look at creativity in a broader way. Consider the 5P's of creativity: person, process, press, product, persuasion.
Interesting -- can you elaborate on the 5 P's of creativity?
PERSON: We are all born creative and we are [our] best creative selves when we are imaginative, open, take risks, and accept mistakes.
PROCESS: It's a repeatable framework to solve problems and make change.
PRODUCT: It's what evolves from creative people working in creative process. It's the creative product service or process.
PRESS or environment. Both the physical and emotional space in which you work where creativity can thrive.
PERSUASION: Creativity doesn't happen in vacuum. If big change is going to occur collaboration and consensus building are important.
Can you tell us what inspires your creativity (and what might help others)?
Everyone's creativity is inspired differently. The first is ambiguity; I have a (trained) high tolerance for ambiguity. When faced with a problem, I accept that I don't immediately know the best solution. Letting go of desired outcome, I allow time for incubation and divergence of multiple ideas before I choose one and move it forward. The second is curiosity; I have been called "the Riddler." I'm inquisitive because responses to questions stimulate new ideas and solutions to problems I will encounter at another time. The third is celebrating mistakes: that is a critical component of the creativity process. I grew up with parents who allowed and encouraged mistakes. It liberated me to be creative without judgement. Do the same for your children and for your employees -- it's a gift.
Is there a difference between innovation and creativity?
I am quick to point out that creativity and innovation are not synonyms. Creativity is generation of a novel and valuable idea; innovation is when that idea is accepted. In a for-profit company, that translates to revenue. In order to have innovation, you must first have creativity.
Good point. What is the difference between people who are "creative types" and those who are not?
We are all born creative. We display our creativity in different ways. An artist paints and sculpts. The researcher finds the cure. The engineer creates a new design. A teacher finds a way to get through to the kid who is struggling. A cashier finds a faster process to get people through checkout. A plumber finds the means to fix a leak when no one else could. These are all forms of creativity.
We have the ability to measure our style, preference and level of creativity. We are ALL creative. And we have evidence-based research showing that we can increase level through creativity training.
Why is creativity important to problem solving and strategic planning?
When we engage in creativity thinking we use two types of thinking: divergent and convergent. Divergent is when we go for the reach and consider a lot of options Convergent thinking is choosing the best solutions, using our critical, evaluative and analytical thinking skills. The gold is mined when you strike a balance between divergent and convergent thinking. Otherwise you risk ideas on a shelf that go nowhere or choosing the first idea that comes to mind not necessarily the best one.
Isn't it wiser to plan a strategy based on quantitative analysis?
Absolutely! And…we need creative thinking too. There is a higher likelihood of innovation if your strategic plan emerged from creative thinking. If strategic plan emerges from solely analytic and quantitative thinking this decreases likelihood of innovation & divergent thinking w/ absence of convergent thinking can result in overconfidence or reckless change. From creative thinking comes new value, dynamic future and my favorite…breaking the rules!
How do you inspire your clients to think creatively?
When organizations embrace a common language, repeatable process, and systems approach to creativity. they become an increasingly innovative powerhouse. When in facilitated session we use several metacognition tools=thinking about what you're thinking about. Brainstorming is one tool in a box of many. We also use brain writing, highlighting, forced connections, excursions, stakeholder's analysis, and many more. @Mind_Tools is the best resource I have seen for creative thinking tools
What is your advice for combatting the pressure to outshine competitors in creativity?
I agree, it is absolutely competitive. Companies that embrace creativity are never completely satisfied with where they are today. Tirelessly look at who they will become in future. This instinct is cultural. It's embedded into an organization's DNA. Creativity is more likely when action is rooted in purpose, change, or cultural evolution -- then it's intentional.
And there are ways to enhance our creativity. Be deliberate in your creativity practice. Use problem solving model such as CPS, Design Thinking, or de Bono to move you through the phases. Agree to participate in balance of divergent and convergent thinking. Agree to be a risk taker by trying out wild ideas. Take time to think. Deliberate and incubate. This quiet time is invaluable.
How do you balance creativity with risk?
When we design and test new products and services in market, it's an inherently expensive and risky. And we know that mistakes and failures are part of the creative process. A creative culture is one that recognizes that risk taking (within reason) is part of the creative process and that the first ideas are not necessarily going to be the best ones. When people fail, that represents learning, and the incremental improvements that can ultimately lead to innovation. Plan for the cost of failure ahead of time.
Can you give an example?
I work with one organization who is particularly committed to creativity and innovation. They boast 20% of their total sales come from new products. It can be incremental improvement of an existing product or a new, ground-breaking product. At any given time, eight innovation teams were assigned to areas where the company believes they can grow company. Such an idea can be generated by anyone, at any level in the company.
Ideas are catalogued in a database and dispositioned depending on review. The people whose ideas are deemed good enough to gain momentum are compensated financially. All employees are encouraged to participate. Innovation teams are project-focused and cross-functional, reporting to a nine person strategy steering team of the company's top executives. Each quarter, two out of the eight teams present a "deep dive" to the steering team. A decision is made to continue or de-resource. If de-sourced, allocation of funds and personnel are redirected to a new innovation project. This example of strategic innovation is sophisticated in theory but very practical in execution – balanced risk!
What are some habits or exercises we can adopt to think more creatively?
Next time you are called to be creative (any time you are faced with a heuristic problem), pause and take a breath. Lean into the complexity and ambiguity and shift your thinking. Come up with as many ideas as you can. Then when you've run out of ideas, push yourself to double your original number. Think you can't do it? Take a walk, a drive, or a bath and try again. Look at the evolution of your ideas. If you go for the deep stretch, you will see the ideas move from obvious, to novel to sophisticated and novel.
What are some creative trends we can expect in 2016?
Organizations are realizing the value in being more deliberate in their efforts to be more creative and innovative. Some are hiring CIOs (Chief Innovation Officers); I am getting asked more and more of ways to capture and vet ideas within an organization. This effort can be very cumbersome. The platform @imaginatik is one of most powerful I've seen. Organizations large and small are using it. It's a commitment and maybe several nuggets of gold to be mined with such deliberate efforts.
Whether you're a reporter, blogger, author or other content creator, ProfNet can help you with your search for expert sources. All you have to do is fill out a quick form telling us what you're looking for, your deadline, and how you want to be contacted, and we'll send it to the appropriate experts in our network. The best part? It's free! Get started here.