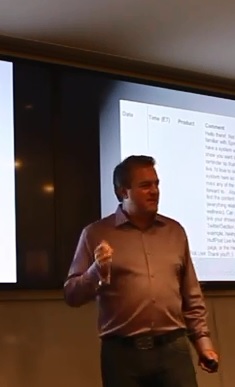 Last Wednesday, I attended an event hosted by HuffPost Code that featured Huffington's Post Director of Community Tim McDonald. McDonald discussed how to develop and maintain communities.
The Meaning Behind Community
It is not about what is a community, but more about who is community. Community is about people and having relationships with these people.
McDonald wants his community to be a bunch of "little monsters" that are passionate about his brand and what he does. If he is going to spend his time engaging with this community, then he wants them talking to their friends and their community about his brand. McDonald goes on to say that community management is about being a magnet. You want to draw in your community members and have them be stuck, and you don't want them to leave once they get there.
Community is very emotional, because people have an emotional connection to your brand. On the other hand, marketing is very transactional -- it is a like, a click, a retweet. Those people are not fans, but they are the crowd. Don't spend your time talking to the crowd, but spend your time talking to your community. Loyalty is about having an emotional bond to something. It is not about getting a discount or frequent flyer card, but it about being a firm supporter of a brand that you don't work for. But you need to remember to give that supporter something -- never forget that. You need to make it about them before you make it about you.
You also need to have a community that is exclusive, which can be as specific as providing an email address, or filling out a survey, or needing people to take the initiative of asking to be part of the community. The exclusivity will depend on the different levels of different objectives.
Case Study One: Exclusive Community
Murph, a Huffington Post member, who frequently comments on the site provides a lot of value because of the way he interacts with other commenters on the site. Murph was given the status of Community Pundit, which allows his comments to be longer and get text formatting. This member really likes it, because nobody else has it.
Murph is very valuable to McDonald, especially, when the change on Huffington Post occured to Facebook verified identies to comment. Before this change occurred, McDonald took the time to let Murph know. Even though Murph wasn't happy about it, he understand why it was being done. Murph was then going on to other sites where people were bashing Huffington Post and would explain to people why they should give Huffington Post a chance. This isn't something you can buy or do alone as a brand.
Case Study Two: Connecting With Community Members
When they started HuffPost Live, McDonald met a woman named Tash through customer feedback. In a polite way, Tash asked why they don't have a search function on HuffPost Live, so she could be alerted to the shows that she wanted to watch instead of needing to tune in and not know when the episodes would show. This search capability exists now, but back then it didn't, so McDonald emailed her back. He didn't use the standard email, but he wrote an email thanking her, apologizing to her about her frustration and explaining to her that he doesn't have a timeline on it but wants to try to make it happen. He ended by saying that if she has any other questions or if he can help her get involved in any other way, to please let me him know, and he provided his phone number and email.
Tash emailed McDonald back. They got in a Google+ Hangout and started talking about what she does and her passions. He was very helpful and interested in her, and at the end of the conversation she asked what she could do for McDonald. Since HuffPost Live just launched, they didn't have a huge existing database of guests they could call on. Right after that Hangout, Tash introduced McDonald to two or three people, and then the next day she introduced him to more people, etc. Most of the people she introduced him to ended up being guests on HuffPost Live. Tash also gave McDonald the idea to start a small private Facebook group where he could invite some of these guests in and tell them when the shows would come up, and then they could suggest guests for them and McDonald could give these suggestions to the producers.
Experiment
McDonald suggests to always be experimental, because he has realized that if he isn't failing then he isn't trying hard enough. Most of us start thinking that we don't have the finances, resources, or time to do something, but those are all just excuses. He explains that you don't need to build a huge project where you get everyone to sign off to experiment. McDonald has three rules for testing things: 1) He doesn't have to ask for anybody's permission. 2) He doesn't have to ask for any budget. 3) He won't get fired for it. He also thinks it may be helpful to find one of the stakeholders that you might be helping and tell them what you're doing, and make sure they think it is a good idea.
Final Thoughts
McDonald mentions that many people forgot about one amazing tool out there: the telephone. It has helped him connect with many community members in a deeper way than ever before by them hearing his tone, and by him being able respond to questions in an immediate manner. Of course, he says, you don't need to get on the phone with every single person, but with the people that are valuable to your community -- that small group of passionate, raving fans.
Here is the YouTube video of the presentation:
Whether you're a reporter, blogger, author or other content creator, ProfNet can help you with your search for expert sources. You can send a query to tens of thousands of experts and PR agents, search the more than 60,000 profiles on ProfNet Connect, or get timely experts and story ideas by email -- all for free! Need help getting started? Email us at profnet@profnet.com.