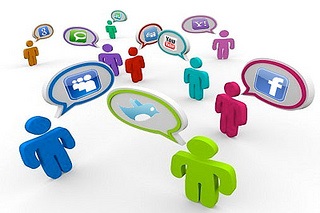 When discussing well-known social media platforms that are used by many, most people think of Facebook, Twitter, LinkedIn, etc. But, what will be the next social media platform that will get everyone talking and signing up for? I asked our knowledgeable network of experts to share their opinion on this subject, and this is what they had to say:
"The next big platform will be mobile-first, video-centric, and very much a combination of location and interest-based. Too much of what we get is either based on the time (most recent) or popularity. Neither are the only ways we want information about our friends. Thus, I think we will see the rise of a semantic-focused, location-based social network that is intertwined with our interests based on time of day, calendar, and behavior." -Andy Abramson, CEO of Comunicano, Inc.
"Visual/image-based social networks will be all the hype in the coming year. 2013 saw a major trend for image/video sharing, and this kind of visual content will continue to be a critical part of content strategies and 'sharability' will be something marketers have to keep in mind. For example, social networks like We Heart It could really a see a surge in users. We Heart It only came on the scene last year and now has over 25 million active users, and is adding over 1 million new users every month. There are many things that differentiate We Heart It from networks like Pinterest, but the most interesting is the site's young user base. About 80 percent of its monthly users are under 24." -Bonnie Bailly, director of marketing at Digimind
"I have two that I like, one for business and the other is really new and getting underway, but it has a super nice 'small town' feel of photos, videos and links with your friends or group at a party, gathering or ballgame. The first is Chirp. It emits a high-pitched, two-second-long, robotic squeak from your phone. Other phones within audio range pick up the sound and instantly download the photo or message. The second is Conversations. It's great for internal communications and it brings social networking into the office, and it's made by HootSuite. Instead of getting lost in long email chains, team members collaborate in real-time by posting on message boards, Facebook-style." -Steve Capoccia, account director at Warner Communications
"The 'next big thing' is people appreciating Tumblr and using it as the powerful tool it can be. There is a large demographic that has a higher income in addition to all of the younger audience that it attracts. It's really got the best of all the other platforms, so its versatility will make it a big standout." –Apryl DeLancey, director of marketing and social media at Blaze PR
"I think QuizUp is a really and truly fantastic social media application. Not only does it encourage users to challenge their minds, it also encourages them to challenge other people in different countries and states, then chat with them about common hobbies and knowledge. It connects you to friends, freeing you to indulge in a little harmless competition on your phone. As they grow their user base and adapt their app as such (expanding to Android was a plus!), I expect big things from them." –Kaitlin Jurt, social media manager at Spike
"Emerging platforms are increasingly leaning towards content discovery and creation, with the overarching strategic benefit of driving brand awareness and thought leadership. As people search for new sources of inspiration to create better content, social media platforms will evolve to better serve this need. The new Klout is an example of that type of evolution -- what started as a service for rewards-based influencer identification system has grown to include topically tailored content for users to add context and distribute throughout their digital footprint. Another great example of a platform addressing a need for discovery, creation and collaboration is Medium. Medium focuses on both articles and responses; it is a collection of collaborative storytelling. The next big thing won't be one platform -- it will be many targeted, niche and 'little' platforms that fill a big need." –Kriselle Laran, senior account supervisor, digital at Zeno Group
"The next big social network isn't a network, but a series of networks. We've seen two major classes of networks spring up in the last couple of years that have had explosive growth. The first category of apps are basic SMS chat replacement apps. Already huge in Asia, they are growing in prominence in the U.S., as well via apps such as WhatsApp, Tango, Line, Kik, WeChat, etc. These apps reduce the cost of operation and provide drop-in replacement for texting, along with rich media integration. The second category is the new wave of anonymous apps, such as Whisper, Rumr, Secret, YikYak, and others. These apps provide a level of anonymity (though how anonymous they are has yet to be tested by a hacker) for consumers to vent, share secrets and discuss sensitive topics without necessarily revealing their identities." – Christopher Penn, vice president of marketing technology at SHIFT Communications
"I just returned from a huge social media conference and everyone doing social media says the same thing: Google+ is where you need to be. It's also mandatory for search, so to come up in search you need to be on G+ and posting there. Facebook has changed their Edgerank drastically; in fact, people who had great organic reach there are now saying they lost about 70 percent of their reach after these changes, so Facebook is going almost all paid. G+ is not (yet) and the reach there is tremendous, so I think that G+ is getting in the game at a great time. Lots of people are migrating there now because Facebook has gotten so tricky to navigate." –Penny Sansevieri, president/CEO of Author Marketing Experts, Inc.
"Data points to the next wave of social media apps featuring ephemeral posts that populate in one's timeline for a very brief period of time before being permanently removed. Snapchat leads the charge with 56 percent growth from Q3 to Q4 in 2013 (Global Web Index). Recent numbers indicate Snapchat has 40 million users and continues to grow at a rapid rate. Call it a desire for social privacy or a turn toward a more intimate online social experience -- the shift has been fast and furious. While 'traditional' social platforms like Facebook center around a digital scrapbooking model, the next wave of social sites provides exactly the opposite experience. With social apps like Snapchat, Wickr and Frankly, content is shared for a brief period of time (as set by the user) and then 'disappears' forever. Driving this social shift is the younger generation of 13 to 25 year olds who no longer want the digital footprint of traditional social media sites. Ironically, this young age bracket is also being called the "Like Generation," with social media natives driven to achieve mass popularity online. This dichotomy between mass appeal (Facebook) and intimate online social experiences (Snapchat) reflects the accelerated rate of change in our digital world." –Melanie Trudeau, digital strategist at Jaffe PR
Whether you're a reporter, blogger, author or other content creator, ProfNet can help you with your search for expert sources. You can send a query to tens of thousands of experts and PR agents, search the more than 60,000 profiles on ProfNet Connect, or get timely experts and story ideas by email -- all for free! Need help getting started? Email us at profnet@profnet.com.
image via Flickr user Social AdGigs