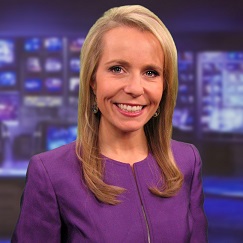 Have you ever wondered what goes on behind the scenes at a TV station? Melissa Carlson, anchor and reporter for KRNV News 4, gives viewers the opportunity to find out by using Google+ Hangouts On Air (HOA) while being live on air Monday thru Friday. Find out how Carlson is embracing social media and using it to connect with her viewers:
How did you get into anchoring and reporting?
My mother moved to the U.S. at the age of 17 from Portugal. She used to watch the news and "Entertainment Tonight" every day to help her with her English. You can say I was raised on news. I loved research and writing and had a knack for public speaking.
What major changes have you seen in the newsroom since you started reporting?
No longer are we (media) the only ones with the "inside story." Often times we are sourcing posts/tweets/blogs, and that changes the landscape.
What role does social media play in your anchoring and reporting?
Social media plays a huge roll. We use it to get up-to-the-second info on breaking news, or to get story ideas, good tips. I think it keeps the line of communication between us and the viewers fluid, open and honest. It can also be a death trap. With everyone fighting to be "first man out the gate," you can be tempted to report info that is unconfirmed. We have seen it done in national news and even local.
How and when do you use HOA during your broadcasts?
I use HOA Monday thru Friday on our NBC News 4 Forum show at 11 a.m. PDT. The show streams live on our website and YouTube along with airing live on our area's channel 4. We ask anyone to come in and chat about the hot topics of the day, plus they can ask questions of our guests. Sometimes the best part is during the commercial break when we just get to chat about whatever is on our mind.
What topics do you discuss, and what types of guests do you bring onto your HOA?
We chose two topics a day that anyone, anywhere can chat about. We like to think of them as "water-cooler questions," you know, the topics that people are talking about. I have a group of guests that I invite every day. Some days we have two people in on the show, other days we have 10.
Do you have one particular HOA that you did during a live broadcast that stands out the most for you?
We interviewed President Obama. We were his second hangout, his first being with Google. We had Google+ers in and one of them got to ask him a question. But the one that I think had the most impact on me was the one we opened during the Sparks Middle school shooting. We had a HOA up for a few hours, and anyone could get on. It wasn't like everyone was asking questions it was just powerful to see people popping in to say "hey, thinking of you," or just to watch and chat amongst themselves.
What attracted you to this particular social media platform? What were you hoping to achieve by using HOA?
Sarah Hill from KOMU started the first HOA to air and we wanted in. We wanted to open up the lines of communication with our viewers and wanted to try and make the news more available to them.
What changes/reactions have you noticed from your viewers since you began using Google+ for live reports, i.e., interaction increased, increase in viewers?
We have seen a nice uptick in our social media interaction. While the concept is new, the early adapters LOVE it and we are seeing a slow swing in a positive direction from traditionalists. It's also been great for guests. They no longer have to come to the station to get on air. Guests can now open up their laptop and hop in an HOA and be done with it.
Do you think that the live broadcasts on Google+ help viewers connect more with the media and build a level of transparency?
100 percent, yes. Any day of the week, they know they can get in the HOA and speak directly to the chic on air! They can get in a Hangout and give their opinion, in their voice. Now the only hurdle is getting the viewer to be brave enough to put their face to an opinion. Many people feel safer to stay behind their profile.
Do you foresee other news stations adapting the use of Google+ during live reports?
If they want to get the best bang for their buck, yes! The line between news and social media is thinning every day, embrace it and be part of the change.
Whether you're a reporter, blogger, author or other content creator, ProfNet can help you with your search for expert sources. You can send a query to tens of thousands of experts and PR agents, search the more than 60,000 profiles on ProfNet Connect, or get timely experts and story ideas by email -- all for free! Need help getting started? Email us at profnet@profnet.com.