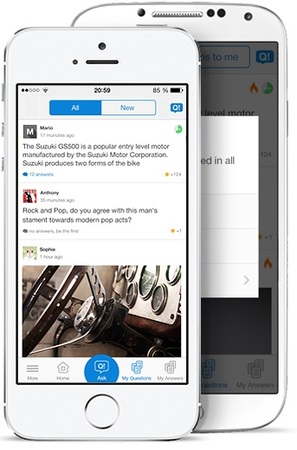 You may have heard about the rise of social search apps but are not sure how they work. For this Q&A Team, we spoke to Eugene Borukhovich, cofounder of Q!, a new social search app. Borukhovich discussed with us the idea behind Q!, how the app works, as well as other information you should know about social search:
Can you tell us a little about the app's purpose?
Social search is loosely defined as leveraging the social graph of an individual to present relevant information as a search result. We communicate across a variety of online mediums and process streams of information daily -- but when we really need an answer to a question, we have to search and research or resort to finding it in the ever-scrolling timelines on our social networks. Q! was designed for a new generation of information seekers and helps consumers filter their life to the curious or urgent questions as they go through their day.
How did you come up with the idea Q!?
After our last startup, which focused on bringing the right doctor at the right time to the right patient, we realized that our mission needs to be much bigger. The next decade is all about bringing the right knowledge to the right person at the right time.
To which of your social communities do you ask your question(s) to?
We currently support Twitter and Facebook, but will be adding additional social and expert networks over time, such as LinkedIn, Google+ and Instagram.
What type of questions can you ask your communities, and can you provide any type of multimedia or links to go with your questions?
While some of our competition is focused on images-first, we believe in natural human language to express your question: images and links can be added to the question and that capability already exists.
Can you explain how the social search app will select who will receive the question?
Currently, the question is posed to all your social communities, but eventually we would like to have a specific friend expert respond. The growth of social networks makes it possible to identify, follow, and engage. If you look across your friends on Facebook or your followers on Twitter, they all have different cultural backgrounds, professional profiles, hobbies -- and each of them can contribute their knowledge based on their expertise. However, we are working hard on algorithms to engage people beyond your immediate circle of knowledge.
What is the typical response rate for a question that is asked on Q!?
We have about an 87 percent answer rate on Q! within a three-hour timeframe and a 93 percent answer rate within 8 hours; furthermore, 50 percent of answers come from Facebook, 15 percent come from Twitter, and we actually see a 35 percent answer rate across Q! users themselves. The minimum answer time we have seen is seven seconds!
Do you think people are more drawn to using social search vs. a traditional search engine? If so, why?
I hate to say it, but it depends. Personally, I am a busy professional and have zero time to search and research. I have a comparative disadvantage in certain topics and would rather leverage OTP (other people's time) to get the answer I need.
I would like to reference a study (A Comparison of Information Seeking Using Search Engines and Social Networks) performed by MIT and Microsoft Research back in 2009. Even in those early days, the study concluded that asking your social network a question "is fun, they trust their social network, they wanted opinion-type answers, and their social network knew additional context about them." In addition when the subjects were asked to search and at the same time ask a question to their social network, 58 percent received responses from their network before completing their search and 83 percent received answers eventually!
What is the difference between users asking these questions on their social networks rather than using a social search app like Q!?
Prior to creating Q!, I heavily used individual social networks to ask my questions (mostly Twitter). What I quickly found is that when I need to reference the answer sometime in the future, it is impossible to find it in the stream of interactions. Q! is a user experience that aggregates your questions and answers and filters them away from the rest of the social communication stream.
Do you think there is any type of hesitation from people when using Q! and/or other social seach apps?
Yes, there is some skepticism. Younger generations will be much more comfortable with using Q! because they are more open and willing to share information.
When getting responses to your everyday questions, the trust factor is key. There is a personal touch to the responses you receive from your social circles, because they understand what you're about, as well as your likes/dislikes, etc. There is a personal level and trust involved in your social circles responding.
How do you ensure the privacy and security of your users?
It is about finding the right business model that takes into consideration the privacy and data ownership of your users. You need to get your users responses to their questions and make sure its effective while protecting their privacy and security.
How do you see the future of social search apps?
We are only scratching the surface of possibilities in social search, and we strongly believe the best social intelligence is still human intelligence. It is this marriage between artificial intelligence and real experts (who might be your friends and followers) that will define the next decade of social search.