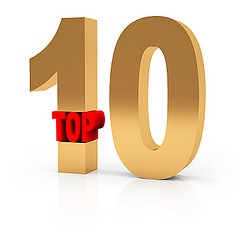 This past year I have had the pleasure of writing The Q&A Team, a column that addresses topics of interest to PR and media professionals. Hopefully I was able to answer a question or two that you may have had relating to social media, marketing, PR, and/or media. If you missed any of the posts in 2013, here is a list of the top 10 Q&A Team posts of 2013:
20 Tips to Ensure that Your Twitter Account is #Winning
Shawn Paul Wood, PR director and online strategist at HCK2 Partners, says, "Follow people in your field. Follow people who engage you on a routine basis. Follow people who can benefit you in terms of information, education and even inspiration." Read more here: bit.ly/1eAKcuI
Shifting Gears into 'Slow PR'
Steve Capoccia, account director at Warner Communications, says, "If you want to move your objective forward in a meaningful way, you want a firm that demonstrates empathy, compassion and knows how to tell a story that builds relationships -- this is 'slow PR.'" Read more here: http://bit.ly/1a5NUu0
Dealing With Negative Comments on a Company's Social Media Accounts
"First, define who is attacking you, because it might not be worth your time to pursue," says Penny Sansevieri, president/CEO of Author Marketing Experts, Inc. "It's important to know the difference between an online attack and a difference of opinion. We've worked with authors who have gotten bad reviews and wanted them pulled. A bad review is not an online attack -- it's someone's opinion of your product or book. They didn't like it and it's their right to voice that." Read more here: http://bit.ly/Y0QbgM
LinkedIn Etiquette for Writers
Bill Corbett, Jr., president of Corbett Public Relations, says, "Writers need to connect with readers, publishers, and media outlets for writing opportunities. LinkedIn offers the opportunity to connect with decision makers and others from each of these categories." Read more here: http://bit.ly/ZaRGjy
How to Create a Winning Blogger Pitch Every Time
Wendy Hirschhorn, CEO of Wendy's Bloggers, has reviewed over a thousand mommy blogger websites. The mommy bloggers she adds to her powerful network need to meet her professional standards. That includes the ability to write cohesive reviews; generate sufficient traffic to their sites; and use Facebook, Twitter, Pinterest, Flickr and other social sites to promote their product reviews and giveaways. Read more here: bit.ly/1b0DHgo
What Web Analytics Can Do for You
Samson Adepoju, communications and PR manager of DG MediaMind, explains that "the work done in PR/marketing can often be of a qualitative nature. Senior management can't draw a direct line between PR efforts and sales or revenue." Read more here: http://bit.ly/ZI6AsU
How Vine App Will Impact Journalists
"If it (Vine) takes off, it will be additional rich media journalists can quickly link and include into stories," says Christopher Penn, vice president of marketing technology at SHIFT communications. "It will also give them the ability to create their own bite-sized headline news snippets that can either be shared independently or sewn together for a mashup of stories. Most news shots and field reports aren't much longer than a Vine video anyway." Read more here: http://bit.ly/11EA5RX
Ensuring Your Facebook Hashtags Aren't a #Fail
Ram Janakiraman, professor of marketing at Texas A&M University, says, "Many top brands have started using Facebook hashtags. This is not surprising, as Facebook provides an effective way for brands and marketers to connect with their customers. From a marketer's perspective, hashtags are meant to reduce (information) search costs." Read more here: http://bit.ly/13WLP1m
How to Never Run Out of Blog Post Ideas
Amy Przeworski, assistant professor at Case Western Reserve University, says, "I will often write down an idea for a blog that I had or start a blog post and return to it at a later point if it doesn't seem to be flowing. I've found that it is hard to blog if I am particularly busy or overscheduled because it is moments like that when I lose touch with the emotional aspects of life and am just checking things off of my to-do list." Read more here: http://bit.ly/1avpF5B
Lessons Learned in Public Relations
Carrie DeVries, senior account executive at Deveney Communication, says, "When I started working in PR, I wish I knew that being 'good with people' isn't enough to be successful in this business. It takes strategic thinking and analysis, multitasking, being OK with constantly learning, being detail-oriented to meet client deadlines, and so much more." Read more here: http://bit.ly/1b8OQ0f
Whether you're a reporter, blogger, author or other content creator, ProfNet can help you with your search for expert sources. You can send a query to tens of thousands of experts and PR agents, search the more than 60,000 profiles on ProfNet Connect, or get timely experts and story ideas by email -- all for free! Need help getting started? Email us at profnet@profnet.com.
image via Flickr user Wellunwll