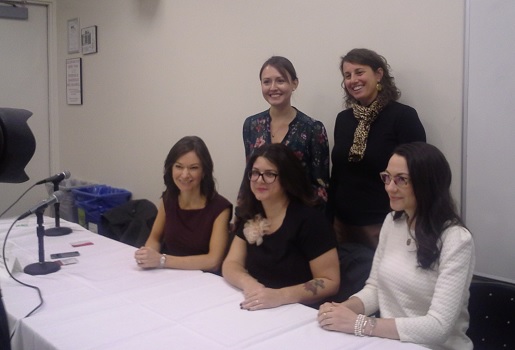 This past Saturday I attended New York Women in Communications Foundation's 2013 Student Communications Career Conference (#SCC13). The conference consisted of different breakout sessions relating to media and communications. One of the sessions I attended was about blogging. The panel was moderated by Lori Greene, digital content innovator/blogger. The panelists were:
Q: How do you know when your blog has hit and made a difference?
Morris: I knew it hit when it was being supported by the beauty industry. I specifically mean the brands that I write about, the publicists for the brands, and other writers in the industry. I also started getting real traffic to my blog.
Q: How do you get to those big traffic numbers on your blog?
Heitlinger: At some point I learned about Google Analytics and copied that code into my HTML. I spent a few hours every couple days digging in, learning and tracking things. I started seeing what time of day most people were reading; where in the country/world people were reading from; where they would click after coming to the homepage, etc. This information will really tell you a lot about your readers. And Google Analytics has improved a great deal since I started using it.
Dooling: When you're first starting out, you need to really think about where you want to blog. If you want to have your own domain or be part of someone else's that has a larger following. Also, you need to figure out who you want to work with.
Q: Elizabeth, how do you go about hiring bloggers? What do you find works? What's the best way to pitch to be posted on a professional blog like Huffington Post?
Perle: For my section, anyone can blog. There are very few instances where we will say no to a writer (if it's an offensive post). I actually think that our most effective posts aren't the kids who are the best writers, but it's about the strongest narratives. Readers can smell from a mile away if you're being unauthentic. Also a lot of our best bloggers enjoy drawing infographics -- there are many different ways to tell the narrative. Another important thing is being an active member of the blogger community.
Q: How do you make a living from blogging?
Morris: Making money changes by the month and even year. Sometimes I can find consistent work for three or six months at a time. The main way I make money now is through partnerships with brands, such as beauty, health and fitness brands -- because that is what I really know. When you start a blog, you want to pick something you want to become an expert in and have a passion for.
Q: How do you keep your credibility to your followers when working with brands?
Morris: As an online blogger, I am always able to say when something is sponsored or when I am being compensated. I have picked everything I do that is sponsored very strategically. The power of no is bigger than the power of yes. I can't tell you how many things, regardless of how much money it is, that I have turned down because it doesn't represent me or my brand. The best advice I can give when starting a blog is to always put your audience first. It is not about you but it is about your audience.
Dooling: When I started blogging there were no guidelines about what you could and couldn't say. Now the FTC does regulate what you do as a blogger. You need to have it listed on your post and About page if something is sponsored, and you need to list out any large partnerships that you have. There are many different ways to make money from a blog. I think freelance writing is probably what most bloggers do, because you're already writing anyway. You can also do sponsored posts or banner ads for money. You can do this by putting on your About page that you are accepting banner ads. Another thing is to have your own following. There are many communities out there who are doing what you're doing and you need to follow them.
Heitlinger: What I think is really important is having multiple streams of cash flow. For me, freelance writing did not work out, but being paid to come speak at places or hosting events is a great income. This is in addition to the sponsored content, banner ads, etc., on my blog. And the bigger your audience, the more you can ask for. You have a lot more power to say no to offers when you receive 30 requests a day for sponsored content and you're only accepting 2-3 a month. You have that flexibility and freedom when you build that audience. However, when you start receiving income as a blogger, you should think about whether that is something you want to do full-time. You have to realize that you are taking your hobby and passion and associating a value with it, because once you start taking money it becomes a job. Knowing that you truly love what you're doing and who you're partnering with is much more important than the money at the end of the day.
Perle: If you're going to blog for free, be strategic about it. Ask questions like, "Do I retain the rights to my own work?" Also, if you volunteer your time for free to write something for a publication, pick one that you want to work for.
Q: How often should you be blogging?
Heitlinger: I think it is a very personal decision, but I think they key is consistency. This doesn't necessarily mean extremely high frequency, but it may mean that you write a killer blog post every Sunday night that goes up on your blog.
Dooling: Don't put yourself in a position where you have to write something, because readers can smell that inauthenticity from a mile away. Figuring out when you have the time to put something up, goes very far.
Morris: Don't make it into a chore, but always keep it as a passion. Your readers are coming to you because you are a source, so you have to be a source of credible information. You never want to post something to post it.
Q: If someone is starting their own blog, how much money should they be spending to start it?
Heitlinger: You should spend $0 starting your blog. Maybe buy the domain for $10, but if it is anything more than that, then find a new domain. The best thing you can do as a blogger is to spend as much time as possible building content, and then you can start to think about whether this is something you want to continue doing long term and if it will go somewhere. After all this, you can think about investing money.
Dooling: The best thing someone ever told me is that blogging is the great equalizer. Your dad doesn't need to be a marketing executive to become a great blogger.
Q: How do you evolve your blog as something more professional?
Morris: You should crosslink with bigger blogs. You also need to really put yourself out there. So if your blog is fitness-related then a blog like Fitness.com might like something like that. Reach out to them by putting something on their Facebook page or tweeting them. Don't be scared.
Q: If you want to publish original content and clips of content from another publication on your blog, do you need two separate blogs?
Dooling: I put my older clips on my personal blog. I differentiate them by adding an editor's note at the top that says, "This was originally posted on [publication name] on [date of publication]." Or sometimes I will embed the image of the logo of where it was featured.
Whether you're a reporter, blogger, author or other content creator, ProfNet can help you with your search for expert sources. You can send a query to tens of thousands of experts and PR agents, search the more than 60,000 profiles on ProfNet Connect, or get timely experts and story ideas by email -- all for free! Need help getting started? Email us at profnet@profnet.com