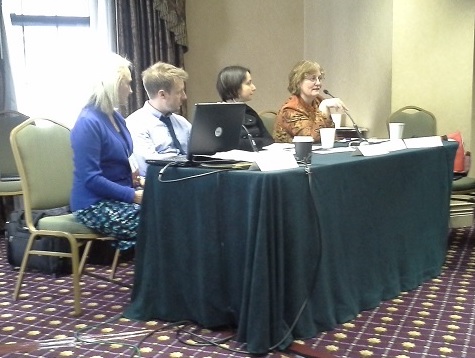 Pitching an editor is an important task for every writer, but knowing how to do it successfully enough to capture the attention of an editor is even more important. A panel at the ASJA conference covered this essential task by discussing the do's and don'ts of query writing.
The four panelists who shared their tips on this topic included:
Sherry Beck Paprocki
1) The key to the code is not just writing a good query letter, but it is about getting to know the editors that you are going to work with who will make your query for you.
2) Editors get a lot of queries from people who don't know the product, so be very knowledgeable about the magazine you are querying. To really figure out a magazine's target audience, Google the phrase: "[magazine name] media kit." This will tell you what the magazine is telling their advertisers.
3) At a conference like the ASJA there are many editors, so approaching an editor and saying, "I love your blog, and I read it every day," will initate a positive conversation. Editors are people too -- they will eat up your compliment.
4) Be highly aware of your personal brand before you query an editor. Use social media to your benefit, and make sure you update all your accounts before you send a query. Also, Google yourself to see what pops up.
5) Editors don't respond quickly, but that doesn't mean you can't have a sense of urgency without annoying the editor. Twenty-five to 40 percent of your time is about business, and your business can't afford to wait around on an editor for a long period of time. You should always be friendly and establishing a bond, because you don't know where the editors will go and they may take you with them.
6) You may have to re-do a pitch up to three times, which may take up to a year. This may cause you to want to walk away -- but don't do it. What are being given is a little bait, so go take a deep breath, come back, and try to make that editor your friend.
7) Remember to invoice with a Thank You attached. You want to show them that you are grateful to the editor for their input during the editing process.
Josie Rubio
1) If there is any way to establish a face-to-face connection with an editor -- this is the best way to go. It is also good to connect with other writers. Rubio explains how she was sidelined by an injury and couldn't cover some of the fitness stuff that she usually writes, so she asked other writers if they knew of somebody.
2) Rubio doesn't get a lot of cold queries, but typically the first email covers the person's background and experience; why they are a good fit for the topic; and the subject. She usually goes back-and-forth a little about word count, deadline, angle, and any other questions. Also, most of the time she sends the writer examples, which helps them see the poise and style of the magazine.
3) Rubio prefers short pitches, because she gets bombarded with many emails. She recommends keeping it short and easy to read. If she has to put in a lot of work from the get-go then it makes her think that it will not be a pleasurable experience to work with the writer.
4) Rubio sometimes gets a resume or a LinkedIn profile from a writer looking for work without an actual pitch. She don't assign stories to those writers, because they are expecting her to do their work for them.
5) Pitching doesn't even stop amongst the stable of writers. Therfore, she thinks it is important to stay on an editor's radar. If she don't hear from you for a while then she isn't thinking of you as often. *Be regular about sending pitches.*
6) What she looks for in a good pitch: 1) know her title and name -- spell it correctly; 2) include a brief and concise introduction to yourself; 3) mention the publications that you contributed to that are compatible with the publication you are pitching; 4) include a few links to clips, your LinkedIn profile, or a direct link to a specific section of your website; 5) show that you understand and read the publication you are pitching; 6) explain why the topic is relevant; 7) make sure to include an actual pitch; 8) keep your query short and clear (bullet points work); 9) mention sources that she can contact; and 10) remember to include your name and contact information.
7) Only limit yourself to writing a paragraph in a query letter, if you are already working with the editor. Rubio says, "It is an easy route to cancel out if you are not in my stable of writers."
Nancy Shepherdson
1) Address the correct editor and make sure to spell the name correctly. Shepherdson once lost an opportunity to write for the Associated Press because she misspelled the editor's name to whom she was writing the query letter.
2) Get the editor's attention in the very first sentence. Do this by taking a step back, and analyzing the magazine or website. Learn who the readers are and what they want to read about, so you can target your understanding of the reader into the first sentence of your query letter. You can also start off with a simple sentence about something the editor has done or written. For example: "I enjoyed your talk at the [name of an event] last Friday very much." Also, in the first sentence or paragraph, you can start off with a short anecdote that you might put into your piece, a quote from one of your sources, or even a question. Another suggestion is to go against common wisdom -- challenge something "everyone knows."
3) You have to somehow prove why the story is important right now. Put into the query letter, what is it about this story that will really grab the readers.
4) You must explain the idea in sufficient detail without going overboard. You have to decide how much detail you want to put in. Some writers are afraid that editors will steal their ideas, if they give too much detail. Shepherdson says you can't be afraid of this, and you have to give editors enough information to make a decision. But don't overdo it with researching either, because you can spend so much time researching that you will not sell the idea. In her experience, she found that the stories that she over-researches before she sends the query are the ones that never sell. Write the idea while you are excited and then maybe go back in and revise.
5) Why should the editor hire you and not assign the story to a staff writer, and just give you a finder's fee? You need to write in the query letter, what it is about your background that is relevant to the story. You have many things to tell about yourself, but you have to boil it down to a paragraph. Also, this doesn't mean that because you are a business writer, you can only write for business publications. For example, Shepherdson wrote for Boy's Life, and she doesn't have children but told the editor that she is married to a guy who has the mind of a 12-year-old boy who provides her with ideas about what to write.
6) You need to request a decision in a friendly manner. She typically ends her queries with some variation on: "Let me know whether you think my idea is right for your readers."
7) Don't send attachments, because editors are afraid to open them, and sometimes they don't go through. You can instead send links to your specific articles in the query.
Matthew Shaer
1) He thinks it is vital to remember that a magazine is going to have a large group of writers (e.g., staff writers, freelancers, contract writers) they are using. The trick is convincing them that you can do it better than the staff writer, freelancer, etc.
2) When writing to publications that you don't know, the best bet is to put in your query letter the highest ranking/prestigious publication that you have written for. This will show that you have had some experience and hammer home that this is something that you can write about that no one else can.
3) Regarding selecting a topic, celebrity profiles and topics that have been in the news for a long time have long since been assigned to the publication's stable of writers. When you are thinking about a topic, it shouldn't be so obscure that the publication won't care but off the radar just enough that you can make it your own.
4) Many pitches you will write change significantly by the time they become stories.
5) The end goal is to become part of the publication's stable of writers. You eventually want an editor to come to you with ideas. You want to establish yourself as a trusted freelancer for a publication, and you want an editor to say, "Here is a story for you."
6) You achieve your end goal by doing two things: 1) You try knocking it out of the park on your first story, and if you don't because something gets killed or rejected -- keep trying. 2) Meet with editors and pester them until they sit down to have coffee, beer, lunch, etc., with you. It is easy to avoid people behind email addresses, but it is not as easy to avoid a face you remember and who you talked to in-person.
7) Shaer also suggests having a good relationship with your editor. You don't want your editor to be your buddy, because you do want to push back on some stuff, but you do want to be relatively close to them.
Additional Tips:
To find the editor's email, most of the time you can find it on a publication's masthead in some way online. You want to look for the deputy or senior editor -- not the top editor. You can then search for their email online. The editor will point you in the right direction from there.
Address the editor by their first name or last name, but don't be too casual (i.e., say "hey" instead of "Dear."
In the subject line of the email, just say what you doing: "A query to VIVmag." You can also write, "Idea: [summary of the idea]."
If you don't have a lot of clips to share -- it is OK. You don't need a ton. Figure out what you are expert in and build your query around that.
Whether you're a reporter, blogger, author or other content creator, ProfNet can help you with your search for expert sources. You can send a query to tens of thousands of experts and PR agents, search the more than 60,000 profiles on ProfNet Connect, or get timely experts and story ideas by email -- all for free! Need help getting started? Email us at profnet@profnet.com.