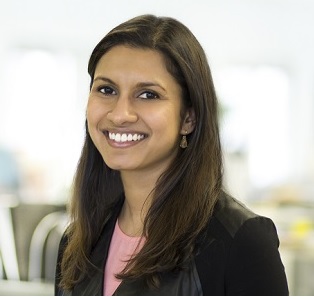 Many companies have realized the importance of using social media in their marketing efforts. However, is it beneficial for the company's executives to also be using social? If so, what type of content should executives post? Should they engage with customers on social? The head of digital and content marketing at Eastwick Sahana Jayaraman answered these questions and more in yesterday's #ConnectChat. If you missed the Twitter chat, here is a recap:
Can you please tell us a little about yourself?
I'm a digital content strategist with more than 12 years of experience. I work with C-suite executives to increase visibility.
Besides my Twitter profile, you can also check out my LinkedIn here: www.linkedin.com/in/sahanajayaraman
What do you say to executives who don't want to use social media?
I say that is okay, it's not for every executive, but it is still critical to understand the benefits of being on social. Every CEO should understand the power of social to drive visibility for their organization and his/her personal brand. In today's "always on" environment executives must be nimble and forward thinking to break through and thrive. It is proven that social media has its unique benefits to developing a personal brand. Social CEO creates stronger relationships with influencers and increases visibility for org initiatives and thought leadership.
What type of social media sites should executives be actively using?
I recommend conducting some industry and audience research to find out where the conversations are happening. However, it's safe to think about Twitter, LinkedIn and SlideShare. Long-form content is also great for deep engagement.
How much time should a CEO be investing on social?
Executives are busy people and it isn't expected that they are checking feeds every minute. However, you do need to keep up. I recommend that executives typically post at least 1-3 times a week unless they are native to social. Long-form content is recommended at least twice a month to help add more context to his/her thought leadership platform.
Can you please explain what you mean by long-form content?
Long-form content can include a blog post, byline or LinkedIn long-form post.
What kind of objectives should executives have for being active on social, i.e., building their company's reputation?
Here are the objectives: 1) create a distinct and memorable personal brand that ties into the brand, industry and your personal values overall; 2) build good relationships with the media and other influencers; 3) offer a competitive edge to the brand, increase SOV, message resonance, etc.
What type of content should executives tweet/post?
Create and leverage content strategy. You need a plan and an agenda. Social can be a powerful tool in creating a halo effect to amplify offline and press engagements. Content can include news articles, blog posts, presentations, videos and graphics that help tell your story. Also, recommend implementing the 80/20 rule. It's an old rule, but still a good one. 80 percent curated, 20 percent original.
What are good types of visual content for the social CEO?
Graphics are great for storytelling. Infographics for data-driven stories. Visuals for longer more complicated stories. Images to catch attention. Visuals are processed 60,000 times faster in the brain than text, and therefore it's important to think of content as more than text.
How can executives increase social engagement?
Create an engagement strategy. Have a purpose for engaging on social and make it clear. Have discipline. Don't jump on the social bandwagon and fall off. Stay engaged and participate with frequency. Engage and get feedback. Get to know your followers. Find out what they care about and how you can help them, and do so. Stay interesting and provide meaningful content that is relevant and timely. Offer helpful advice, intriguing information, facts and figures, personal anecdotes, and much more. Keep them coming back for more. Be real and find your true voice in the conversation. It will feel uncomfortable at first, but eventually you'll find it.
Is it important for executives to engage with customers on social? If so, how can they do this effectively?
It really depends on the size and goals of the company and program. Executives must take measures to distinguish their presence on social as a thought leader, not as customer service. With that said, social has a powerful impact in gaining trust among consumers. 77 percent of people are more likely to buy from a company whose values are defined through leaderships' involvement on social.
What's the best way for executives to deal with a satisfied customer on social? What about a dissatisfied customer?
I recommend that CEOs establish a response protocol with regard to customer engagement. You want to set precedent and be consistent. Acknowledging happy customers is important. This can be done with a simple thank you, or liking of a post. Engaging with dissatisfied customers is not sustainable or the expected job of a CEO, such requests must be escalated internally. I recommend politely pointing those customers to someone within the organization that can help them find a solution. Before launching an executive on social you must understand any and all risks and have an issues management plan.
What are some things executives should avoid doing on social when engaging with customers?
Setting up guardrails in terms of conduct can be helpful. It depends on the personality of the executive, but here are some general rules: 1) Avoid projecting too much emotion. Passion is OK, emotion is not. Know the difference. 2) Don't feel the need to respond to every tweet or DM, especially negative ones. Do your homework first before you respond. 3) Avoid typos, acronyms and emoticons. It doesn't look professional and will impact credibility. 4) Don't say anything you wouldn't want to see in a headline or out in public.
How can a business calculate if their competitors are receiving more mentions on social, and how can executives help this problem?
There are social media monitoring tools that can help you track that. The one we use is Sysomos, Brandwatch and Marketing Cloud. The first step is to identify your competitors. Other influencers who have a share of voice in the conversations you want to be in. Then you start to generate some benchmarks. Identify what they are doing and develop a strategy for your own personal brand. Continue to track and monitor and let the insights help inform your strategy.
What do you need to have in place to have a successful social CEO program?
You need four things to have a successful social program: 1) You need to define your audience. 2) You need an agenda. What is your platform? In your current role and in the industry. 3) Know where to reach your audience and go there. Social is one part. PR, events, and other channels must be considered. 4) Build a team. An executive program is not a one person job. You need research, strategy, writers and community managers, etc.
Do you have any stories of executives who successfully use social, as well as how it has benefited their business?
I launched the CEO of Kaiser Permanente. He is one of the most charismatic and visionary leaders I've worked with. I helped him engage on social to convene a dialogue on affordable healthcare amidst a debate on health care reform in America.
Whether you're a reporter, blogger, author or other content creator, ProfNet can help you with your search for expert sources. You can send a query to tens of thousands of experts and PR agents, search the more than 60,000 profiles on ProfNet Connect, or get timely experts and story ideas by email -- all for free! Need help getting started? Email us at profnet@profnet.com