All businesses want to ensure they are creating entertaining and engaging content for consumers, but how do they make this happen? DilogR™ specializes in making content more interactive for the consumer. We spoke to Alexandra Spirer who is a principal at DilogR™, and she explained to us why consumers desire interactive content as well as how it benefits businesses.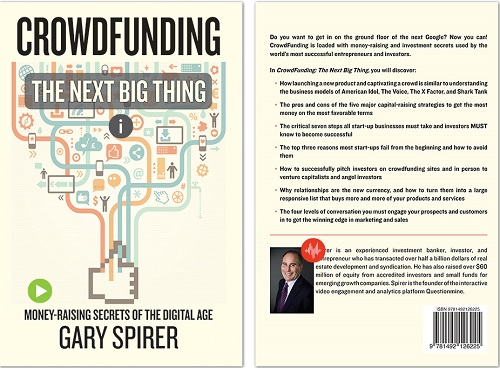 Can you tell us a little about DilogR™?
Dilogr™ was founded by Gary Spirer who is the CEO of our company. He started as a poet and writer. He wanted to find a way to make his content more engaging and interactive so he could get immediate feedback as to what they wanted so he could respond back to them immediately. He realized there was an opportunity to create an interactive visual content and analytics platform for marketers, advertisers, and trainers. The result is DilogR™ which adds layers of interactivity to your content such as slides pictures and videos to increase your leads, sales and customer retention.
What is your role in the company?
I am a principal in the company. I head up customer service and affiliate relationships.
What kind of content can you make more interactive?
We can take almost any type of content and make it interactive including slides, photos, and videos. For example, we took an image of the front and back of Gary Spirer's book, "Crowdfunding: The Next Big Thing." We added hotspots like popups that look like a big post-it. In different hotspots we wrote information about the book and created links to video, and then to an audio of Gary welcoming people to read the book and a link directly to Amazon to buy the book. We then took multiple slides and excerpts from the book and put hotspots over the content ask survey quiz and poll questions to help people learn more about crowdfunding and raising capital. We can respond to them in real–time and gain insights through the analytics of the book about what people really want.
How can you make content more interactive and engaging with your consumers?
We have developed different levels of interactivity to keep consumers engaged, entertained, and educated. The key of interactivity is to be able to show the consumer that you care about their opinion and their listening. We enable content producers to add hotspots as discussed, lead gen forms, call-to-action buttons, surveys, polls and quizzes and even branch the different slides, photos or videos depending upon consumers answers to questions.
What are the benefits of having interactive content?
Interactivity leads to personalization and delivering relevant information in real-time just as if you were sitting across from your prospect or customer and asking them what they wanted. Interactivity enables you to narrow all the options being presented to a consumer and guide them to the solutions they are seeking faster.
What type of results are typically seen when companies add interaction to their consumers?
We have seen 30 to 50 percent higher conversions to sales. We were able to deliver highly targeted sales ready leads. We also found that we can engage consumers during the full sales funnel. The result is that the consumer buys more frequently and often higher priced items increasing the marketing ROI dramatically.
Why do you think consumers seek content that is more interactive, and do you think it's because consumers are more drawn to visuals?
Interactivity is what people do naturally as they are social beings. Interactive content can be very entertaining and something consumers would like to share with their friends. We enable our content to be placed on blogs, in emails, on fan pages and pinned on Pinterest. We are very compatible with Facebook, LinkedIn, and other social sites.
Many businesses are starting to understand the benefits of storytelling. Does interactive content play a role in successful storytelling?
As I mentioned in the beginning, our CEO Gary Spirer is a writer and actually wrote a novel and some film scripts. Gary uses DilogR™ to storyboard his books and presentations. He feels DilogR™ is an automated storytelling platform with the ability to get instant feedback as to how well consumers are engaged with your story. Gary believes that it's true that a picture is worth a thousand words -- and some people have estimated a video is worth 1.8 million words. Telling stories visually is the wave of the future for brands. Storytelling marketing and advertising will come together more and more as consumers don't want to be sold.
Can a consumer being inundated with too many visuals and too much engagement?
Yes. That is why DilogR™ is designed to help a consumer narrow their choices not increase their choices so they can get what they want when they want it.
How do you see consumers interacting and engaging with content in the future?
Content will become more and more interactive in real-time such as with Google Glass. The movement will be to more and more censors where displays in malls will interact with consumers when they pass by. Wearable interactive gadgets and clothes will increase and interact with content and information that if relevant to the environment and activity eye movements and motion will become new triggers for interactivity in any space inside your house, or in any other space that you inhabit. DilogR™ is designed for social, mobile and the future of interactivity.
Whether you're a reporter, blogger, author or other content creator, ProfNet can help you with your search for expert sources. You can send a query to tens of thousands of experts and PR agents, search the more than 60,000 profiles on ProfNet Connect, or get timely experts and story ideas by email -- all for free! Need help getting started? Email us at profnet@profnet.com.