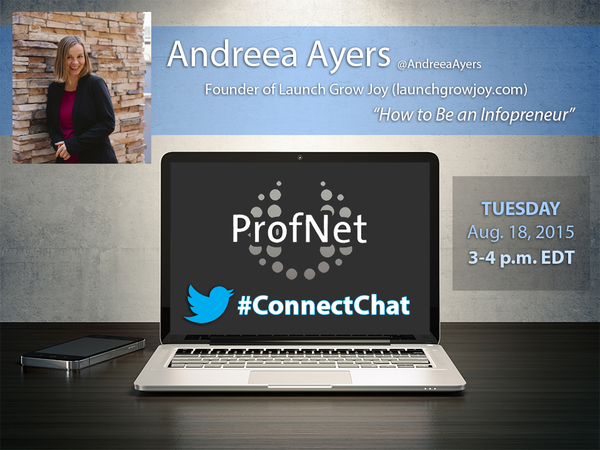 "How to Become an Infopreneur" -- that's the topic we'll tackle for our next Twitter chat (#ConnectChat), featuring Andreea Ayers, CEO and founder of Launch Grow Joy.
Writers are constantly looking to earn extra money on the side, or even earn money working from home full-time. One way is through freelance writing for various publications. However, another way to generate revenue is by using one's expertise to become an "infopreneur."
Are you an expert or influencer in any particular area of interest? Did you know you can turn your knowledge into a business? That's what infoprenuers do. An infopreneur is someone whose business is gathering and selling electronic information ("information" + "entrepreneur" = "infopreneur"). Some infopreneurs even eventually quit their day jobs to take on this self-managed, full-time role writing blog posts, consulting with clients, creating online courses, publishing books, speaking at events, etc.
Ayers created a service called Launch Grow Joy. If you have a product line, Launch Grow Joy is the right place to visit for tips on how to start your online store as well as how to promote it. One can find related blog posts, podcasts, and courses on her site.
Ayers will be available to answer your questions and more during the chat, which will take place Tuesday, Aug. 18, from 3 to 4 p.m. EDT on Twitter. To follow the chat or ask Ayers a question, just follow the #ConnectChat hashtag. We'll start the chat off with a few questions for Ayers, but you can jump in at any time with your own questions.
About Andreea Ayers
Andreea Ayers is the CEO and founder of Launch Grow Joy. Her mission? To make PR less intimidating for product-based entrepreneurs. Andreea opened her first product-based business selling inspirational t-shirts in 2007. Despite knowing little about the industry, she went on to sell over 20,000 tees in over 300 stores in the United States and around the world. In more recent years, Andreea has focused on helping hundreds of entrepreneurs secure media coverage through one-on-one consulting and online courses.
Andreea's products and services have been featured in more than 300 magazines, newspapers and TV shows. Andreea is also an instructor at CreativeLive and speaks regularly at events across the US. She lives in Colorado with her husband and three kids.
_________________________________________________________________
Whether you're a reporter, blogger, author or other content creator, ProfNet can help you with your search for expert sources. All you have to do is fill out a quick form telling us what you're looking for, your deadline, and how you want to be contacted, and we'll send it to the appropriate experts in our network. The best part? It's free! Get started here: Send a query.