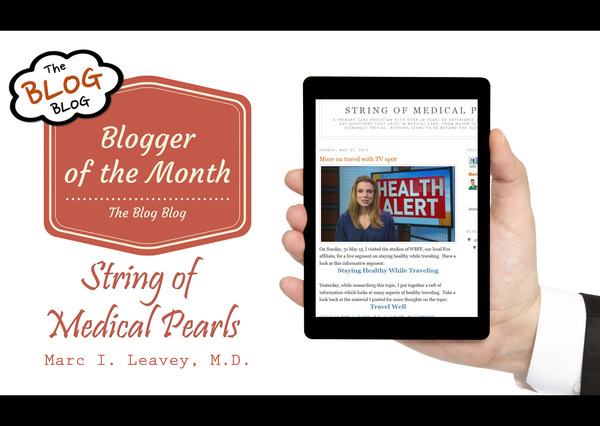 Every month, I highlight one successful blogger on The Blog Blog. By "successful," I mean someone who has been blogging for at least three years and has seen their audience engagement grow significantly.
For this month's feature, I conducted a short interview with Marc I. Leavey, M.D., creator of String of Medical Pearls, a health and wellness blog:
1) What is your name and title?

Marc I. Leavey, M.D. -- Physician at Lutherville Personal Physicians; Lutherville, Maryland (a part of Mercy Health Services in Baltimore, Md.).
2) What is the name and URL of your blog?
My blog is called String of Medical Pearls, and the short URL is blog.drleavey.com.
3) Which audience does your blog cater to?
My audience is everyone who has seen a physician, should see a physician, or wonders about some medical topic.
4) What inspired you to create your blog?
I created my blog back in 2009 when I thought that it might be an effective way to educate people about medicine and give them insight into health and wellness.
5) What makes your blog so unique?
Well, it's written by me. No one else can say that. The blog is a mixture of standalone pieces I have written, magazine articles that I have written, others to which I have contributed and television appearances. Dare I say, something for everybody?
6) What is your ultimate blogging goal?
My goal is just to have a successful blog, good readership, and maybe some feedback. If I could parlay the blog into a book, wow.
7) If you could choose one piece of advice to give to new bloggers, what would it be? Have you made any mistakes and learned from them?
Define your topic and goal and stay to it. I have other writings and musings that I have published, but they don't fall into the blog's category, so they are published elsewhere. Keep it clean and directed.
8) How successful has your blog grown to become versus when you first started it? If you could provide simple metrics, that would be great.
Since inception, the blog's growth has been quite interesting. From its start in 2009 until July, 2012, views were minimal at best. In August, 2012, I started working with the Media Director at Mercy Hospital, and began putting that activity on the blog. By March, 2013, I hit the 1000 page view mark. Some five months later, in August, 2013, it was 2000. Six months later, February, 2014, at 3000. July, 2014, saw 4000. October, 2014, at 5000. 7000 came in April, 2015, and we are closing in on 8000 now. The rate has picked up quite a bit as time went on.
9) How does blogging benefit you?
I don't seek new patients or make money, but the intangible gratification I get from the comments of people reading the blog keeps me going. I like to think that I may in some way help someone's health.
10) Any other interesting stories or information you would like to provide?
Early in my blog writing, and this likely spurred me to continue the blog forward, I was contacted by a former patient who happened to see the blog, asking about a difficult diagnostic problem. I was pleased to be able to help her and reconnect with an old friend in the process. That's what blogs can do -- take advantage of the world of the Internet to influence one person.
Dr. Leavey took his expertise in medicine and transformed it into a successful health and wellness blog. His passion fuels his blog, and although his hits have significantly increased, he doesn't blog for the income. Comments from patients alone is enough to please him.
It's great to find inspiration through the success of others. If you feel you'd make a great candidate for next month's "Blogger of the Month," please feel free to email me at melissa.ibarra@prnewswire.com.
Whether you're a reporter, blogger, author or other content creator, ProfNet can help you with your search for expert sources. All you have to do is fill out a quick form telling us what you're looking for, your deadline, and how you want to be contacted, and we'll send it to the appropriate experts in our network. The best part? It's free! Get started here: Send a query.