Last Tuesday, I had a chance to attend one of Social Media Week's free events: The Digital-First Broadcast Mindset: How Facebook and Digital Agencies are Changing the Game. The event covered how brands can tap into the broadcast benefit of Facebook by creating impactful video content.
The event was moderated by:
The three panelists included:
Here are 10 key takeaways I rounded up from this event:
1) Facebook has grown significantly over the past year.
Wytock: People have been posting 75% more to Facebook than they were a year ago. In addition, estimates show videos showed up 360% more than the year before.
2) Facebook is becoming more like traditional broadcast.
Truong: Everyone thinks of Facebook as something different -- some will say social, some will say broadcast. Facebook is becoming less and less social, and more and more broadcast from the brand/company/commercial standpoint. Facebook complements television.
Pape: I view Facebook as "broadcast with benefits." The benefit of hyper-targeting is with Facebook. Facebook has shown exponential growth, but the most important thing of Facebook is that it's mobile. 66% of video users come from mobile devices. The fact is that it's broadcast for mobile.
Cassell: Facebook is a mix of broadcast and social. From an advertising standpoint, it's a media channel. It's the best way to target a consumer you want to reach. Facebook's newsfeed is the world's biggest mobile newspaper. It's transforming into broadcast.
3) Facebook is the best channel to reach moms.
Truong: In the digital world, we found that Facebook has given successes since 2012. Since Facebook has been the most penetrated channel for moms, it was perfect. In any way we approach this set of content, it's very different from the past in television. Facebook generates conversation. It's not overly branded -– "I sell this, I sell that."
For a preview of Truong and Lysol's "New Moms" campaign, click here: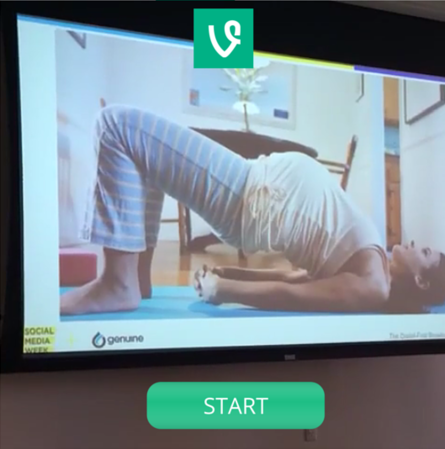 Pape: It's those authentic moments where engagements get really high. It's an extension of what moms are doing everyday –- sharing fears, words, excitement. Authenticity is the goal for New Moms campaign.
4) If your Facebook content isn't great in three seconds, people aren't going to watch or engage.
Pape: First thing to understand is Facebook is all off feed, versus destination. For example, YouTube is more a library. Facebook is a forever changing feed. In other mediums, you might have different reasons people watch your video, but people make the decision on Facebook in three seconds. We have something called the three-second audition. If your content isn't great in three seconds, people aren't going to watch or engage. Also, Facebook is a silent medium. The video starts playing silently, so the user has to engage and turn the sound on. So, you have to channel your inner Charlie Chaplin.
5) There is a different mindset when creating videos for Facebook versus traditional broadcast.
Pape: I think the mindset is different, because for broadcast, you can be watching something and a video will pop up in the middle unwanted. On Facebook, users are looking for information and content. Rather than always putting claims on what product does best off the beginning, give them something useful for being a new mom. Broadcast is more "Lysol kills 99% germs" off the bat.
Cassell: Being able to either film or capture life stages and tie it into how it will fit in her life -- it's not just "Facebook," it's a big ecosystem for moms.
6) Research before you launch your video campaign.
Cassell: Amope is a foot file. There were a couple challenges promoting this product: a) introducing a new brand and b) people aren't that excited to talk about feet in a place like Facebook. Here are some insights: we spoke to a couple of bloggers to see how they speak to women in the beauty and fashion realm about feet. We found people care more about how feet look versus whether they're healthy or not. We developed whole campaign around content they needed to look good for certain occasions.
7) Emphasize what your product does in relatable situations.
Cassell: Because it was a new brand, we put a lot of emphasis on what the product did, the moments you think about your feet -- whether you're an avid runner, or commuting to work, etc. We went into the demographic more and more, and came up with a bunch of situations.
8) When working with a client, keeping them involved in the creative process can save time and money.
Pape: If you had to go through the traditional process, an agency usually goes away and creates ideas. However, with digital, it is always great as an agency to have a back and forth and open relationship with your client. Clients feeding into the creative process and giving immediate feedback is the key to getting stuff done more quickly and efficiently versus broadcast. It's also less costly.
9) Sometimes you have to test and see what works.
Pape: Facebook has such amazing targeting capabilities. It even goes beyond demographic and shows what people are talking about. You can target videos to people who are talking about changing diapers as they are posting about it on their newsfeed. The Facebook-first mindset fits the overall mix because you get to see what really works in a live environment. Testing the environment really works out well.
10) There are keys to making a great Facebook video.
Pape: The most important thing is to pay attention to three-second audition. It impacts the overall campaign. You have three seconds to absolutely be stellar. Remember my Charlie Chaplin reference as well -- be visual and be silent.
Cassell: I think most importantly, make sure your piece of content speaks to target you're targeting. You want to make a series of small videos that will work for different targets you want to hit, specific to the product or campaign. Hyper-target, and offer a variety of videos.
Truong: From a brand stand point, in this case it's about staying true to consumer and making sure the message takeaway is resonating within the consumer. For everything in digital, we have to have a call to action at the end, which a consumer may or may not get to, but it is key. After they consume the piece, they may or may not engage. There's awareness, but to have that there gives them an opportunity.
Whether you're a reporter, blogger, author or other content creator, ProfNet can help you with your search for expert sources. You can send a query to tens of thousands of experts and PR agents, search the more than 60,000 profiles on ProfNet Connect, or get timely experts and story ideas by email -- all for free! Need help getting started? Email us at profnet@profnet.com