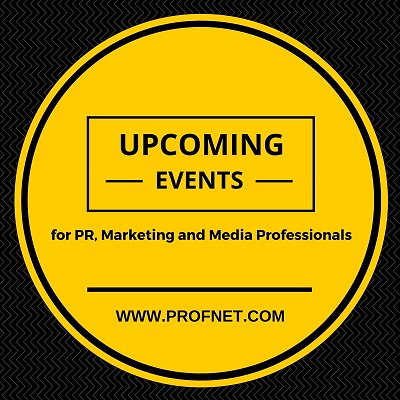 Here are a few events from around the PR, marketing and media worlds that are coming up over the next few weeks. Have one you'd like to add? Email us the details and we'll include it in our next post.
Event: Is the Price Right? How to Price and Structure Your Next PR or Marketing Contract
Host: IPRA and PRSA NCC
Date: Sept. 3
Location: Vienna, Va.
Summary: Suzanne Carawan, chief marketing officer, HighRoad Solution, will discuss the essential components of structuring and pricing PR and marketing contracts, including pricing strategies; cultural, social and technological effects on pricing; competitive research; and what to include in (and leave out of) your next client contract.
Complete event info here.


Event: Coming Home, Convention & LGBT Media Summit
Host: NLGJA
Date: Sept. 3-6
Location: San Francisco
Summary: Join more than 350 journalists, news executives, communications professionals and educators to celebrate the 25th year of NLGJA, Coming Home National Convention and 11th Annual LGBT Media Summit.
Complete event info here.


Event: A Conversation With Ana Navarro
Host: The Poynter Institute
Date: Sept. 10
Location: St. Petersburg, Fla.
Summary: Ana Navarro, political contributor to "The View," ABC and CNN, will examine issues important to Hispanic voters and how they will impact the 2016 presidential race.
Complete event info here.


Event: PR Innovations: Using Virtual Reality as a Storytelling Tool
Host: PRSA Dallas
Date: Sept. 10
Location: Dallas
Summary: Greg Cohen, vice president of corporate communications at The Patrón Spirits Company, shares the behind-the-scenes story of how and why "The Art of Patrón Virtual Reality Experience" was created. Following the presentation, attendees can step into the Patrón Hacienda via virtual reality headsets and experience the ancient art of tequila making.
Complete event info here.


Event: PR Boot Camp: Key Concepts and Techniques of Effective Public Relations
Host: PRSA
Date: Sept. 15-16
Location: New York
Summary: Take a deep dive into the key aspects of the public relations profession. Whether you are a journalist, new graduate, transitioning from another field, new in your position or wanting to learn more about public relations, this overview with Robin Schell, APR, Fellow PRSA, will provide you with the knowledge you need. Gain a clear understanding of public relations and communications concepts and techniques through lectures, case study presentations, discussions and group exercises. Examine the theory and practice of major issues presently facing the public relations profession and participate in hands-on teamwork as you create your own public relations plan based on a case study.
Complete event info here.


Event: Get Social With Social Media
Host: IABC Detroit
Date: Sept. 16
Location: Plymouth, Mich.
Summary: Hear how Comcast successfully used social media to successfully reach targeted audiences and achieve sales goals. Michelle Gilbert, vice president public relations, Comcast Cable Heartland Region, will share how Comcast built its brand and drove sales through two award-winning social media campaigns.
Complete event info here.


Event: How to Get on Radio and TV
Host: National Press Club
Date: Sept. 17
Location: Washington, D.C.
Summary: Television and radio appearances can broaden the reach of a print story, and advance the careers of the reporters who wrote them. But if your publication doesn't have a bevy of publicists to line up such appearances, it falls to you. It can be difficult to navigate such terrain. The NPC Journalism Institute's Professional Development Committee is offering a primer designed to explain how to get the attention of bookers as a subject matter expert, and stay on their list. The committee is also working on a follow-up panel on how to shine once you're on the air.
Complete event info here.


Event: Effective Messaging: Writing and Speaking With Words That Resonate
Host: PRSA
Date: Sept. 17
Location: Chicago
Summary: Many media interviews and spokespeople are ineffective due to one reason -- their key messages fail to resonate with audiences. Weak, bulleted key messages kill interviews, speeches and written communications because they add no context to the conversation, they fail to be quotable and they are generally empty words. Come ready to write and speak as you are introduced to new methods of writing and delivering key messages. Prepare to throw out your old beliefs and adopt a new approach that will benefit you, your spokespeople and your employer for decades to come.
Complete event info here.


Event: Strategic Planning for the Practical Communicator
Host: IABC
Date: Sept. 17 – Oct. 8
Location: Online
Summary: As communication professionals, we are often challenged by our colleagues in management to assure that measurable objectives and well-conceived strategies are in place before we apply tactics. This course will be an interactive tutorial that delivers a simple strategic planning model with the emphasis on developing measurable objectives, which enable us to build a strategic communication plan and move away from "order taker" syndrome.
Complete event info here.


Event: The Digital PR Strategist's Toolkit: Working Smarter in the Ever-Changing Communications Landscape
Host: PRSA
Date: Sept. 18
Location: Arlington, Va.
Summary: Thanks to the speed of the information age, business communicators in the second decade of the new millennium are grappling with having to function in a rapidly-changing landscape. Join Shonali Burke, ABC, acclaimed and award-winning social public relations strategist, for a deep dive into the skills and tools public relations professionals need to stay abreast of in the digital age.
Complete event info here.


Event: Excellence in Journalism 2015
Host: SPJ, RTDNA and NAHJ
Date: Sept. 18-20
Location: Orlando
Summary: Hosted by the Society of Professional Journalists, the Radio Television Digital News Association and the National Association of Hispanic Journalists, the Excellence in Journalism 2015 conference is set to be the journalism event of the year and will be host to top news professionals from broadcast, print and digital newsrooms around the country.
Complete event info here.


Event: 2015 Conference on Journalism
Host: New York Press Club
Date: Oct. 3
Location: New York
Summary: Planning is underway for the New York Press Club Foundation's 23rd annual Conference on Journalism. Save the date and plan to attend New York's most accessible and informative gathering of journalists, journalism students, academics, and those in the know. Conference details and program coming soon.
Complete event info here.


Event: National Conference: Connect … Engage … Advance
Host: The Association for Women in Communications
Date: Oct. 9-10
Location: Kansas City
Summary: Attendees will have the opportunity to connect with other AWC members and speakers from around the country. The speakers during the conference will engage everyone to think how best to utilize their communication skills as they inspire and challenge all to advance in their professional careers.
Complete event info here.


Event: ScienceWriters2015
Host: National Association of Science Writers
Date: Oct. 9-13
Location: Cambridge, Mass.
Summary: A meeting for science writers, by science writers. Join us for professional development workshops, briefings on scientific research presented by the Council for the Advancement of Science Writing, and lab tours and science field trips organized by Knight Science Journalism at MIT.
Complete event info here.


Event: Media Day 2015
Host: PRSA Cincinnati
Date: Oct. 14
Location: Cincinnati
Summary: Communications professionals will learn about new trends in marketing, public relations, communications, branding and more. The event will focus on topics such as reputation management, content strategy and the convergence of media.
Complete event info here.


Event: High Octane: Canada West Region Conference
Host: IABC Canada West Region
Date: Oct. 15-17
Location: Calgary, Alberta
Summary: This biannual conference is designed for business communication and public relations professionals at the intermediate to senior levels of career development and will feature tracks for leadership and best practices, in addition to the unique blend of networking and fun that has become the signature of IABC events worldwide.
Complete event info here.


Event: ASNE-APME 2015 Convention
Host: American Society of Newspaper Editors
Date: Oct. 16-18
Location: Stanford, Calif.
Summary: Lively and topical sessions will focus on digital transformation and the innovative use of technology in the newsroom; diversity in the newsroom and in reaching new audiences; First Amendment and access issues; newsroom leadership.
Complete event info here.


Event: ASME NEXT Magazine Workshop
Host: American Society of Magazine Editors
Date: Oct. 21-22
Location: New York
Summary: In this two-day seminar for junior-level editors on print and digital fundamentals will cover how to pitch and assign, line edit, write display type, work with art and photo, write and edit for the Web, maximize the value of social media, and manage your career.
Complete event info here.


Event: Mobile Matters: Maximizing Moment-to-Moment Media
Host: American Society of Magazine Editors
Date: Nov. 5
Location: New York
Summary: Despite mobile's rapid pace of consumer adoption -- and the fastest growing audience platform for magazine brands today -- it is still largely untapped from an engagement and monetization perspective. Mobile Matters will bring together leaders in magazine media and the many technology partners working to harness all that the promise of the mobile platform has to offer.
Complete event info here.


Whether you're a reporter, blogger, author or other content creator, ProfNet can help you with your search for expert sources. Send a query to tens of thousands of experts and PR agents to find an expert you can quote on virtually any topic. The best part? It's free! Start your search now: Send a query