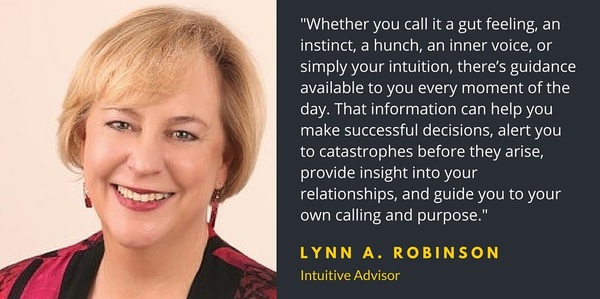 Each month, we spotlight an expert from the ProfNet network that we think journalists will find interesting and timely. With a network of hundreds of thousands of experts and communicators, ProfNet connects journalists with sources on virtually any topic imaginable, whether experts or "regular people." Need a source? Submit a query – it's easy and free: www.profnet.com
Intuition: a natural ability or power that makes it possible to know something without any proof or evidence; a feeling that guides a person to act a certain way without fully understanding why.
Through her work as an intuitive advisor, Lynn A. Robinson has helped thousands of people make changes and achieve their goals, both personally and professionally, by following their intuition.
In her keynotes and seminars, Robinson teaches that intuition is a ready source of direction available to all of us; an invisible intelligence that animates our world and helps guide our lives. When we follow its wisdom, we are led to success, happiness and inner peace. She says we all have the ability to access this power and develop it for practical use in everyday life, as well as for discovering and achieving long-term goals.
Robinson is the author of six books on intuition, including the newly released "Put Your Intuition to Work: How to Supercharge Your Inner Wisdom to Think Fast and Make Great Decisions" (Career Press, July 2016).
We sat down with Robinson to find out more:
What is intuition?
Intuition is quick and ready insight. It's your "inner GPS" that's always guiding you in life. It's a powerful tool for creative ideas, perceptive insight, and quick thinking. Researchers have found that, on average, we make more than 35,000 decisions each day. Intuition is a skill that you need in today's rapidly changing world to both think fast and make those decisions successful.
I love this quote from Brian Tracy: "Your intuition is your direct pipeline to a form of intelligence that is completely beyond your conscious brain. Successful, effective, happy people are those who have gotten onto the beam of their own intuitive senses and who rely continuously on their inner guidance -- and they seldom make mistakes."
How can intuition help people in their daily lives?
Intuition helps you make decisions when you don't have all the facts. You need it when you're overwhelmed with data and figures. Or, in the other extreme, it's crucial when you're trying something new in your life and there's no real data to pursue. You're on your own with your own gut instincts.
Whether you call it a gut feeling, an instinct, a hunch, an inner voice, or simply your intuition, there's guidance available to you every moment of the day. That information can help you make successful decisions, alert you to catastrophes before they arise, provide insight into your relationships, and guide you to your own calling and purpose.
Can people develop their intuition? Is it something one can learn?
Intuition is like any skill -- the more you use it, the better you get at it. I tell people to ask their intuition questions such as, "What's my right next step?" or "What do I need to know about this person or situation?" Listen for the answers. Each of us has a predominate form in which we receive intuitive information. It may come through feelings, images, body sensation (gut feelings) or through your thoughts. When you are making a decision, pay particular attention to all of these ways that your intuition communicates with you.
You have a great story about "winning" the lottery. Can you share it with our readers?
A few months after I was married to my husband Gary, I woke up early one Wednesday morning with six numbers running through my head. I found I could neither fall back to sleep nor stop the numbers from endlessly repeating themselves in my mind. I had never played a lottery before, but it occurred to me that these numbers might represent a lottery win.
Gary was snoring beside me. I shook him gently and said, "How many numbers are in the Massachusetts State Lottery?"
"Six," came his mumbled response.
"I think I might have the winning lottery numbers," I replied.
Gary was on his feet, grabbed a paper and pen, and was ready to write down the numbers before I barely had the previous words out of my mouth. I've never seen him wake up that fast since!
With the "winning numbers" in hand, Gary agreed to play them in the Wednesday lottery. I promptly put the whole thing out of my mind until Friday morning, when I casually asked if he'd checked on whether our number had won. He confessed that he'd had a crisis at work and had completely forgotten to play the game on Wednesday.
We took out the newspaper to find the lottery list. You guessed it: My numbers were the winning numbers for 5.2 MILLION DOLLARS on Wednesday -- the same day I received the information and the day he didn't play it. So close and yet so far away...
P.S. I'm still married to him. ;-)
What are you working on now?
My latest book, "Put Your Intuition to Work," has just been published by Career Press. An audio version has been produced by Vibrance Press. I'm looking forward to doing lots of interviews and speaking on the topic.
I also just redesigned my website at LynnRobinson.com. There are many new quizzes. My favorites include "Are You a Gut Truster?" and "Are You Making the Right Decision?" There's also "How to Develop Your Intuition" videos and free e-books, such as "How to Listen to Your Inner CEO." Oh, and I live on Cape Cod, so I'm hoping to enjoy my summer in the midst of all of this!