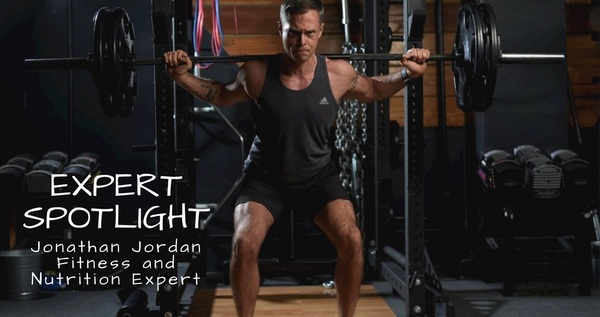 In our Expert Spotlight series, we feature an expert from the ProfNet network that we think journalists will find interesting and timely.
In this edition, we catch up with Jonathan Jordan, an award-winning personal trainer, nutrition coach, group fitness instructor and fitness blogger.
Formerly a partner at a large consulting firm, Jonathan understands the physical and mental challenges that busy professionals experience daily, and takes each client's unique lifestyle demands into consideration when creating his fitness programs. He also offers practical, effective, and free videos, advice and tips each week through his blog and Instagram account.
Jonathan, what led you to become a personal trainer?
For more than 10 years, I was a very successful -- and extremely stressed out -- public relations executive and partner at a large consulting firm. I was miserable. I had plenty of money, awards and the respect of my peers, but my body and my spirit were slowly dying. I used food and alcohol to cope with the stress.
During this time, I worked with an amazing personal trainer. The only time I was truly happy was when I was in the gym. After years of struggling with addiction, I got sober. And when I realized I had to pick my sobriety and my life over the stress of my corporate job, I made the decision, with the help of my personal trainer, to make the switch. I walked into Equinox, where I was a member, and told the general manager I was going to be his next personal trainer. That was four years ago. And after a lot of hard work and dedication, I'm proud to say I'm a top trainer at that same Equinox, and have helped hundreds of clients, students and other trainers find their own paths toward health and balance.
What's the best part of your job?
Hands down, the best part of my job is coaching clients who are miserable with their bodies and their lifestyles into balanced people who actually enjoy exercise, eating healthy (most of the time) and taking care of themselves.
Oftentimes, when people start working with a trainer, they think it's going to be all about kicking their butts and me being a drill sergeant. There is a little of that (as needed), but it's mostly about building them up, making them strong and helping them make small, incremental changes in their daily lives (exercise, nutrition, rest/recovery) so they become healthier, more productive at work and better connected with their loves ones.
It's part physical, part psychological, and sometimes part spiritual. It's beautiful to see the change happen in them and know I've played a small part in it.
Most of my friends are really into fitness trackers. Are you seeing this with your clients as well? What do you think about them?
We are a data-driven society, for sure. I use my Fitbit all the time too. Having data is important because, without measurement, we typically will overestimate our physical activity and caloric burn and underestimate our caloric intake.
So, I'm a fan of fitness trackers, as well as occasional food journaling (like with MyFitnessPal) -- as long as the data is actionable. For instance, I have a deal with some of my clients that if they don't hit their goals, they will take their dogs for an extra walk or go for a walk at lunch the next day to make up for missed activity. However, like with all things, it can become unhealthy and actually become an obstacle to progress. I see some clients get really stressed out and upset when their trackers aren't working or if they miss a goal. They literally won't exercise "if it doesn't count" and will waste time during a session fidgeting with the darn things. And they have mini panic attacks over it. We want to be healthy and balanced, not obsessed and stressed out.
What are some of the biggest fitness trends you're seeing?

Posture is the big focus these days. As a personal trainer, group fitness instructor and massage therapist for Equinox in downtown San Francisco, I've worked with hundreds of clients. Nearly all of them come to me with health issues related to chronic sitting, texting/typing, traveling and commuting in poor posture.
When we sit, even with good posture, the glutes are lengthened, so they become weak. Weak glutes force the back muscles to work harder, which leads to pain, misalignment and herniation. Most people don't engage their core when they sit, so the problems get even worse. Typing on computers and cellphones force the shoulders into internal rotation which tightens the pec muscles and weakens the upper back. Eventually we get pulled into this Quasimodo position and can't lift our shoulders or retract our shoulder blades. It's petrifying.
Beyond the poor posture, this setup actually makes us stressed out and stupid. When we sit slumped over a desk, we compress our lung cavity. This prohibits proper breathing through the diaphragm and we end up breathing from our secondary respiratory muscles in the chest. This increases stress hormones, causing anxiety, weight gain and poor productivity.
A huge part of my work is helping clients recover from the effects of all this and then mitigate against future problems through mobility and strength training and lifestyle changes at work and at home.
You also blog about fitness. Please tell us about your blog and what kind of topics you cover.
My blog, JJ Fit 24/7, and my Instagram offer practical, effective, and free videos, advice and tips each week, including exercise demos, stretches, recipes, supplement spotlights, fitness products, interviews with health professionals, sleep and stress management.
To set up an interview with Jonathan, contact him via email at jondjordan@gmail.com or through his website: www.jj-fit.com/contact/

With a network of hundreds of thousands of experts and communicators, ProfNet connects journalists with sources on virtually any topic imaginable. Need a source? Submit a query – it's easy and free: www.profnet.com