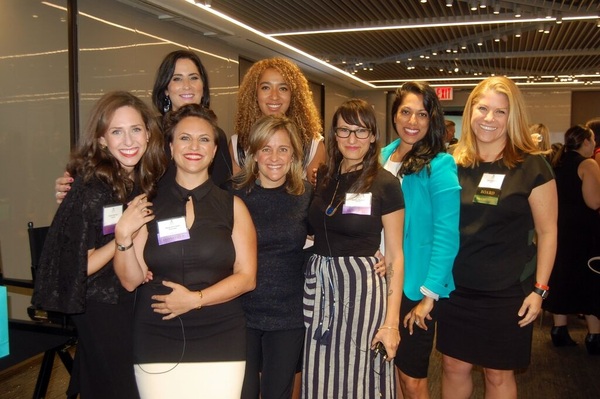 On Sept. 24, more than 100 people gathered for New York Women in Communications' 2015 WiCi Awards ceremony, held at the iconic Condé Nast offices at 1 World Trade Center in New York City, to celebrate the extraordinary talent of six rising stars in communications.
The WiCi Awards recognizes emerging leaders for making a difference and significant contributions in the changing landscape of communications. This year's WiCi honorees included:
Penny Abeywardena, commissioner, Mayor's Office for International Affairs, City of New York
Jessica Bennett, editor, contributor, The New York Times; columnist, Time.com; contributing editor, Lean In
Katrina Craigwell, director, global content and programming, GE
Carrie Hammer, CEO, Carrie Hammer
Jolie Hunt, principal, Hunt & Gather, Inc.
Genevieve Roth, senior director of special projects, Glamour
The event, hosted by previous Matrix Award honoree Dyllan McGee, founder/creator of MAKERS, left many full of inspiration, with each of the honorees sharing personal stories, valuable career advice and what key traits contributed most to their success.
Here are some key pieces of advice shared from each of the six exceptional women being honored:
"Being generous will set you apart from others. It doesn't matter how much or little you have, try to be generous with what you have. I think generosity and honesty contribute most to success." – Jolie Hunt
"Good and on deadline is better than late and perfect, every time." – Genevieve Roth
"Be a force for good and bring others along with you." – Penny Abeywardena
"Passion, persistence and resilience contribute most to success. Those who are successful know that when you get 99 'no's, the 100th could be a 'yes'. – Carrie Hammer
"Don't be afraid to fail. If it doesn't work, try something else." -- Jessica Bennett
Have a strong support system, both professional and personal. They will be there for you when times get rough." – Katrina Craigwell
For additional takeaways from the program and this amazing group of women, follow the hashtag #WiCi15 on Twitter.