Social media has changed the way journalists, bloggers and other writers develop story ideas, manage resources, and promote their work to a wide cross-section of readers. But with the number of social media platforms increasing by the day, how can writers wade through all the social-media noise and find the ones that will be most useful to them?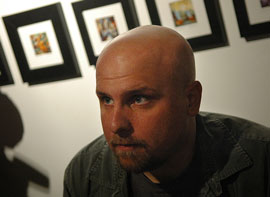 Social media has changed the way journalists, bloggers and other writers develop story ideas, manage resources, and promote their work to a wide cross-section of readers. But with the number of social media platforms increasing by the day, how can writers wade through all the social-media noise and find the ones that will be most useful to them?
That was the focus of our latest #ConnectChat, which featured award-winning investigative reporter Dave Copeland, author of "Blood & Volume: Inside New York's Israeli Mafia."
Copeland teaches college-level writing and journalism classes, with an emphasis on social media and writing for online audiences. He writes regularly about social media for the recently launched Daily Dot, and has written for a wide range of publications, including Boston Globe, The Wall Street Journal, London Telegraph and Boston magazine.
Following is a recap of the chat.
ProfNet: Hi, Dave. Thanks for joining us!
Copeland: Thanks! I'm really happy to be here.
ProfNet: You've used ProfNet many times before, so it's nice to talk to you about something other than queries!
Copeland: Figuring out how ProfNet worked way back in 1998 is still one of my happiest days in journalism.
ProfNet: Let's jump right in. Most journalists seem to use Twitter as a promotional tool, but it's more than that, right?
Copeland: It's really a way to connect with sources and stay ahead of trends. Self-promotion is an afterthought. This study found Twitter can predict stock movement: tinyurl.com/3975voa And other studies have found it's ahead of traditional news organizations: ow.ly/6tnyH
ProfNet: There's so much "noise" on Twitter. How can a writer wade through all that to find what they need?
Copeland: You need a system. Social media can take over your life. I cover social media, yet I try to keep my time on it to less than one hour a day. It takes some time to figure it out, but the key is to know what works and what doesn't before news breaks.
ProfNet: Can you tell us a little about how you use social media in your own reporting?
Copeland: There are lots of tools we can talk about today that will help people be efficient in their social media use. For example, when the Bruins won the Stanley Cup, I wanted to pre-interview people going to the victory parade. The #bruinsparade hashtag let me "meet" people and coordinate places to meet them during the parade.
ProfNet: That underscores the importance of using hashtags in tweets.
Copeland: I use [hashtags] to test story ideas. If I have a hunch about a trend story, I see if other people are talking about it on social media. [Another tools is] Kurrently, a real-time social-media search to see what people are saying about a topic. It is also great for breaking news.
ProfNet: It's pretty neat. I like it because you can search by words and terms, not just hashtags.
Copeland: Kurrently also lets you see beyond Twitter onto other social networks, especially Facebook.
ProfNet: I hadn't noticed that. That certainly comes in handy if you're looking to spot trends or ideas… Let's say you've decided on a story topic. How do you then manage all the info you find? It has got to be a lot.
Copeland: You can't keep up with everything from everyone you follow. The trick is knowing how to find the info you need, when you need it. I follow thought leaders in industries/beats I cover.
ProfNet: Are certain social media sites (Facebook, Twitter) better for certain types of reporting/info gathering than others?
Copeland: I use HootSuite (some like TweetDeck) to better manage my tweets and incoming social media streams; Facebook, because everyone is on it; Twitter, because smart people are on it. LinkedIn is crucial as a business journalist covering layoffs. Google+ is cool, but not enough people are on it to make it my first check. I recommend knowing how Tumblr works if you cover education – it's fast becoming a big thing among people under 25. Reporters who cover a lot of meetings love Foursquare, as you can often tell if a person you need to speak to is there. Otherwise, use the sites you're already on and like. You can't be on every site, as you still have to do the actual reporting.
ProfNet: Otherwise you'd spend all your time on social media and have no time for actual writing and reporting!
Copeland: A lot of people get hung up on being early adopters. Why? You can't use every bit of info you find on social media in your stories.
@AlyssaatUNT: Great discussion going on between @bloodandvolume and @profnet regarding social media and journalism. How prevalent is social media as a reporting tool? Has it become the norm, or is there still some resistance?
Copeland: It's just another tool. Some people still resist CAR and spreadsheets. I like it because it's quick and efficient, but others are going to find it's more trouble than it's worth. I always stress, use what you're comfortable with. There are no right or wrong tools, just right and wrong ways to use them.
@AlyssaatUNT: Very true. Thank you!
ProfNet: Do you think reporters should have separate social media accounts, one for personal and one for work?
Copeland: It's personal preference. So many of us work for multiple organizations these days, I find it easier to manage one account. I have a separate Facebook profile for work. But most of my reporting info still comes via my "regular" Facebook page.
ProfNet: Do you think social media is more effective for reporting on breaking news than on everyday stories?
Copeland: Is the telephone more effective for reporting breaking news or everyday stories? It's just another tool to connect with people and sources, so it can work for all types of stories.
ProfNet: In your webinar, you also discuss best practices for tweeting as a journalist. What are some of your tips?
Copeland: 1) Be interesting. There were 6,000 tweets per second during the Virginia earthquake last month. Do you really need to be tweet No. 6,001? 2) Don't be vain. I get more value from the quality of people I follow than from the number of people following me. 3) Know what you're doing. @sree once said, "When the plane lands on the Hudson, it's too late to figure out how to use Twitter." 4) Good tweets invite a response, share info and start a discussion. To do that, I keep them under 120 characters, and always try to include a hashtag, link and @ mention of another user. That increases the chances it will be read/shared. Remember, most people won't read most of what you tweet, so the trick is to increase the likelihood by making them useful.
@LeslieWimmer: What's the most challenging part of teaching social media to students?
Copeland: Keeping up! Also, that they have to pay attention to privacy. They don't want to know everything about you and vice versa. Some are very resistant, and feel like you are invading their world. I avoid Facebook for that reason. Finally, they can't get too bogged down in social media. They still need to focus on the basics of reporting and writing.
ProfNet: In your webinar, you also go over some of the tools reporters can use to manage all of the info they find. Can you share some of those tools? What are your favorites?
Copeland: I love HootSuite to manage Twitter, Facebook, LinkedIn, etc. I can schedule tweets and it's easier to tweet pages I like. Trunk.ly helps me keep track of links I share and organizes them by tagging them with the hashtag I used. Twistory backs up/shows me what I've tweeted, right in my calendar program (it works with most major calendar apps). 14 Blocks helps you figure out when to tweet to increase the odds of it being seen. Twiangulate can help you figure out if you have a mutual friend with that source you desperately want to interview. I keep a frequently updated list of these tools, with a section for journalists, at my blog, Cope Writes. (The direct link to the newsroom tech list is here.)
@AlyssaatUNT: Any tips for public relations professionals wanting to connect with reporters on social media?
Copeland: A lot of the same: We're all storytellers, and this is just information that helps our audience better understand. That said, I like a relationship with my PR person before they start messaging me via social media. And PR people need to give and share in their tweets too. All pitching all the time makes me hit unfollow.
ProfNet: Is building trust ever an issue when reporting via social media? If so, how do you build trust via social media?
Copeland: The trend of email/social media interviews by some news organizations scares me. There's no way to know you are talking to the person you think you are. I use them as tools to connect and reach out, but always prefer a phone or in-person interview.
@GnosisArts: How best should a PR person approach/get to know you on Twitter?
Copeland: I would rather we connect, talk, share info and links before someone lays into a pitch. E-intros are fine. But just in the course of this chat, I've been social-media-pitched by someone I have never worked with/heard of before.
ProfNet: I guess that would be like someone going up to you at a dinner party and pitching a story w/out knowing you...
Copeland: The other thing is people "know" a lot more people in social media. You can't assume I'll always remember you, as sad as that is. If your story is worth my time, you can write an email or pick up the phone. Less than 140 characters makes me feel cheap. :-)
ProfNet: Will social media ever be a suitable replacement for traditional forms of reporting, or just another platform?
Copeland: No. People call themselves "social media experts." It's like going back 40 years and saying you're a touch-tone dialing expert. Social media is just another reporting tool -- a powerful tool -- but not a substitute for sourcing and interviews.
ProfNet: Since time's almost up, tell us about your next webinar.
Copeland: It's 90 minutes, covering everything we discussed here and then some, on Sept. 28 at 7 p.m. EDT: ow.ly/6tsqn. The recording will be available for anyone who registers but can't make the live webinar.
ProfNet: Dave, thank you so much for joining us! You definitely shared some helpful tips and tools.
Copeland: It's been a lot of fun. Hope it was helpful, and hope people who were hanging out with us will follow me!
ProfNet: And thanks to everyone who participated in the chat! And don't forget to follow @bloodandvolume and to check out his next webinar: bit.ly/rlFtSV. We now return you to our regularly scheduled tweets. #ConnectChat over.