We all know the feeling: You see something on Facebook, Twitter or Snapchat that you just can't wait to share with your friends.
But what if you're on the other side of the coin and you need to figure out how to make the content people will want to share? How do you make something your readers will want to put on their timelines?
Start With Good Storytelling
When you're up against Kardashian photos and Trump tweets, it can be hard to gain traction for your news. But if you have a good story, you can find interesting ways to present it for your audience.
"It has to start with a good story," says Sarah Frank, editor of NowThis, a new company "for young people, by young people."
"Good storytellers can find a way to put the story in a way your audience wants it," she adds.
For every story, think WWYS: What would you share?
"If it's not something you would share, if it's not something you would be interested in, why are you making it?" asks Frank.
If you can't make a story in a way that would make you want to talk about it at brunch or coffee, if you wouldn't text your friend about the story, you need to rethink your approach.
That's something that traditional media needs to do better, says Frank.
"Across the board, traditional media needs to find better ways to reach out to young people. They need to find ways to have conversations with young people, who are their future customers. I don't know that I've noticed a lot of outreach, particularly for young people, from any of the traditional publications other than 'We're on Snapchat.'"
Stand out From the Crowd
Unfortunately, having a good story doesn't necessarily guarantee you'll get an audience. To do that, you'll have to stand out from the crowd.
Find a place where you can do something different from what other people are doing. Sites like NowThis and Vox have found success with new angles of reporting and new ways to optimizing content for a platform where there's a real hunger for it.
They also show their brand's personality and point of view with every piece of content they share.
Take NowThis. When Facebook Autoplay video started, NowThis really started to take off.
"At the time, we had a website no one was visiting on a regular basis," says Frank. "Most of our audience was from syndication partners like MSN, AOL, Yahoo."
But when Facebook Autoplay took off, Frank immediately realized that they had to put some personality and perspective behind their stories.
"It's not the medium, it's the personality. It's the point of view. For us, that means stories that are important to young people -- whether that be news or larger issues in the world -- and really having that unique point of view. Anyone can put text on screen."
Pick the Right Platform
Not all platforms are right for everyone. You have to "pick where you can win," advises Choire Sicha, executive director of partner development for Vox.
In his role, Sicha works across eight Vox Media brands, including Vox.com, The Verge, Recode and SB Nation. He deals with relationships with publishing partners like Facebook and Google. He also runs the brands' Snapchat Studio and a group called the Storytelling Studio, which does high-impact journalism.
Sicha suggests narrowing your focus to platforms where you know you can do well, and cites Racked as a company that has done that successfully.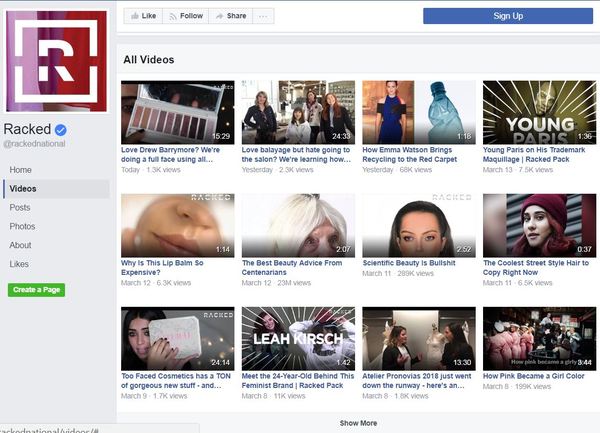 "If you look at Racked.com, which is a site about shopping, they publish a newsletter and they publish Facebook video – and that's it. They've narrowed down their focus to two places, and it's working phenomenally well. Their newsletter is gorgeous. It's spectacular and successful."
Also, think about how your content fits the platform you've chosen. Are you forcing news and information there, or does the platform fit the content you're sharing?
"While we try to always try to come back to the story, there are definitely certain stories that might work a little bit more on one platform than another," says Frank.
Know Your Audience
To find the right platform, you have to find what your audience is passionate about. What are the things your audience cares about? What are the stories they're most passionate about? And, more importantly, what are people doing on a specific platform? Is it a platform where they're dipping in for five, 10, 15 seconds, or are they going to be there a little longer?
For example, while brands creating Facebook Live content are doing it mostly between the hours of 9 a.m. and 6 p.m., that's not necessarily when most of their audience is available to watch it. Keep in mind how – and when – your audience is consuming your content.
Also, be open to feedback from your audience.
"It's not just about the view number," says NowThis' Frank. "We also look at the share number. We try to read what people are saying in the comments, because sometimes they are either saying explicitly or just hinting to us that they want more or less of something."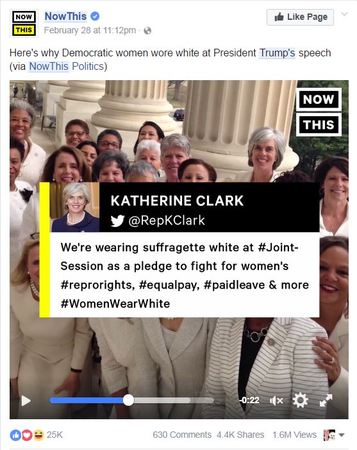 And sometimes the audience might not necessarily be huge, but they will be engaged.
"There are a handful of things, particularly on Facebook Live, that we do because we have a small but engaged audience around it," says Frank. "We have a show called 'Trumped Up,' where we take a deeper dive on things that Trump has done. It is a basic 'person in front of the camera engaging with the audience' thing, but she's taking questions in real time and breaking things down, which is something that young people, especially, don't get. They don't get this moment to ask, 'Can you break this down for me? Can you explain this thing to me? What's this thing I saw five minutes ago vs. three days ago? How are they connected?'"
If the young demographic is important to you, be careful not to dumb down topics. Instead, lower the "barrier to entry" slightly, says Frank.
"Don't assume your audience has been following these stories for 5, 10, 15 years. It doesn't have the same context as for people in your newsroom. Just open the door a little bit because that's where people really start to feel a connection. They'll think, 'This place made me feel smarter. I saw something here, I repeated it, and my friends thought I was cool and interesting and smart and knew what I was talking about. It made me feel good."
That creates a connection that will stay with the user.
Snapchat in a Snapshot
Snapchat is the new kid on the block of sorts. It's fun, it's hip – but it's also challenging.
"The most challenging part about Snapchat is it's like a newspaper," said Frank, a former print reporter. "It comes out seven times a week at 7 in the morning."
And while NowThis has a 12-person Snapchat team, there's still a lot of content that needs to be created.
"That's been the main challenge," says Frank, especially coming from Facebook, where her team would post things as they were ready, or on Twitter, where they would pop up for breaking news and then pop down when it was a little quieter.
Sicha agrees: "We did a daily channel as well, which was grueling. You cannot have a team big enough to survive it. We did daily for almost nine months and it was tough."
Sicha's team has now transitioned to doing specials, explaining that it works out financially for them.
"Only a top few really successful Snapchat publishers make money on it," he said. "It's a very tough business -- but it's also really rewarding. I have so much love for Snapchat because it's cool and weird and unexpected and enormous and wild."
And while creating so much Snapchat content can been a challenge, it also provides a lot more room to play.
"We were originally a top Snap only, and predominantly video," says Frank. "Now we've expanded into more swipe-ups with some text. It's been really exciting to see our audience gravitate to that. We're playing with inline video and GIFs and really beginning to think about ourselves as a video publisher that can also do some text-based content."
Henry Goldman, head of video for BuzzFeed News, agrees.
"It's been fun to try and learn how to tell stories on these platforms and learn how to optimize your team to think about them and expand on them," he says.
Snapchat has also unlocked interesting new user behavior.
"The platform created a whole new media consumption behavior when it launched Stories," says Goldman. "The idea of sharing something with the knowledge that it will go away in 24 hours works a different muscle in your brain that releases different performative endorphins when you share it, and that's not going away."
Find the Right People
Of course, everyone wants a team with awesome, smart people, but hiring the right people goes beyond that. To really be successful on social media, you want a team made up of people who are versatile and have a thirst for learning.
Goldman calls the ideal person the social version of an MMA fighter: "What I ultimately want on the video team -- and throughout the news organization -- is people who can be MMA artists. I look for folks who know how to box, and then they learn jujitsu, and then they learn kickboxing. And then, when a new fighting style comes up, they go in and learn that new fighting style."
For Frank, the ideal person is fearless. At NowThis, the newsroom is predominantly people under age 27 who live on their phones.
"They're the types of people in your friends group who always share the best stuff on Facebook -- the story that you don't know how they found it," says Frank. "They're not just headline retweeters. They're people who want to learn new skills."
They're also not afraid of the constant creative changes and constraints that come along with the job. In fact, they're people that tend to work really well with creative constraints. They like the creative challenge. They're constantly reaching for new skills, whether that's journalism skills, video skills or professional development skills. They're constantly learning.
And, of course, they're good storytellers.
View more SMW panels with the SMW Digital Pass here: socialmediaweek.org/insider/