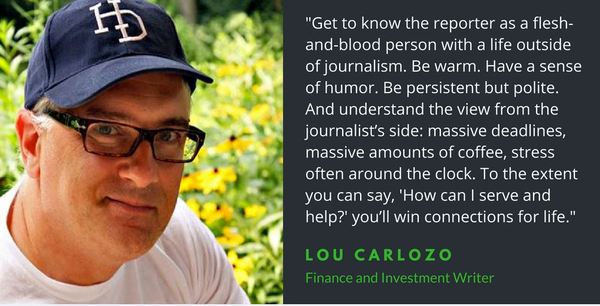 In our Journalist Spotlight Q&A series, ProfNet users share insight and advice on how PR professionals and experts can improve communications and increase their chances of being featured in their publications.
Lou Carlozo (@LouCarlozo63) is the managing editor at BAI, a nonprofit organization based in Chicago that works within banking and the financial services industry.
An award-winning journalist based in Chicago, Carlozo spent 16 years with the Chicago Tribune, where he served as a syndicated weekly features columnist, writing coach, music editor and critic, and the creator of "The Recession Diaries." He was also a former managing editor for AOL's personal finance site and a full-time freelance contributor for Reuters and U.S. News & World Report.
Lou, for those not familiar with your work, can you talk a little about some of the publications you write for and the topics you cover?
I just started work as the managing editor at BAI (Bank Administration Institute). I also continue to freelance for U.S. News & World Report covering investment, and I'm the stocks expert for About.com, which has just launched as an exciting new financial website, The Balance.
You've used ProfNet for many years, starting back when you were on staff with the Tribune, so you've gotten a lot of replies to your queries over the years. What are PR pros doing right – and what are they getting wrong?
The pros who get it right build relationships with me, and vice versa. Relationships drive everything we do in media, so it isn't just answering one query. It's letting me know more about who they are, whom they represent and what we can do to help each other. I've made no bones about the fact that publicists help me do the job every day.
As for the cons, there aren't many. It's sometimes hard when publicists are insistent about "can you tell me if this article ran, and where can I find it?" That's hard for me to chase down 10 times a day. Also, I can't tell you how many times PR people don't read the queries close enough. If I ask for comments specifically via email, that doesn't mean dropping everything to do a 45-minute phoner.
Is there anything PR reps can do to set themselves apart from other respondents?
Absolutely. Don't settle for one answered query. If a reporter is open to it, check in once a week to see what they're working on. Additionally, I've had some PR people volunteer to help me with a deadline, even if they didn't have a client in their stable. I can't even begin to express how much that wins my loyalty. Their sources get top priority the next time around.
Also, get to know the reporter as a flesh-and-blood person with a life outside of journalism. Some of the PR pros I've dealt with have become trusted friends and guides, and I know something of their character and work ethic from what they share about their lives outside the office. Be warm. Have a sense of humor. Be persistent but polite. And understand the view from the journalist's side: massive deadlines, massive amounts of coffee, stress often around the clock. To the extent you can say, "How can I serve and help?" you'll win connections for life.
Are you open to cold calls/pitches? If so, what are your guidelines for those?
Yes. Send me email (loucarlozo63@gmail.com), and help me understand why this story is something that is in my wheelhouse, and why it matters. If you know and research my work ahead of time, it shows me that you have a true understanding of what works for me, and that I'm not just a "pitch target."
Do you use social media at all, either to connect with people or to promote your articles? If so, how? If not, why not?
I'm a "superuser" on LinkedIn (www.linkedin.com/in/loucarlozo), with more than 2,500 first-level connections and counting -- conservatively, that's 2.5 million people I'm two handshakes away from. I will sometimes post my own blogs, stories and story requests there, and on Facebook as well.
With LinkedIn, though, it's not merely about numbers. I always try to introduce myself to a new connection and let them know I'm open to working together. Never send a connection request with "I'd like to join your professional network on Linkedin." Make the note personal; show that you have an appreciation and knowledge of the work they do, and that you're willing to help them. This has led to some of the best freelance assignments I've ever had, and lasting friendships. "Friend" can be a dirty word among journalism's ethics wonks, but most of us are mature to understand that it's not about shilling for each other: It's helping each other.
What's been your favorite or most memorable story you've written?
Picking a favorite is always difficult; there have been so many. If I had to pick a few on the opposite ends of the spectrum, I profiled a Chicago mother who lost her world in a single accidental gunshot: Her toddler daughter was killed, and her husband went to jail. I won a shared Polk Award for my stories in that series. I also broke a major story for Reuters highlighting how the U.S. has the largest college dropout rate in the world. To pin down the key final numbers, I had to contact the author of a report while he was on a plane.
On the funny end, I once interviewed Barney the Dinosaur for my nationally syndicated DVD column at the Chicago Tribune. Of course, it was the voice of Barney, but the publicist kept insisting it was the real Barney, and they wanted me to play along. The voice guy refused to identify himself as anything other than Barney. So I tried to grill him about being too facile for kids, and he responded, "You have to pardon me if I'm nervous; it's hard to do interviews after 100 million years." I also am the only journalist in history that's ever appeared in an Archie cartoon -- right up there with winning a Pulitzer. If you go to my Facebook page, the first frame of the Archie cartoon is there. They made me look less balding than I am.
Whether you're a journalist looking for experts, or an expert looking to be quoted, ProfNet can help. Sign up as a source at www.profnet.com, or click here to send a query as a journalist: prn.to/2bCdhgU.