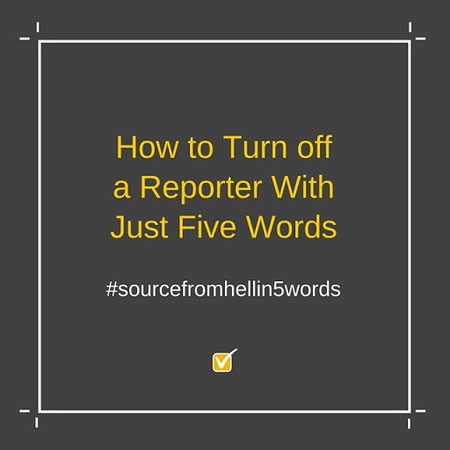 If you were on Twitter yesterday, you may have seen tweets with the hashtag #sourcefromhellin5words.
The brainchild of Linda Formichelli, co-founder of The Renegade Writer and UsefulWritingCourses.com, the hashtag gave writers the opportunity to share five-word phrases that make them never want to interview a source again.
Here is a roundup of some of the top phrases shared by writers:
"Can I review before publishing?" (@joyfc)
"I must approve final draft." (@write4income)
"Oh, don't use my name." (@seanfdriscoll)
"It's all off the record." (@lisarab)
"Don't quote me on that." (@Steph_Steinberg)
"Hey don't use this, but…" (@josephcurrency)
"Don't use any of this." (@seancolahan)
"Has this been published yet?" (@urbanmusewriter)
"Make me sound good, okay?" (@sheehanwriting)
"Just quote from my book." (@gwenmoran)
"Read Chapter 7 of my book." (@urbanmusewriter)
"Answers are in my book." (@caroleenoury)
"It's all on my website." (@anngol)
"Just get quotes from my website." (@write4income)
"Can't you just email me?" (@urbanmusewriter)
"Just email me the questions." (@clarionev)
"Totally forgot about our interview." (@savvysuburban)
"My idea's better than yours." (@cassiemccorvey)
"My lawyer has to approve." (@mariannevill714)
"We're creating a new paradigm." (@lformichelli)
"That publication isn't big enough." (@willieshamorris)
And, my favorite (albeit more than five words): "Write the story, let me read it, and then I'll decide if I want to be interviewed." (@annielogue)
Whether you're a reporter, blogger, author or other content creator, ProfNet can help you with your search for expert sources. All you have to do is fill out a quick form telling us what you're looking for, your deadline, and how you want to be contacted, and we'll send it to the appropriate experts in our network. The best part? It's free! Get started here: Send a query.