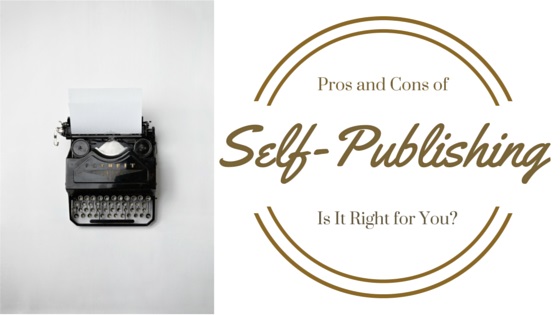 Whether you've just come up with a book idea or have already finished writing it and are ready to think about publishing, you've likely come up on the question of self-publishing vs. using a traditional publisher. There are definitely upsides and downsides to each, so I asked a few self-published authors for their input on the process. After all, who better to advise you than someone who has gone through it already?
The authors:
Deciding to Self-Publish
I asked the three authors what led them to self-publish their books:
"I pitched the idea for a humor book to a number of agents, but I kept hearing the same kind of response: 'Love your stuff. It's really funny. But humor is a tough sell,'" said Wojciechowski. "I knew I had a good idea, so I decided that I would do it on my own. I wanted the finished product to be just as good as something that would have come from a traditional publisher, so I hired an editor, an illustrator for the cover, and a designer to put the whole book together. It paid off: My book won a 2013 Outstanding Book Award from the American Society of Journalists and Authors."
Rejection was also the impetus for Barbosa's decision: "I heard so many tales of rejection from traditional publishers that it actually put me off. I submitted a few stories and poems to traditional publishers and the answer was always the same: 'We like your work, but...' There was always the 'but.' Either the story was not commercial enough or there are too many submissions for that genre. At some point, you have to decide whether to wait or just do it -- so I just did it. Apparently, several known writers are opting now to follow the self-published route, because they can be more creative without worrying about catering to the masses. They get to write the story they want to read, rather than writing the story to please someone else."
For Maurer, the decision was based on his book's genre. "The traditional route to publishing novels is to get your short stories read and published by genre magazines, attempt to attract the attention of an agent, and use that agent's leverage -- if they have any -- to get your work looked at by a publishing house. The problem is, almost all of the genre magazines have folded, as well as hundreds of publishing houses. Even if they hadn't, that path traditionally takes years, and that's just to get to a publisher's slush pile. Your odds of hitting the lottery are higher. Self-publishing used to mean vanity publishing -- that is, you spent your own money to have your book printed, and then tried to sell those copies on your own, or you gave them to friends and family members. Today, everyone can download your book, so your cost to publish is next to nothing. As soon as I learned about Amazon's direct publishing program, I was in."
Self-Publishing Surprises
If you do decide to go the self-publishing route, know that it's more than uploading your book and hitting publish. You have to take many other things into consideration.
"While I knew my assistant and I would be 'doing it all,' I didn't realize this meant doing things like buying an ISBN number and a bar code," said Wojciechowski. "That felt really strange. It wasn't difficult, but it was surprising."
Adds Barbosa, "Your dream of becoming a published author can actually become reality much faster than you think, but at the same time, it can take a lot of money, effort and time to market a self-published book. Patience is a must, because it's not as easy as it seems."
Maurer added that while getting a book out there can be quick -- "from the time I finish editing to the time my book is in front of Amazon's customers is less than an hour" – you have to do a lot of work that has nothing to do with writing.
"There are literally millions of self-published authors out there that are competing against you, and it takes more hours each day to market your work than it does to write and edit it," he says. "If you're not into marketing or you're not willing to put that non-writing time in, self-publishing is not for you."
Tips to Get Started
Hire a professional: Although you're self-publishing, it still needs to be a good book. Consider hiring professionals -- an editor, an illustrator, a designer -- to help you put the book together. "You want your book to be the best it can be," says Wojciechowski. "If the book looks terrible on the outside, people won't bother buying it. If it's full of typos, incorrect grammar, etc., it looks unprofessional on the inside -- again, people won't want to buy it."
Don't underestimate the importance of a good cover: "When designing or paying for a cover, make sure the title and your name can easily be read at thumbnail size, because that's how customers are going to see it," advises Maurer. "And if your title or cover doesn't grab their attention, they'll buy someone else's book instead."
Pay attention to all the details: "Make sure your book goes through beta readers and editors to iron out issues like sequence of events, continuity, spelling and grammar," advises Barbosa. Maurer agrees: "Spell-check and grammar-check everything -- nothing is more embarrassing than putting out a book that's full of grade-school mistakes."
Get another opinion: Maurer recommends enlisting someone you trust – "not a family member" – to kick the tires on everything you write. "Your work is like your child," explains Maurer. "It's impossible for you to be objective about it. You need an editor who will mercilessly pick it apart and tell you where you went wrong, and you have to listen and seriously consider everything they say."
Have a marketing plan: "Don't just assume all your friends and relatives will buy the book, because not everyone will," says Wojciechowski. "You need to have a plan before you publish your book. You want to get your name and the name of the book out there to as many places and people as possible."
Start early: "Do as much planning for everything from marketing and public relations to book signings and sales before you publish your book," advises Wojciechowski. "Once it's published, you need to be able to hit the ground running with marketing and promotion. To do that, you have to have planned ahead of time. The more thinking and planning you do before you publish your book, the more sales you'll have."
Writing nonfiction? Use ProfNet: OK, this shameless plug was added by me, but if you need to find experts or real-life anecdotes for your book, try ProfNet -- it's easy and free! To send a request, just fill out the quick ProfNet Query Form. We'll take care of the rest.
For more tips, check out "Getting Your Book the Buzz It Deserves," my interview with Sandra Beckwith, publisher of the Build Book Buzz e-zine. Beckwith also teaches an online course about publicizing your self-published book. "I highly recommend it," says Wojciechowski.
More About the Authors
Wojciechowski is the author of the award-winning humor book, "Next Time I Move, They'll Carry Me Out in a Box." "The best way to describe it is 'War is hell. Moving is a close second.' This book covers many of the hilarious things that happen to people when they buy a home, sell a home, and move. Anyone who has ever moved will be able to identify with it and laugh! People can purchase a signed copy of the print version of the book through me at Wojo@WojosWorld.com. The paperback is also available through Amazon, and the e-book is available through Amazon for Kindle and Smashwords for Nook. You can follow her on Twitter: www.twitter.com/TheMicheleWojo
Barbosa's first book, "Massive Black Hole - Cibele's Hell," tells the story of three young women who become friends, and while trying to survive and achieve their goals, they question the meaning of life, death and the existence of hell. Her second book, "Holes in Space - A Poetry Collection," won the Five Stars seal from Readers' Favorite, a respected review and award contest site. Her third book, "Olympian Passion," written under the pen name Andrya Bailey, is the first volume of the "Olympian Love" trilogy. Barbosa also currently serves as the author events director for the Houston Writers Guild, a nonprofit community of Houston-area writers whose purpose is to support each other in the author's craft and writing career. You can follow her on Twitter: twitter.com/AndyB0810
Maurer started off publishing short stories, most of them science fiction or horror, just to learn how everything worked. Eventually, he combined those into a collection called "Grimmer." His first published novel was "The Ring Around the Rose," which is the first book in a trilogy about the end of the world, with some comedy, fantasy elements, and mythology thrown in. His third novel is "Nerd Girls Go 2 Hell," a supernatural comedy about a brilliant girl named Andi McCarthy who plays a mean guitar. He is currently working on a novel called "Rest Stop," about alien ambush predators that get you when you sit on a toilet. It started out as a response to a dare from Stephen King, who said no one could write a good story about a monster that comes out of a toilet.
Whether you're a reporter, blogger, author or other content creator, ProfNet can help you with your search for expert sources. All you have to do is fill out a quick form telling us what you're looking for, your deadline, and how you want to be contacted, and we'll send it to the appropriate experts in our network. The best part? It's free! Get started here.