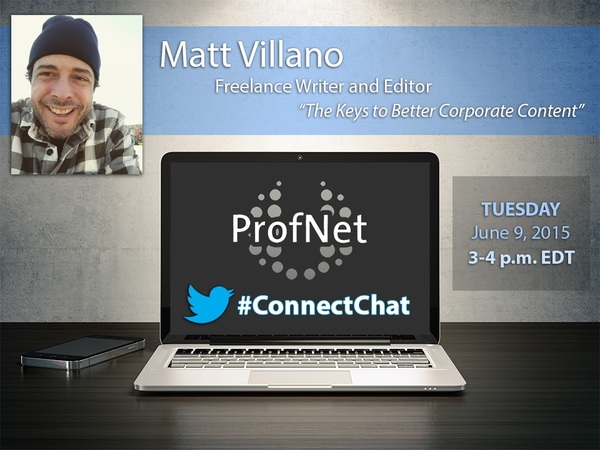 Content is still king, and with the number of traditional media outlets shrinking, freelancers are turning to non-traditional outlets, such as content marketing websites, for writing opportunities. But writing for content marketing publications is not identical to writing for news publications. There are a lot of variables to consider.
For our next Twitter Q&A on Tuesday, June 9, we'll explore the art of writing corporate content: how to find writing jobs, what to consider before taking a gig, and how to best work with corporate clients.
Our featured guest will be Matt Villano (@mattvillano), a freelance writer and editor who frequently works with corporate clients.
Villano, who says he's proudly never held a "real" job, has been writing and editing for more than 18 years. In that time, he has penned traditional journalism articles for publications such as The New York Times, Wall Street Journal, TIME, Sunset, Backpacker, and Entrepreneur, to name a few. He covers everything from travel and family travel to business, technology, parenting, and gambling.
Villano also has written and edited content for corporations and nonprofit organizations, including BSR, Software Secure, Dell, Comcast, and others. He currently serves as senior editor of the Expedia Viewfinder, an original travel content blog from Expedia; and Sonoma editor of Napa Sonoma magazine. He has updated and/or edited more than a dozen guidebooks, including nine different books about Las Vegas. He also blogs about family travel at Wandering Pod, and sits on the board of the Family Travel Association. He lives in Northern California with his wife and two daughters.
The chat will take place Tuesday, June 9, from 3 to 4 p.m. EDT on Twitter. To follow the chat or ask Villano a question, just follow the #ConnectChat hashtag. We'll start the chat off with a few questions for him, but you can jump in at any time with your own questions.