The Interesting Expert of the Week column spotlights experts from within the ProfNet Connect community that we think readers and reporters will find interesting and timely. With nearly 50,000 profiles, ProfNet Connect offers journalists a vast database of experts and influencers on virtually every topic imaginable. In addition, reporters can also submit a ProfNet query to request experts on a specific topic. Whatever topic you're writing about, ProfNet can help you find the sources you need – at no charge.
With the presidential election just a few weeks away, the news seems to revolve around everything politics. So who better to spotlight as our Interesting Expert of the Week than the guy behind the Mitt Romney oven mitts?
Sean Ziencik is the owner of Convention Inventions, which creates promotional materials for a variety of campaigns. Their latest creation is the Mitt Romney oven mitt. The tag line: "Vote Mitt. Don't Get Burned."
We sat down with Ziencik to find out more about his creations.
[And stay tuned as we represent the other side of the aisle next week with an interview with Ken Toltz, founder of Obama Bling]
What led you to create the "Don't Get Burned Oven Mitt"?
In 2004, we released our first item, "The Original John Kerry Flip-Flop." At the time, we thought it was a creative idea and our association with Pennsylvania Senator Jeffrey Piccola prompted us to produce a limited run. Piccola gave the flip-flops away as part of a gift basket he provided to his staff and volunteers during the 2004 Republican National Convention. As a result the flip-flops gained national attention and, before we knew it, there was a demand for a second and third run -- and Conventions Inventions was born.
For 2012, we couldn't resist the obvious play on words, and the suggestion of a Romney Oven Mitt that could be worn and waved at rallies was too irresistible not to produce.

Do you only create promotional with a Republican slant, or have you also created them for the Democratic side?
We are fundamentally a bipartisan organization and have associates with affiliations to both parties working for us. As a result, we will gladly help any organization in need of our services, or produce any product for which the required seed funding can be raised. To date, we have only produced two politically oriented products, both of which were for clientele who support the Republican party. However, we would welcome the opportunity to work with anyone who has an idea they would like to see come to life. (Plans for a Weapons of Mass Destruction Lunch Box were in the works but ultimately shelved with the ending of George W. Bush's administration.)
What are some other promotional products you've created? Do you only create political products?
The largest part of what we do is what we refer to as convention support. Since our backgrounds are in the digital marketing and IT services industries, the majority of what we do consists of website, mobile application and kiosk development. For instance, if your organization needs to solicit registrations or sell tickets to a given event and wants to do so through Web and mobile channels, you could call us. We then provide the design and development services that make sure you can present the registration form, collect payments and integrate attendance lists into your organizational processes. So, in most cases, what we do occurs mostly behind the scenes. Since we have an onsite design staff, we also offer promotional material development and printing. The opportunity to develop both the John Kerry Flip-Flops and the Mitt Romney Don't Get Burned Oven Mitt are more to showcase our creativity and spotlight and how we might do more for an organization than what is traditional.
What is your favorite of the products you've created?
Definitely the John Kerry Flip-Flops and the Mitt Romney Don't Get Burned Oven Mitt. These are products which have allowed us to stretch ourselves creatively and showcase some more imaginative possibilities. We love attracting clients who are willing to push the envelope and conceptualize more creative ways to promote their organizations and build recognition. That being said, so much of what we do on a day-to-day basis is more technical and behind the scenes. After all, if a registration process or kiosk application is developed correctly, it should be really non-intrusive and intuitive for the user, and ultimately be very easy to use and call very little attention to itself.

How have people reacted to the product(s)?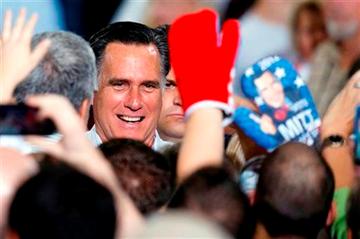 The political products are very polarizing. When you present something that a particular person either agrees or disagrees with, it's often hard for them to hide their immediate reaction. Even when presenting the Mitt Romney Don't Get Burned Oven Mitt to friends and family with differing political views, it is sometimes hard for them to look past the candidate being promoted and see the creativity in the items themselves. Supporters, on the other hand, immediately light up and can't help but to smile or laugh. After all, it's a fun item that also has a practical purpose. I don't know how many people will use the Romney Oven Mitt in their kitchen or at the family BBQ for the next four to eight years, but they could.

Once you come up with an idea, what is the process to make it a reality?
Traditionally, all of our ideas go through a similar process, whether it's a printed item, a website or mobile application, or some other custom promotional item. We start with a discovery or brainstorming session, where we lay out possibilities and options and collect those that seem to be either the most polarizing or widely agreed on. Oftentimes, the polarizing ones are more fun -- after all, you're vying for the attention of the audience.
Once the preferred options are identified, we can then work with the client to set budgets, due dates, etc. We then take the basics and start the research and design phase of the effort. The key is that whatever we are producing needs to be top-quality and ultimately exceed the client's expectations. After all, the goal is to wow the audience, so the vendors we source material or expertise from and or who we contract with to provide us with materials or skill sets must be top-notch. The fact that the partners have artistic backgrounds results in them having a keen eye for detail and a higher-than-normal level of perfectionism when it comes to the final Convention Inventions product.
Given the timeliness of the items, what do you do with the ones that don't sell?
Well, if all goes well, we will sell out and have to turn away a few orders in the last week or two leading up to the election. Should that not be the case, hopefully we have enough left over to create the padded room we've been in need of for so long! Or we will have car-washing mitts to last a lifetime…
In all seriousness, they will likely be donated to one of the local organizations for either resale or repurposing, sometimes you have to take the chance, and if it doesn't work out as planned, hopefully at least someone benefits.
Anything else you'd like to add?
If anyone has any interest in including the Mitt Romney Don't Get Burned Oven Mitt as part of their upcoming political rally, or for resale in their victory center(s), we do provide wholesale pricing models and opportunities for donation-friendly resale, enabling a portion of associated sales to be donated directly back to your organization.
Additionally, if there are any other questions or comments about this product or other Convention Inventions services, we encourage people to contact either me or David Szwak at contactus@conventioninventions.com or 412-475-9101, or to visit our website at www.conventioninventions.com.