The Interesting Expert of the Week column spotlights experts from within the ProfNet Connect community that we think readers and reporters will find interesting and timely. With nearly 50,000 profiles, ProfNet Connect offers journalists a vast database of experts and influencers on virtually every topic imaginable. In addition, reporters can also submit a ProfNet query to request experts on a specific topic.
Whatever topic you're writing about, ProfNet can help you find the sources you need – at no charge. Get started now: Submit a ProfNet query or search the ProfNet Connect experts database.
I'm a foodie. I love talking about food, reading about food, looking at pictures of food and, of course, eating food. Unfortunately, my love of food does not translate into an ability to make it, which is why I can appreciate the talent of those who can.
Case in point: Jeff Simms, executive chef of banquets at The Breakers Palm Beach, a luxury oceanfront resort in Palm Beach, Fla. Simms oversees all the resort's banquet operations, which serve an average of 25,000 guests per month, along with food service at the Kravis Center for the Performing Arts.
Simms was named Chef of the Year in 2007 from the American Culinary Federation of Palm Beach County. He received the Culinary Excellence Award from La Chaine Des Rotisseurs, a prestigious food and wine society, and the Outstanding Culinary Achievement Award from the American Academy of Chefs.
Simms was kind enough to take a few minutes out of his very busy schedule to answer a few questions for us. If you're not hungry after reading this, there's definitely something wrong with you. ;-)
What first interested you in cooking and food?
My mother was a phenomenal cook. Everything she made was simple but wonderful. We always had family dinner together and it was all about the food. We could not leave the table until we ate everything we put on our plate and we had to try a little of every dish.
At a very young age of 6 or 7, I would get up early to go fishing just down the street, so I made my own breakfast, starting with scrambled eggs. Over time I made more complex dishes, like omelettes and French toast, etc. I loved to watch my mother in the kitchen and learned many of her recipes over the years.
I started cooking professionally at age 16 in a high-volume but high-quality all-you-can-eat seafood restaurant in Virginia Beach, Va. We breaded everything fresh, and had homemade hushpuppies, cole slaw and fresh fish on the menu. In a short time, I could work all of the stations. I became lead cook, then kitchen manager when I turned 17.
I continue cooking while attending Old Dominion University, and worked for my first executive chef, a CIA graduate. It was then I realized I could continue cooking as a career. I put all my focus into cooking and baking, learning from the talented chefs I worked for. In lieu of culinary school, I worked for free after my regular shift to learn as much as I could. I secured my first executive chef job at the age of 26.
What is the biggest challenge in catering to such a large number of people? And how is it different from serving food in a restaurant?
First of all, the challenge is what motivates me and my team. On any given day, we could serve up to 15 different menus to different parties ranging in size from 10 guests to 600. Putting the right people doing the right job at the right time is key to our success.
I pride myself in trying to deliver an á la carte experience to my guests similar to – or better than – what you would expect in a restaurant. Our culinary, banquet and stewarding team really has to be in sync during service to execute the á la carte experience to our guests. For some events, we may have as many as 50 culinarians finishing each course as it goes into the room.
What's the largest/most memorable event you've ever worked on?
I did the commissioning for the USS Arleigh Burke in Norfolk, Va., in a waterfront park for 12,000 people. It was a lunch buffet for sailors, officers and admirals. They ate everything!
What's your favorite dish to make for a large crowd?
It is very difficult to name just one, but recently I have been practicing making seafood paella in front of our guests. I did it for the NFL for 500, and have it coming up next month for 2000 for NACDS!
What's the latest trend in the banquets and catering industry? What's hot right now?
Utilizing local products as much as possible when creating menus; making changes based on what's fresh and in season.
Presenting old-school comfort food in miniature, bite-size versions.
Giving classic dishes, such as Beef Wellington, a makeover. For our New Year's Eve celebration, we had an upscale supper-club feel, so I scaled down the Beef Wellington to half-size and added a short-rib ravioli topped with foie gras and port-glazed cherries.
Sous-vide is still hot. The reason is simple: flavor. Instead of blanching vegetables, we infuse aromatics such as rosemary, thyme, ginger, citrus and flavored vinegars before we seal and cook them. This can also be used on proteins.
Interactive dishes are always a big hit. Our Breakers signature giant martini sundae continues to thrill our guests, not just because of the spectacular presentation, but the fact that guests can choose their own toppings and add sauces right at the table.
Slightly scaled-down center-of-the-plate proteins with an emphasis on healthier, more eye-appealing vegetable presentations are hot.
Who says you have to have a starch on the plate? A filet mignon with a velvety smooth carrot silk and sous-vide beet and goat-cheese flatbread tart topped with a wilted spinach and apple salad makes for a lighter, yet stunning, visual presentation.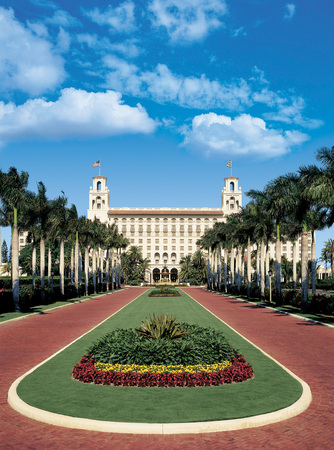 What makes a Breakers event special?

My culinary team has great tenure working together as a cohesive, professional and creative unit. We are in sync with our catering sales, banquet, and stewarding teams in the event planning, organization and execution. We all have great respect for each other and constantly strive for continuous improvement in each facet of our events.
Ultimately, I strive to offer an á la carte dining experience for my clients surpassing what one might expect from some of the best restaurants. This might take as many as 50 chefs working behind the scenes to execute just one course, but the reward is worth the effort. Exceeding our clients' expectations for each and every event is my top priority.