The Interesting Expert of the Week column spotlights experts from within the ProfNet Connect community that we think readers and reporters will find interesting and timely. With nearly 50,000 profiles, ProfNet Connect offers journalists a vast database of experts and influencers on virtually every topic imaginable. In addition, reporters can also submit a ProfNet query to request experts on a specific topic.
Whatever topic you're writing about, ProfNet can help you find the sources you need – at no charge. Get started now: Submit a ProfNet query or search the ProfNet Connect experts database.
It has been more than 20 years since the inaugural Wrestlemania, which pitted Hulk Hogan against Rowdy Roddy Piper, but professional wrestling is still popular worldwide, with the industry raking in billions of dollars each year from ticket sales, television broadcasts and branded merchandise.
As someone who was slightly obsessed with pro wrestling back when Hogan, Piper, Jesse "The Body" Ventura and Randy "Macho Man" Savage were the big draws, I jumped at the chance to feature a wrestler as our Interesting Expert of the Week. After all, Wrestlemania XXVIII is just around the corner.
Bryan Alvarez has been covering professional wrestling and mixed martial arts for newsletters, magazines, radio and TV since 1995. He is co-owner and editor of Wrestling Observer and Figure Four Weekly online; author of Death of WCW; host of "Wrestling Observer Live" on Sports Byline Radio Network and Sirius Satellite Radio; columnist for various wrestling magazines and websites; a former Penthouse wrestling columnist; and a long-time professional wrestler and jiu-jitsu practitioner.
We sat down with Alvarez to find out more about his career, what he's up to now, and what's in store for the sport:
How did your interest in wrestling come about? When did you decide to go pro?
I first became interested in wrestling in my early teens. My grandmother moved in with us and she was full Mexican, spoke zero English, and kept asking to watch "lucha libre" (pro-wrestling) on TV. I wasn't a fan at all. In fact, my sister had a Hulk Hogan poster in her room and I hated that thing! But I turned on wrestling for granny – American wrestling, since we didn't have any lucha libre on TV at the time, and eventually I got hooked. I was probably 13 years old or so.
I had been doing Tae Kwon Do around that time, and ended up quitting that to take gymnastics with a friend of mine. I also had a few other friends into wrestling, and we started doing matches, just basically emulating stuff we saw on TV, at each other's houses. Eventually, I started coaching at a gymnastics academy, and after classes my friends and I would do matches on their spring floors. That's where I learned to take back bumps and do all the basic moves, suplexes, etc., that you see on TV. It was easy since the floor was springy and we also had access to crash pads. I was always really good at physically emulating things I saw, so while I had no idea how to put a match together or the psychology involved, I was pretty quickly able to do all the things we saw on TV, high backdrops with safe landings, etc.
We ended up getting a TV slot on the local public access channel in Seattle, and my friends and I created our own promotion, the Youth Wrestling Federation, and we aired something like 90 half-hour weekly episodes on that channel. I was getting recognized at the mall. We had storylines, championship belts, and something you don't even see all that much today: long-term booking. Very long story short, the entire thing got shut down for insurance reasons. Nobody got hurt, but the gym was concerned that somebody would and they'd be liable. It was too bad, but it was a lot of fun while it lasted!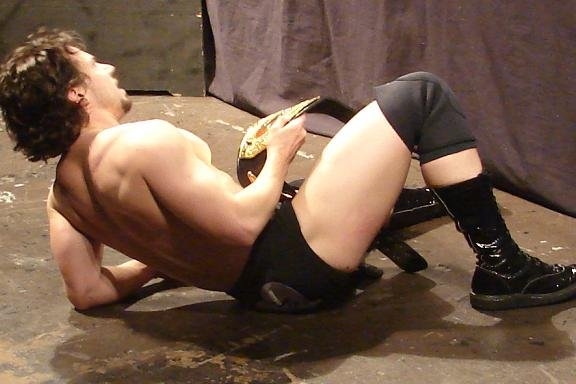 Winning ICW-ICWA Texarkana Title in Philadelphia in 2007 from the late Larry Sweeney
I had my first professional match in 1998. It's listed as my debut, but essentially I was doing the exact same matches with guys exactly like my friends that I had been doing since 14, except now it was inside a ring and I had to learn to run ropes. It was the old story a lot of guys tell. I worked as a referee, told the promoter I'd wrestle if he ever needed someone, a guy didn't show up, I was offered a spot, and the next thing you know I was a wrestler and not a referee.
From that point on, I wrestled about 450 matches around the Northwest over the next 10 years. I actually had a list of every single match I'd wrestled up until about 350 or so, but then I gave up keeping track and now it's on an old laptop that won't even turn on anymore. But I have a lot of them on tape, as well as a lot of stuff online from when I worked promotions in Oregon, including the new "Portland Wrestling" TV show that lasted a few years in the early '00s.
How did you turn that into an extended career, writing about wrestling?
I started my own newsletter in 1995. Essentially, I hated working a real job and wanted to start a business, and all these books said you should start a business doing something you love. I loved wrestling and I loved writing, so I started a wrestling newsletter. It was rough going for a while -- for about 10 years, actually. I had a full-time job coaching gymnastics, and the newsletter wasn't really making good money until we finally went online in 2005. That was when everything turned around.
What I am very proud of, in a perverse sort of way, is that despite the many ups and downs, I have published a newsletter every single week for 872 straight weeks, without one single week off for any reason. At this point, I have to get to at least 1,000.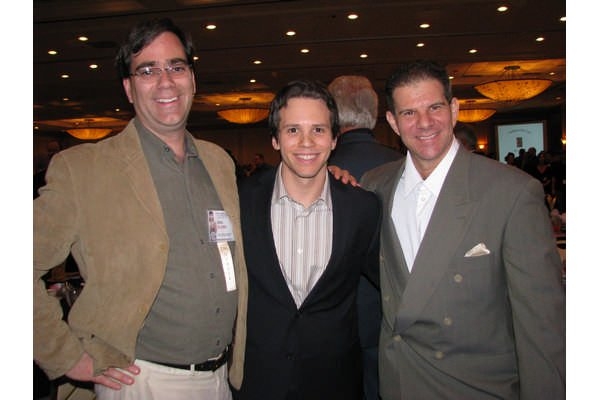 With Greg Oliver and Dave Meltzer, his partner on the website and radio shows
I got into radio in 1998 as a co-host with Dave Meltzer for "Wrestling Observer Live" on Eyada.com. We were the most-listened-to show on the very first Internet streaming radio station. Problem was, the Internet was not yet ready for streaming radio. They lost something like $25 million on the project, and it died. Our show, however, got picked up by Sports Byline USA and I still do the show to this day, every Sunday at 3 p.m. PST. It can be heard on Sirius channel 94, XM channel 208, and all the Sports Byline affiliates. So I do that in addition to the newsletter and another seven or eight podcasts per week that are exclusive to the WrestlingObserver.com. It's more than a full-time job.
Have you ever been injured?
Oh yeah. I am a purple belt in jiu-jitsu. As of today, I have almost 1,600 hours logged on the mats, and the worst injury I have ever suffered doing that is a strained MCL, and that was the same MCL I blew out previously doing pro-wrestling. I separated both shoulders doing pro wrestling, injured both MCLs, broke my orbital bone when a guy accidentally kicked me in the face, hurt my lower back on several occasions, broke toes, and probably a bunch of things I don't even remember.
Does professional wrestling need to do anything to change its reputation?
At this point, pro wrestling is so ingrained in the public's psyche that there isn't much it can do to change its reputation. There is one major league pro-wrestling company in the U.S., the WWE, and it's run by one guy, Vince McMahon, who has final say on everything. He would have to give up power or pass away, and then his successor would have to have a totally different mindset about what pro-wrestling is, and that person would have to successfully promote that style of wrestling for many years to really change people's perceptions of it. And since his successor will be his daughter and son-in-law, who are super-hands-on today, I wouldn't hold my breath waiting for that to happen.
Interest in mixed martial arts has skyrocketed over the last few years. To what do you attribute this?
MMA exploded in 2005/2006 through the "Ultimate Fighter" reality TV show on Spike TV. That first season aired right after "WWE Raw." That first season was a huge success based on pro-wrestling fans watching it after "Raw" went off the air.
MMA has captured the interest of a ton of current and former pro-wrestling fans, and that's because MMA, even though it's real, has better storylines, more interesting feuds, and bigger superstars. And despite what some people will say, it's not because it's real and wrestling is fake. UFC was real from 1993 through 2005, and it's not like nobody knew what UFC was because the buy rates for the first few shows in the mid-90s were very good. Pro-wrestling was fake and MMA was real and pro-wrestling destroyed MMA on PPV for 12 straight years, including times when UFC was available on every single cable outlet that pro-wrestling was available on. It doesn't matter whether it's real or fake; it matters whether fans can get into the storylines and the personalities, and since 2006 MMA has done a much better job at that than pro-wrestling.
What's next for the industry?
Pro-wrestling will be fine for the foreseeable future, because WWE is the No. 1 organization in the world, and they have so many different ways to make so much money that they're not in any danger of going out of business anytime soon, even if wrestling continues to decline in popularity.

At a DVD shoot with legendary wrestler Abdullah the Butcher
It will be interesting to follow MMA because they are running more and more shows every year, all around the world, and it's getting harder for fans to keep up, meaning it will be harder for UFC to create new stars. Stars are the lifeblood of everything in sports and entertainment, and if you have no stars, well, fans won't watch your product in any meaningful numbers. But they've got a new deal with FOX TV that is good for the rest of the decade and that brings them more exposure than any other pro-wrestling or MMA company. As long as those ratings remain strong, there will always be an avenue to create stars.
I think the 2010s could be pretty good for wrestling and MMA, certainly better than the '00s for WWE. But the only thing you can accurately predict about the future is that nobody can accurately predict it. UFC could be dead by the end of the decade and WWE could be undergoing another boom period, or vice versa. Either way, I'm excited to cover it.
Can you tell us more about your website and radio show?
If you love wrestling and/or MMA, please check us out at WrestlingObserver.com. We have daily news updates and more radio shows than you'd know what to do with. Between myself and all the other hosts, we put out approximately a dozen new radio shows every week for members, and if you're not a member, we do one or two free shows every week. There are several free shows up on the front page for you to sample. If you like them, a subscription is only $10.99 a month, and not only do you get access to all the new shows, but you also get full access to every show we have ever done dating back to 2005. I can't even count them all, but a conservative estimate would be 3,000 shows available in the archives right now, and perhaps as many as 5,000. Plus, you get a new Wrestling Observer newsletter from Dave Meltzer, a new back issue of the Observer from the mid-'90s, a new full-color PDF-style Figure Four Weekly, and more every single week, and I think we've got about 500 historical newsletters up in the archives, as well. So please head up there and look around, and I think if you give it a shot you'll be pretty happy with it.
You can also follow me on Twitter and Facebook. And if you're in the Seattle area, come train jiu-jitsu with us at EvergreenBJJ.com.