This week's Interesting Expert of the Week is Sensei John Mirrione, current holder of the world record for the slowest one-arm push-up.
Mirrione was hurt by a bully when he was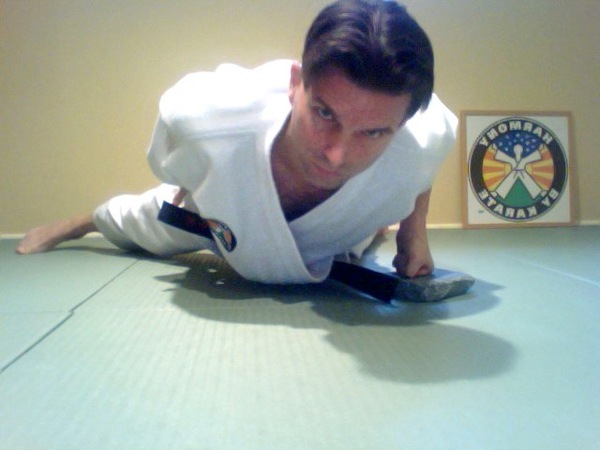 8 years old. Today, he is a renowned leader in the martial-arts world, author of "Philosophy of the Week," karate and fitness expert and founding director of the Harmony by Karate program at Reebok Sports Club/NY, and a Gulf War veteran.
In 1997, Mirrione created the Universal Harmony Day, a day of giving and celebration of humanity, observed every Sept. 11. In 2010, he created the National Stop Bullying Campaign to motivate Americans to take control of the crisis.
We sat down with Mirrione to ask him a few questions about bullying, his campaign and, of course, his world record:
You were bullied as a youngster, which motivated you to become a martial-arts expert. How does karate help bullied children?
It's the "harmony" aspect of martial arts that helps bullied children. That's why I call my program "Harmony by Karate." It's the deep breathing, philosophy instruction and meditation. When a child understands that, they get a taste of it and start to feel the harmony. That's more of a proactive way of dealing with the bullying problem than the reactive measures the United States is producing these days. I believe that if you're proactive, you don't have to be reactive.
Has bullying gotten worse in recent years, or is it that we're just more aware of what's happening?
I think both are true. Bullying -- except for cyberbullying -- has been happening with probably the same frequency for some time. Humanity now knows it's not OK to bully. And I think that's a good thing. There's a real strong stance against bullying in most places in America, and everyone seems to want to do something about it.
What impact has the Internet had?
Cyberbullying just adds to the problem. Computers and the Internet can give children tools to hurt each other. And that's the only difference between now and, let's say, 20 years ago.
Can bulling be prevented? If so, what's the best way (punishment vs. social programs, etc.)?
The first thing children need to learn how to do is to use their voices. Be verbal: Say, "STOP!" By yelling the word "stop" as loud they can, they learn how to stand up for themselves individually. Collectively, children, as well as teachers, have to stop what they're doing and address the situation. And with that concept -- I call it the "STOP!" Policy, which should and can be implemented cost-effectively in schools nationwide -- this is a very powerful, proactive measure that could save children's lives.
I would like to see each state in America implement in its schools the anti-bullying "STOP!" Policy I've described. I'd also recommend that states integrate into their school curriculum tools like my book, which is already a part of the curriculums or guidance programs of schools in Chicago, New Jersey and Connecticut. If educators use these tools as proactive measures, we could literally stop bullying -- really make a huge difference -- in schools throughout the country.
What is the most memorable story related to your Stop Bullying campaign?
The most memorable story comes out of Mount Holly, N.J.'s H. W. Holbein [Middle] School. I've never been to a school that not only had such diversity but also has a unity within their diversity. Holbein's students don't hang out in cliques, like black kids with black kids, Hispanics with Hispanics, whites with whites. They're all spending time together -- as one. And this is something I'll never forget.
Tell us about the push-up you did to set the world record.
It was the slowest, one-arm push-up performed on a stone block. I accomplished that world record in April 2011, and I just completed another one this October. But that push-up was harder to achieve, because it was performed on one arm, on my knuckles on a stone block. And I was positioned at a 90-degree angle with one leg off the floor. That's an enormous amount of body weight! And having performed that push-up for an extended period [one minute], I've now set another world record.
But really, the whole point of my performing these world-record push-ups is to attract attention to Harmony by Karate's Stop Bullying Campaign, to demonstrate how inner strength can enhance all endeavors. As a tribute to each campaign push-up (I do a similar one at each school assembly we provide), I donate my services to auctions of New York City charities that empower children. And by demonstrating such an amazing, spiritual feat of strength, I encourage everyone to do at least one amazing act for another person or charity, such as an anti-bullying or child-empowerment charity.
How does one become a Sensei? Is it based on training?
Here's my definition: A "sensei" is someone who has the ability to take what she or he has learned from martial arts and transform other people's lives. That's what makes you a "sensei."
What's next for the campaign?
More assemblies -- our goal is to visit schools in as many states as possible.
This month, the campaign premiered our anti-bullying, video public-service announcements, "Punch" and "Evolve." Already, Portsmouth, Va.'s WAVY-TV (NBC) station is scheduled to air the "Punch" video PSA starting Saturday, Oct. 15.
The Stop Bullying Campaign's incredible video PSAs were produced by some of New York City's top media professionals, who heard of the campaign and collaborated (donating their time and talent) to support the campaign, open the minds of children and empower them.
What's more, hip-hop music artist Brick Casey heard about our campaign on Sirius XM's Oprah Radio and dedicated his recent, anti-bullying-themed "Supa Bad" music video, in itself a PSA, in support of the campaign. There will be more of this kind of endorsement to come, and this kind of support can help turn the problem of bullying around.
I've come to realize a very important factor. We (at virtually no cost to educational institutions) have been bringing the Stop Bullying Campaign's assembly to schools across the country and confronting the nation's bullying problem head on, in a very human way, making direct, human connections with children. What I've learned is that a lot of children bully because of hatred inside themselves, and they hate each other for their human differences -- race, color, creed, sexual orientation. It seems that far too many children have a lack of understanding about how we're all truly equal as human beings. The ultimate goal for the Stop Bullying Campaign is to help people celebrate each other's differences. We should be celebrating our differences, not hurting each other because of those differences.