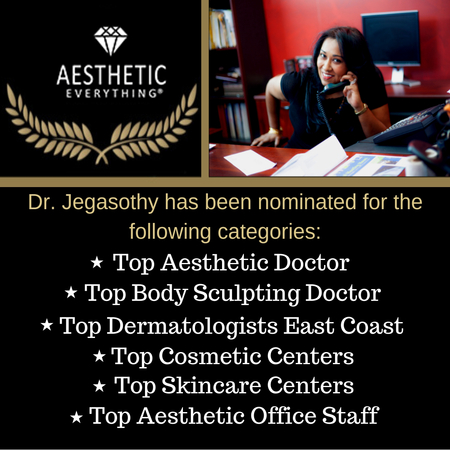 Last week we revealed that Dr. Jegasothy has been nominated for multiple Aesthetic Everything Awards!
We appreciate everyone who has taken the time to vote since we announced it.
However, the race isn't over yet!
Voting for the Aesthetic Everything Awards officially ends October 1st.
Please vote NOW!
To vote for us, click either the categories on the image or click the following links and enter your email. It really is that easy! Rest assured that your email will not be used for marketing purposes.
· Top Aesthetic Doctor – bit.ly/TopAestheticDr
· Top Body Sculpting Doctor – bit.ly/TopBodySculptingDr
· Top Dermatologists East Coast – bit.ly/TopDermEC
· Top Cosmetic Centers – bit.ly/TopCosmeticCenter
· Top Skincare Centers – bit.ly/TopSkinCareCenter
· Top Aesthetic Office Staff – bit.ly/TopAestheticOffice
As always, Dr. Jegasothy loves and appreciates all your support! ♥
For more information on the procedures we offer, follow us on Twitter!
twitter.com/miamiskinins
Comment below, call us for a consultation 305-569-0067, or for more information on these procedures contact us on
Our site- www.miamiskininstitute.com/
WordPress- www.miamiskininstitute.wordpress.com
Pinterest- www.pinterest.com/miamiskinins/
Twitter – twitter.com/MiamiSkinIns
Instagram – www.instagram.com/miamiskininstitute/
Click here to share our blog on Twitter