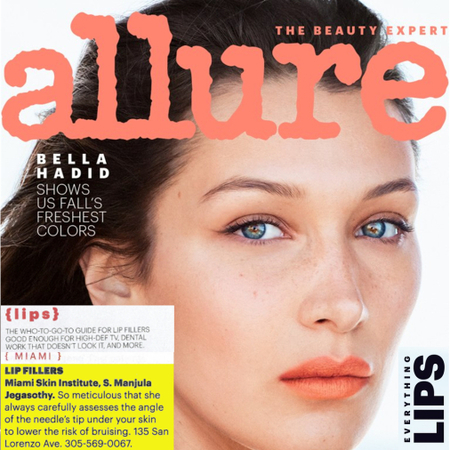 We are delighted to announce that Dr. Jegasothy was named Allure's "Who-To-Go-To" for lip fillers in Miami for 2018!
Dr. Jegasothy has years of experience that allow her to tell patients what shape and size lips would look best for them. Additionally, she is always willing to listen to patient concerns and does take into account individual preferences when using fillers.
Also note-worthy are Dr. Jegasothy's amazing technical skills that allow her to get very precise results that leave lips looking lush and symmetric. She has been known to deliver accurate results within one millimeter.
Thank you to Allure's Jessica Chia for naming Dr. Jegasothy as their Allure approved Top Cosmetic Dermatologist in the Lip Filler Category!
To read the full article, click the following link: www.miamiskininstitute.com/pdf/Allure_Ma...
For more information on our procedures, follow us on Facebook!
www.facebook.com/Miami-Skin-Institute-28...
Comment below, call us for a consultation 305-569-0067, or for more information on these procedures contact us on
Our site- www.miamiskininstitute.com/
WordPress- www.miamiskininstitute.wordpress.com
Pinterest- www.pinterest.com/miamiskinins/
Twitter – twitter.com/MiamiSkinIns
Instagram – www.instagram.com/miamiskininstitute/

Click here to share our blog on Twitter