This is part of a biweekly series on tools, resources and apps to help PR and media professionals be more productive and effective.
MightyText is a free Android app and browser extension that enables users to seamlessly sync, read and reply to text messages from their computer or tablet. This is especially convenient for anyone who is tied to their non-smartphone device for most of the day or forgets their phone at home when they go to work.
"We simply want to make life easier for people who send and receive SMS text messages and get phone calls all day," MightyText says on its "About Us" page.
MightyText offers a simple and useful solution to an annoyance most smartphone users encounter on a daily basis: While you're plowing through your workday on your desktop computer or laptop, you hear or feel your phone alert you to a new text message. This requires you to stop what you're doing, find your smartphone (which may require a few seconds of searching), unlock your phone then check the text message. If the text message requires a response, you're forced to dedicate both thumbs to the task of tapping out a response on your phone. The whole ordeal is made even more difficult if it occurs in a setting where checking your phone for text messages is frowned upon. (This isn't even to mention the traps of time-killing Facebook, Twitter and Instagram detours this may lead you to.)
Is this just a laughable "First World Problem"? Maybe. But for busy journalists and PR professionals, going through this dance whenever they want to check text messages can be a hassle that steals precious time away from their productivity.
Enter MightyText.
Android users (sorry, iPhone users: Apple doesn't allow apps like MightyText to have this kind of access to text messages) can simply download and install the app on their phones. The app will require you to link your Google account to MightyText.
After this, users can download the MightyText browser extension (for Chrome, Firefox, Safari or Internet Explorer 9), then allow MightyText to access your Google account.
Once this is done, you'll be signed in to the browser-based interface and will see your text messages populate the screen as MightyText syncs your text messages from your phone.
Now you're set to send new text messages or reply to text messages right from your desktop computer, laptop or tablet. No more breaking out of your groove of productivity and turning your attention to another device whenever you get a text message; also, less regret whenever you forget your smartphone at home or somewhere else.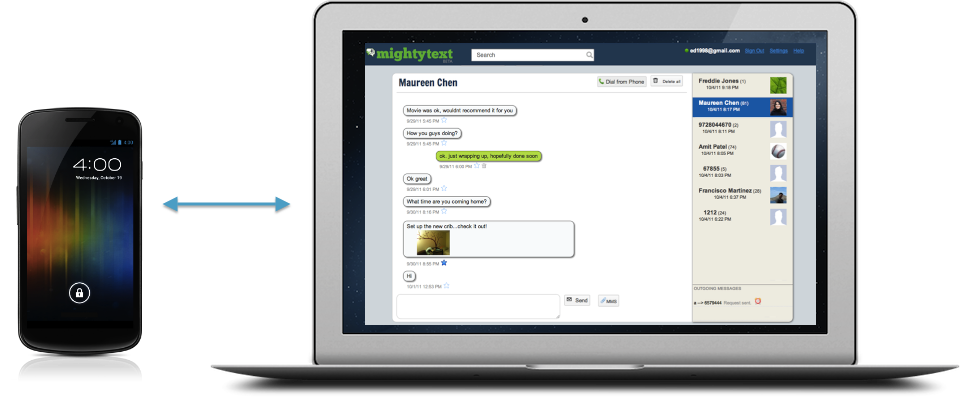 When you receive a text message, MightyText will alert you with an instant browser notification. MightyText also alerts you to who's calling if you receive a call on your smartphone.
A few other notes about MightyText:
- users can choose to respond to a text message by initiating a phone call with the sender from the browser interface
- users can send MMS messages (i.e., attach pictures)
- settings include how long you want MightyText to keep a copy of your messages and call logs, whether pressing Enter will send the message or not, and what information you want to see in the pop-up browser notifications
- you can unlink your Google account from MightyText at any time
MightyText is a great tool for corresponding with contacts via text messages with a minimal shift of attention, especially when you don't have your phone on hand. It also enables you to read and send text messages, and determine the importance of an incoming call, without drawing attention to yourself in more formal settings.
Other resources:
- Ex-Googlers Launch MightyText, an iMessage for Android Users (TechCrunch)
Another tool for reporters is ProfNet, a service of PR Newswire, has helped journalists and experts connect since 1992. Writers can search the ProfNet Connect database of more than 50,000 profiles; send a ProfNet query by email to thousands of subscribers around the globe; or get timely experts and story ideas by email.