If you have any problems with your teeth or gums, the first point of call is always the dentist, so that you can figure out what is going on. If you have a minor issue, your dentist will usually fix you up and send you on your way, but sometimes, you need to see another dental professional that specialises in certain dental problems.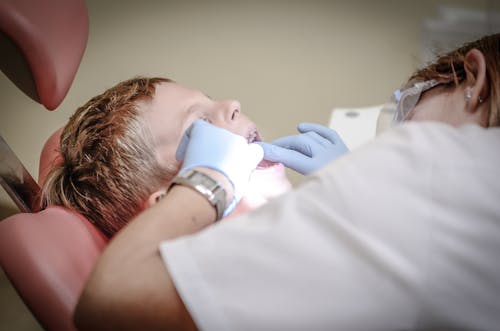 Your Dentist
If you have a general dental problem and you want to get some advice from a professional, you should go and visit a dentist. A dentist as most of us know is a trained professional that deals with the teeth and gums and any of the issues surrounding them. Similarly to doctors who have general practitioners and specialists, the dental world also has general dentists and specialists dentists, who study longer in order to specialise in a certain branch.
General dentists are concerned with examining teeth and dental hygiene, as well as minimal modifications to your teeth like fillings or crowns. Dentists can also perform tooth extractions if necessary, which are not usually performed by specialist dentists like endodontists, who focus more on issues with the gums and nerves under the tooth.
Also, general dentists are usually the people you go to when you want to do some minor cosmetic teeth adjustments to your teeth. Things like teeth whitening, creating and fitting veneers and dental implants are all an important part of general dentistry and a lot of people visit the dentist each year for quick cosmetic fixes to noticeable problems with their teeth. These cosmetic adjustments that are made by general dentists are usually very small and do not require surgery, but can be time consuming, so you may have to wait a bit to achieve the desired result.
Your Endodontist
If you are having a serious problem with the connective tissue or the nerves in and around your teeth, your dentist may refer you to an endodontist. An endodontist is a dental specialist that specialises in fixing the pulp and nerves that surround each tooth when there is a problem with it. Endodontists study an extra three years compared to a general dentist, and their knowledge about teeth is generally more specialised because of this. Endodontists mainly look at the root of the tooth and the gums to determine if there are any serious issues like a cyst or an infection that has formed around the tooth.
Sometimes when these problems occur, your endodontist may have to perform minor surgery to solve the issue at hand. Root canal is a common procedure performed by endodontists which involves a specialist removing the infected dental pulp from the cavity that is occuring in, in order to remove the infection. When root canal is performed, the patient is usually put under anesthesia and it will take a few days for the site of the surgery to heal, but it is no more painful than any other dental surgery or tooth extraction surgery.
Endodontist also perform surgeries like an apicoectomy, which is the removal of the tip of the root of the tooth, also known as the apex. Apicoectomies are usually performed after a root canal has been performed and there were complications after the surgery like if an infection or a cyst forms in or around the space where the root canal was performed. Endodontists like the specialists at Australian Dental Specialists perform these procedures very often because this type of surgery is performed in order to save the tooth, so that it does not have to be pulled out and replaced.
Root canal and apicoectomies are usually more cost effective ways of solving issues with an infected teeth or problems in the tooth canal than to remove the actual tooth. The cost of these procedures can differ depending on the severity of the problem and the individual specialist. This is because the tooth being taken out has to be replaced with an implant, filling, or a bridge to cover the open socket. Most teeth that have had root canal will not have any problems recur in the same spot, and if the tooth is fine or implant is put in properly, you should never have these problems again.
As you can see, there are some very important differences between endodontists and general dentists, but you have to get a qualification as a dentist in order to become an endodontist. If you are having problems with pain in your teeth, it is best to go to a dentist as soon as possible, because they may be able to determine the source of the pain quickly, and you won't need to see an endodontist. However, if you do have a serious dental issue that involving your tooth pulp or the nerves under your teeth, it is nice to know that you can visit a specialist like an endodontist who should be able to help you and perform the surgery that you require.