Each week, Dear Gracie answers questions from ProfNet Connect readers with advice from our network of more than 44,000 ProfNet experts. Has there been a question burning in your mind lately, something you've been wondering that none of your friends can answer? Please send it to grace.lavigne@prnewswire.com
Dear Gracie,
Should we place commas and periods inside or outside of quotation marks? I know the "correct" way (according to proofreaders, editors and communications professionals) is to always place them inside of quotation marks, but I've started seeing them appear with more frequency outside of quotation marks, in the same context as question marks or exclamation points. Wouldn't it be more logical to do just have one rule for all punctuation in this context? Is the rule changing because of social media, phones and computers? Do grammar rules really matter?
Curious Communicator
************
Dear Curious Communicator:
Here are the opinions of four grammar experts found within the ProfNet Connect community:
Punctuation confusion probably arises from global communication, says Bonnie Egan, longtime editor, ghostwriter and collaborator on fiction and nonfiction books; past writing teacher at New York City's Comptroller's Office; and writer of "Cooking for One," a weekly online column. In both British and American grammar, question marks and exclamation points appear inside or outside of quotation marks depending on the context. For example:
Have you read "Pride and Prejudice"? (interrogative, outside of quotation mark)
My mom said, "Have you read that book?" (declarative, inside of quotation mark)
While British grammar applies this same rule of context to periods and commas (sometimes inside of quotation marks, sometimes outside), American grammar always puts periods and commas inside of quotation marks. For example:
British style: I read "Pride and Prejudice".
American style: I read "Pride and Prejudice."
"As an American," says Egan, "periods and commas inside of quotation marks is what looks right to me, but to the many writers all over the world who learned grammar the British way, outside of the quotation marks looks 'correct.'"
So if grammar rules can differ by region, does that mean they are arbitrary? "Yes, it's all arbitrary and customary," says Linda Henman, author of "Landing in the Executive Chair" and two other books, and past English teacher from grade 3 to graduate school. "Why does 'couch' mean the same thing as 'sofa'?" she asks. "Language is an arbitrary mixture of symbols that help us communicate and keep track of things. We no longer use words like 'divan' or 'settee' for this type of furniture," she says. "So language changes."
Carol Meerschaert, director of marketing and communications at Healthcare Businesswoman's Association, concurs: "The ultimate purpose of grammar is communication well-received, so expect change as society changes. As long as putting the punctuation inside or outside of the quotation marks offers clear meaning, tradition may go the wayside."
However, Henman points out that while specific language symbols like words or punctuation marks are trivial details of communication, obeying grammar rules is not useless because every word and non-word symbol that we choose to use says something about our credibility. "If I choose to follow conventional rules of grammar, it says two things about me," she says, "One, that I know the rules, and two, that I choose to follow them."
Grammar also helps us make our thoughts clear, continues Henman. "The placement of the question mark lets the reader know which part of the sentence we intend as a question. Just as we have agreed on spelling for our symbols, we have agreed on the traffic signals in the sentence."
Joan Bosisio, group vice president at Stern + Associates, a PR, marketing and digital communications agency, who held an agency-wide grammar boot camp; provides us with an example of punctuation's necessity to communicating clearly:
Let's eat, Grandma!
Let's eat Grandma!
"Surely grammar is important to Grandma," Bosisio jokes. But her point is clear: "It isn't just about following the rules," she says. "Grammar forms the context and ensures we accurately indicate intent, not to mention demonstrate polish and education. Grammar is the logic of speech, and to use correct, established, accepted grammar is to communicate in the way that's most likely to be understood."
However, while Bosisio believes in following the basic rules of grammar, she also believes that what we communicate should sound or look good. For example, it's well-known that sentences shouldn't end with a preposition, but Bosisio gives us an example where this isn't true:
Dismissing grammar is nonsense I won't put up with. (against the rule, but understandable)
Dismissing grammar is nonsense up with which I will not put. (follows the rule, but sounds bad and the meaning is not clear)
This is why author Joan Didion said, "Grammar is a piano I play by ear," says Bosisio.
Bosisio believes our grammar has been affected by computer, phone and social media usage, mainly due to the proliferation of text messaging and social media, along with the speed of these communication methods. She also believes that the lack of focus on grammar in school curriculums has negatively impacted grammar in the U.S.
On the other hand, Henman doesn't see social media as the root of the problem: "It's the lack of other writing," she says, but still agreeing with Bosisio that students don't learn about grammar rules. "Most students do no other writing other than emails and text messaging. Therefore, they receive no feedback about correct and incorrect usage," she continues. "The shortcuts of the social media, in and of themselves, don't cause the problem -- we are all flexible enough to use shorthand some of the time. The trouble is that these kids have no repertoire for other situations."
So basically, grammar is important if you want to sound credible and communicate clearly, but if you're just texting with your friends, the consequences of misplacing a punctuation mark will probably not be severe (although they might be for Grandma).
Gracie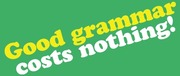 courtesy of Glarkware.com