Welcome to our SPOTLIGHT feature, where we highlight a journalist and ProfNet user to share their personal story and insight with you.
Jen A. Miller has been an independent journalist for over a decade. She is a regular contributor to the New York Times, Runner's World, Running Times, Bankrate and CIO.com, and she writes a weekly running column for the Philadelphia Inquirer.
Her next book, Running: A Love Story, will be published this spring by Seal Press.
We hope you find Jen's SPOTLIGHT enjoyable and informative.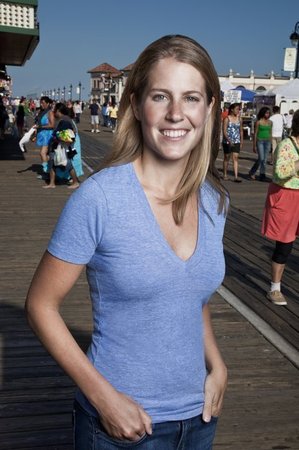 Was journalism what you always wanted to do or did you have other plans?
No. I went to college for marine biology. When I saw how much time would be lab work (and realizing I got seasick on boats), I switched to an English Literature major thinking that it would give me a base for whatever I wanted to do. I got my MA in English Literature too with the idea of going into academia, but stopped at the MA instead of going for the PhD when I realized I wanted to write for a wider audience.
How did you begin your writing career?
My college - then - didn't have a journalism program, but I worked on the student newspaper for four years. The fall of my junior year and all of my senior year, I was editor in chief (the spring of my junior year, I studied abroad at Oxford University, where I also wrote for a student newspaper). It was the best training I could have gotten, in part because we didn't really know what we were doing, but learned while on the job. I did an internship with a news service in Washington, DC, which steered me away from a traditional newspaper career, and I'm glad it did. I'm not a breaking news person. I think I'd have been miserable in an entry level reporter job and might have left the field all together before I even got started.
Where was your first job as a professional journalist?
I was editor of SJ Magazine, a local magazine about South Jersey when I was 23. I'd been freelancing since I graduated from college. I left the magazine to freelance full-time.
When did you decide to become a freelance writer?
The magazine - which had different owners then - was having financial troubles. I was working a lot of hours for not a ton of pay, so I figured I might as well do that for myself. More than a decade later, I'm still at it (though I don't work a ton of hours anymore).
What type of stories do you like to cover the most?
I write a lot about running. Most people assume that's all I do (and that's what I share most on social media), but I also write a bi-monthly column about technology for CIO.com. Sounds try, but it's really interesting, and a really interesting time to be on that beat given how quickly things are moving in the world of data security and payment systems.
Is there something you like best about what you do?
I love being my own boss. I've joked that I'm unemployable because I can't imagine commuting let alone dressing in work clothes five days a week.
What advice to do you have for PR reps or for those who may want to pitch you a story?
Please, please, please read my website. Look at my twitter feed. If you pitch me something off target, I'll just delete it. Also, don't ask who I write for. Google is there for a reason.
I also don't like being pitched on social media. My contact information is on my website. It's not hard to find. I read every email.
Two more no no's: A pitch as a calendar invite. Who thought up that idea? Horrible. And if I say no, don't press why. I've had PR people want a breakdown of why I said no because they think it's perfect for me. Sorry, I know what's perfect for me, and I don't have time to do free assessments of PR pitches.
What should they always do and never do?
Don't lie to me. I can usually tell. If your client is dragging his or her feet, just tell me that. It's better than me waiting for a response you know I'm not going to get. Also, don't go around me to my editor. That's just crass.
How can someone in PR get to know you and develop a positive work relationship with you?
Don't be a pain in the ass. My job isn't to place stories for your clients. That's your job. Realize too that it might take a year or two for us to work on a story together. I don't take a lot of PR pitches, but I do save them - even if I don't respond.
Also, one follow up is fine, but three or four is excessive. It tells me you're going to be a high maintenance PR person, and no source is worth that.
Do you have advice for members who respond to ProfNet queries?
Don't hold back information. If you ask who the pitch is for, I delete your email. If you say "I have a client who might be of interest" - I'll probably skip you too. Sometimes I get dozens of responses. I want to know who your client is, their job, and a link to the website. And if you're not quite right for the story, I'll usually put the pitch in a folder for later. I often get back to people months later with a different opportunity.
Also, make sure you know where you're finding the queries. I get a lot of emails saying they're responding to my HARO query. I don't use HARO. It makes you look amateurish.
What type of experts do you like to work with?
I use ProfNet most for my CIO.com column just because my area of focus shifts so often. Best experts are on time, not calling from their cell phone in the car, and ready to talk about the specific topic I've brought up. Also I don't mind a PR person sitting in on the call, as long as he or she doesn't keep jumping into the conversation.
What's most different now from when you began your career?
Social media has changed everything - for better or for worse. I joined Twitter early on and I enjoy it. It's a very important part of being a freelancer. I have gotten a dozen clients from relationship formed there.
How do use social media?
To share stories, to complain about my day, to post pictures of my dog. I sometimes use it to find sources. I've also drawn story ideas from popular topics of conversation.
I said it before but I'll repeat it again: do not pitch me on social media. Email me through my website.
Whether you're a reporter, blogger, author or other content creator, ProfNet can help you with your search for expert sources. Send a query to tens of thousands of experts and PR agents to find an expert you can quote on virtually any topic. The best part? It's free! Start your search now: Send a query