On Tuesday, April 29, we hosted our latest #ConnectChat, "Social Media Marketing for BtoB and BtoC" with Amanda Peterson, the corporate communications coordinator at Petmate.
Amanda discussed the differences between social media marketing for BtoB and BtoC, preparing strategies, creating messages specific to each social media platform and more.
Please follow @ProfNet and @editorev on Twitter for more information on future chats or check back right here on ProfNet Connect for details.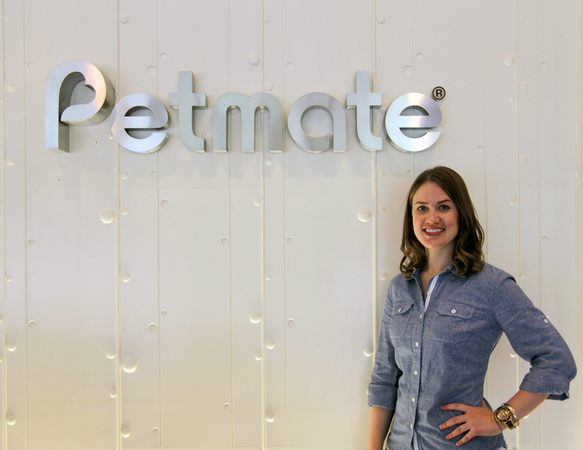 Tell us about your role at Petmate.
Hi, thanks for having me on today! I'm excited to chat about social media for biz with y'all today.
I'm the Corporate Communications Coordinator so I wear a lot of hats, as most communicators do! Never the same day twice and I love it. My primary roles are in PR, marketing communications (copywriting, blogging) and managing our social media channels. I also work with our attorneys on intellectual property (trademarks, patents, copyrights). Interesting stuff!
What are the key differences between BtoB and BtoC communication in social media?
Obviously, the audience. It's important to understand the needs of each and target your messages with those needs in mind. At Petmate, we focus our B2C messages to educate on our products to help improve their pets' lives. For B2B we offer more information about the products and company itself, i.e. our green marketing practices, charity partnerships, etc. When retailers understand who we are and what we do, they are confident in selling our brands. We are always supportive of our strategic retail partners and their promotions, events and business efforts.
Is there a social media platform that's more specific to BtoB and BtoC?
Facebook is the number one platform for B2C in my opinion, but the reach is changing. It's no longer a "free marketing" tool, so you have to be strategic. By utilizing other platforms, like Instagram and Twitter, you can extend your reach on Facebook by cross-promoting those posts. For B2B, LinkedIn is a great platform for generating buzz about your business within your industry. LinkedIn, in my opinion, acts as a secondary "About Us" page and is especially important for HR professionals! LinkedIn is invaluable for business networking as well.
How are the audiences different?
B2B and B2C audiences are usually very different in how they utilize social media. Our B2B relationships often look to our social channels for ways to help promote their businesses. B2B relationships often want to extend their reach through our social channels and drive traffic to their stores. Consumers usually come to social channels for a solution to a specific need. They also want to be entertained and share their stories with us! I think consumers also enjoy the community feeling of our social media channels, especially Facebook. They share photos, videos and stories, which strike up conversations with other pet parents on our page! It's fun to watch it happen. Our pages are places where people connect over their pets' love of Petmate products! I also see adoption groups use our Facebook page as a way to find homes for pets. They know most people there are animal lovers who can help!
I have to ask -- you're with a company that caters to pets and pet owners -- is it more difficult to market to this audience since a product is for their pet and not the owner? Does it matter?
Really, it's the exact opposite. People are SO passionate about their pets. They are family! While pets themselves may not be tweeting (although I do know a few cats and dogs that have their own handles) we know that pet parents are! Social engagement with pets is second only to human children! There is an emotional connection between pets and their people. Plus, cats are wildly successful sources of social media content. I mean, have you seen #GrumpyCat and her fan base?!
What are some of the do's and don'ts with both BtoB and BtoC social media communications?
For B2B, it's important to support our retail partners. However, it's crucial to not align more with one over another. Social media can be tricky in both B2B and B2C – you want to promote your company, products and services without sounding too self-serving. That's why we often let our consumer photos, testimonials and reviews speak for us – it's invaluable content for a business social strategy.
Even with some distinct differences, is it really all that different in terms of overall marketing?
The ultimate goal is to raise awareness, in my opinion. However, you always want to target your message appropriately. Your tone and manner may change from one audience to the other – from cross-promoting business to offering solutions.
Is one more challenging than the other?
Not if you understand the needs of each audience and develop content accordingly. What's truly challenging is finding the right balance for both audiences.
What are some of the networks you use and how do you tailor your message to each one?
Petmate is on Facebook, Twitter, Instagram, Pinterest and we have a company blog. We also have Facebook and Twitter channels for our major brands: Chuckit! Dogzilla and JW Pet Company. For Twitter, it's all about getting the most bang for your buck – you only have 140 characters! Our Twitter messages are short and sweet and usually tease the reader to click through to read more. Which is why it's important to include a URL or link to a photo or post elsewhere on Twitter. Use tweets like headlines!
On Facebook, we have more room to write and can utilize the visual aspect of photos and video when planning content. We ALWAYS include a photo/video in our Facebook posts. Not only is it more interesting to the reader, it boosts the EdgeRank. By boosting the EdgeRank, more Facebook users will ultimately see the posts. More eyes = more engagement!
For Instagram – we post photos of pets in our office, pets playing with our toys or sleeping in our beds. The best way to get started on Instagram is to piggyback on popular hashtags, like #dogsofinstagram. Then after you build a following you can create your own hashtags and track the photos shared with it!
With Pinterest, we pin all of our products on specific boards, either by brand or by category so they are easily searched. When writing descriptions for your pins, it's important to optimize the content & write as someone would search. We also create boards specifically for re-pinning! If you search for #chuckit on Pinterest you'll find some really cute photos!
How important are visuals and how do you use them?
Like I mentioned before, visuals do double-work for your Facebook posts. They're crucial for visibility. Did you know Facebook posts with photos are estimated to get more than 50% more likes than posts without? There's a J-school saying that babies, dogs and nuns will grab attention. Thankfully one of those is relevant to our industry! Photos (either of our products or user-submitted images with our products) always increase the engagement of our posts.
Would you consider a blog to be a big part of a social media campaign?
Yes, definitely. A company blog will help improve your SEO and web presence! Blogging allows you to position your company as a thought-leader in your industry. Also, having a bloa great way to generate your own social media content! Need a post on cat grooming? Write one!
What are some of the reasons why a strategy may not work?
Not providing the right kind of content to your audience will kill your strategy. If we know 65% of our social audience is dog owners and we only post hamster-related content, it's not relevant. Also, if giveaways or contest are involved, be sure to provide clear direction. The simpler, the better!
What's the best way to prepare a strategy?
First, know your goal. Is it to increase brand awareness? Drive traffic to your website? Increase sales?
Second, do your research and get to know your audience(s). Who are you talking to, really? Then break your content plan into buckets. Promote products, talk about company practices, include user-generated content, etc . A good rule on social content breakdown is the 70-30 split. 70% brand posts, 30% promotional/offers. Build campaigns into your overall social strategy – blogger campaigns generate good third-party content. Photo contests do too!
The number one way to gain interest in your posts is to provide a reason to click – enter a contest, learn more, get a coupon, etc. Piggyback on current events and trending topics/hashtags. We love to use #dogsatwork on Instagram and Twitter! People are so interested in what goes on "behind the scenes" here. Yes, pets come to work every day!
Social media real-time & highly-exposed. Like with traditional PR, be prepared with a social "ER" strategy, just in case! A well-managed page becomes a community for sharing photos and stories. A fun place! A poorly managed page can quickly become a sounding board for negative comments. Be prepared! Every company needs a social media diffusion and escalation policy and plan in place in the event of a crisis.
Do you use cross-promotion as part of your strategy?
Yes! As I mentioned before, we cross promote across platforms like Facebook and Instagram, but also across brand pages. We currently have four Facebook pages, four Twitter handles, Instagram and Pinterest. It's important to follow brand tone and style guidelines for the overall Petmate brand so we're posting consistent messaging. We develop content considering what works for all, what is brand/channel-specific and leave room for last-minute, hot topic posts. Our social channels are promoted on our website and on the blog as well. We also work with retail and charity partners and our blogger network to cross promote Petmate reviews and important events.
What are some other general tips you can provide?
Social media presence is a must-have for businesses. My best tip would be to get started, somewhere. As your audience grows, expand into new channels. Test the water with Instagram and Pinterest, etc. don't lose sight of what it is – social! It should be fun, engaging, educational and entertaining.
Whether you're a reporter, blogger, author or other content creator, ProfNet can help you with your search for expert sources. You can send a query to tens of thousands of experts and PR agents, search the more than 60,000 profiles on ProfNet Connect, or get timely experts and story ideas by email -- all for free! Need help getting started? Email us at profnet@profnet.com