Welcome to our SPOTLIGHT feature, where we highlight a journalist and ProfNet user to share their personal story and insight with you.
This SPOTLIGHT belongs to Grace M. Lavigne, an associate web editor at The Journal of Commerce in Newark, N.J.
We hope you find SPOTLIGHT both enjoyable and informative.
Grace, tell us about what you do at The Journal of Commerce.
I am the associate web editor for JOC.com, the website of the biweekly, glossy magazine The Journal of Commerce. The publication's online presence provides the latest news on global supply chain issues to logistics and transportation decision-makers.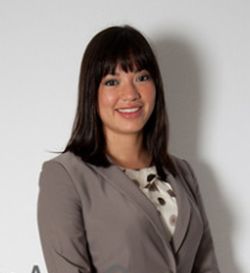 Did you always know you wanted to be a journalist or did you consider something else?
Throughout my childhood, I toyed with many other ideas of what I wanted to be when I grew up. At times I imagined myself becoming a scientist, an art curator and a linguist.
However my passion for writing was always present and I decided for sure that I wanted to become a journalist when I was the editor of my high school's newspaper. That experience solidified my interest in the media industry and gave me a confidence boost.
Where was your first job in journalism?
I interned during college with the Washington, D.C.-based Youth Today, a national newspaper for social service workers that work with minors. I wrote up short news articles, helped find stories, posted content online and occasionally attended meetings on Capitol Hill.
My first full-time job was with ProfNet! As associate editor and later as senior editor, I learned how to edit other writers' work in AP Style, create and maintain columns, manage social media for a brand, cover industry events and more. My experience at PR Newswire was irreplaceable!
What type of stories do you usually cover?
I write about 10 short to medium-length articles about international trade and transportation news on a daily basis. JOC covers issues specifically concerning global container cargo.
Are your stories usually assigned or do you also get to make suggestions?
My boss and I work together to identify and prioritize stories. We maintain a general news inbox that is subscribed to a variety of media lists and receives a daily slew of press releases from PR contacts, JOC associates and sources and other JOC writers.
I am encouraged to pitch story ideas to my managers and work on longer articles, especially multimedia stories like slideshows and infographics.
Do your managers also go to you for ideas?
Sometimes JOC's executive editor will coordinate collaborative stories that include submissions from multiple writers. For example, JOC recently published a "list" story on the Top 10 best transportation movies, which was based on suggestions from several writers, including me.
Is there a 'best part' about doing what you do?
I love the steps involved in bringing a story together. Sometimes I have to dig around online, call someone, find a picture, sift through a report or ask an editor something to get to the final version of an article. Finishing a story is (usually) a satisfying and proud moment.
What advice do you have for PR professionals who want to pitch you a story?
Because I'm catering to an online audience, I am always more likely to cover a story if it includes a multimedia element, such as a photo or video.
What should they always do and never do?
It is useful when PR professionals email the JOC news inbox with a press release and post it online on their company's website. I source articles whenever I can with a link to the original news announcement, which boosts visibility for both JOC.com and the company in terms of SEO. I also appreciate it when PR professionals send press releases with descriptive subject lines.
I don't like it when press releases have a lot of flowery language. That basically just makes it harder on me to pinpoint what the real news is and cut out the promotional wording when I write it up.
What type of experts do you like working with? Do you prefer the high-level executive or is someone at a lower level acceptable?
I like working with experts who have backgrounds in trade, transportation, logistics and economics. Because JOC caters to high-level executives, that's probably the type of expert I'm usually interested in interviewing, but it would depend on the subject.
What's the best way for someone in PR to start a working relationship with you?
I think emailing me directly and offering additional resources, such as an interview with a source or exclusive photos, is the best way to establish a working relationship.
What is the toughest part about being a journalist?
Time management – knowing when to keep pursuing a story and when it's time to call it quits is not easy. I have pursued leads that gave JOC's coverage an edge up from our competitors, but I have also pursued leads that just ended up being a waste of time. Unlike the magazine version of JOC, every story for the website has an ASAP deadline and reduced shelf life, so balancing timeliness with comprehensiveness is tough.
Is there a career highlight that stands out so far?
I usually cover stories from my desk, and not from the field, so it was really cool when I recently visited the Port of NY-NJ to see five cranes being unloaded from a ship from Poland. The crane company's project manager gave me a tour of the enormous vessel and showed me how the ship is able to unload such heavy machinery. The experience really brought my work to life and gave me a taste of the logistics industry firsthand.
How do you use social media as part of your job?
JOC's marketing manager and I regularly update JOC's Twitter presence (@JOC_Updates). We send out links to news articles; provide information about JOC events, webinars, podcasts and more; and interact with our readers.
When you're not busy on the field, what do you do in your spare time?
I volunteer with Literacy Volunteers of Monmouth County, a nonprofit that addresses the low literacy needs of adults. Every week for two hours, I tutor a man from Mexico on how to improve his English-language listening, speaking, reading and writing skills.
In my spare time, I enjoy reading fiction, practicing yoga, watching HBO shows and hanging out with my boyfriend and two cats.
Whether you're a reporter, blogger, author or other content creator, ProfNet can help you with your search for expert sources. You can send a query to tens of thousands of experts and PR agents, search the more than 60,000 profiles on ProfNet Connect, or get timely experts and story ideas by email -- all for free! Need help getting started? Email us at profnet@profnet.com