The government shutdown has interrupted the lives of millions of Americans including the lives of those responsible for providing us with necessary information.
When journalists started to visit the websites of the U.S. Census Bureau, they were welcomed with a message indicating that said site wasn't running. Many reporters depend on these sites for data to include in their reports but now aren't able to do so.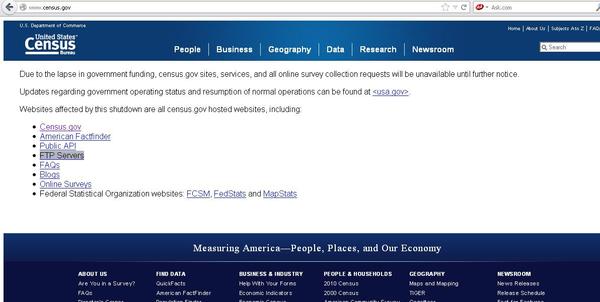 All census.gov hosted websites are closed including:

There are alternatives, however, that provide limited information for journalists who need data:
EDGAR: The U.S. Securities and Exchange Commission's search tools are still working. SEC announced its plan of operations (PDF) before the shutdown. "During the period in which there is a lapse in appropriations, the Committee will periodically reassess the agency's functions that need to be maintained, and may amend its designation of those excepted from furlough to increase, decrease, or change those so designated".
HUD: U.S. Department of Housing and Urban Development site is still up, but there is a warning about no data will be updated.
PACER: Public Access to Court Electronic Records (PACER) is up and running. If that changes, RecaptheLaw.org is an incomplete, user sourced (thus should be treated with caution) alternative.
IRS: While the Internal Revenue Service site is working, operations are limited. And the IRS is quick to remind us all that "the underlying tax law remains in effect and taxpayers should continue to meet their tax obligations."
USA.gov: This overarching federal government site will lead you to an update on the status of government services.
The full list of alternatives can be seen here in an article written and posted by the Donald W. Reynolds National Center for Business Journalism.
(The information for this post was taken directly from the Donald W. Reynolds National Center for Business Journalism.)
Whether you're a reporter, blogger, author or other content creator, ProfNet can help you with your search for expert sources. You can send a query to tens of thousands of experts and PR agents, search the more than 60,000 profiles on ProfNet Connect, or get timely experts and story ideas by email -- all for free! Need help getting started? Email us at profnet@profnet.com