Welcome to our SPOTLIGHT feature, where we highlight a journalist and ProfNet user to share their personal story and insight with you.
This SPOTLIGHT belongs to Jen Christensen, a producer at CNN in Atlanta and the president of the National Lesbian & Gay Journalists Association.
We hope you find SPOTLIGHT both enjoyable and informative.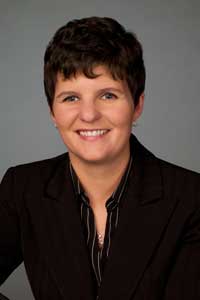 Did you always know you wanted to be a journalist or did you do something else at the start of your career?
From the time I was 5 I knew that I wanted to be a journalist. I remember when I made this discovery very clearly.
My dad was a volunteer fire fighter in our town of LaGrange, Illinois. Sometimes while we were out at dinner or at the movies he'd get a page to go fight a fire. There was never any time to drop me off so I'd get to go with him. He'd put that flashing red light on top of his car and we'd hit high speeds racing to get to that fire. I loved that feel of the speed and that race to help someone in distress. What I loved even more was standing on the sidewalk and listening to the grown-ups.
As they watched the home or business burn they would talk about how it started or what they were losing. Even as a little child I had such a curiosity about the stories grown-ups told. In retrospect I think I was fascinated by the extremes. On one hand I'd hear about the pain and loss of the person whose house or business was on fire. On the flipside, I saw how the crisis also created an urgency to act from the good people like the volunteer firefighters or the neighbors who would always be there with a blanket or something to drink trying to make it better for their neighbor. The next day at school I would try to tell my classmates about what I saw and often they'd listen, fascinated.
The teachers would ask even then what we wanted to be. A lot of kids would say policeman or firefighter. You would think with all the fires I saw I'd say firefighter. But I never understood running into a burning building. It wasn't until I saw Sesame Street then that I knew what I wanted to do.
That's where I saw Kermit the Frog standing in a similar situation to my fire. He stood in the midst of a flurry of activity. He wore a trench coat and hat. A microphone in hand. He was reporting live, breaking news from the scene not of a fire, but of an accident. He was stopping on of the horses from "all the king's horses and all the king's men" to ask just exactly how they planned to put Humpty Dumpty back together again. Seriously, I remember thinking now that's what I want to do. Mom says I even asked for a trench coat. I knew then I wanted to tell people's stories.
Where was your first job in journalism?
I was still in college, but I was hired part time to be an assignment editor and eventually that turned into a full time job running the desk on weekends for WXIN-TV in Indianapolis. Some brave news director actually thought it was appropriate to put a 20 year old with no experience in charge of his newsroom. Mind you this was the mid-90's when the city was in the midst of a crack epidemic and we had a couple of serial killers on the loose and a few race riots on top of that. You can bet I learned quickly what worked on our air and had to know how to get at it without the benefit of the internet, a full staff, or PIO's with cell phones. It's hard to imagine how we did it.

What type of stories do you usually cover?
I am a producer and these days I work mostly with CNN's medical unit for CNN.com and I'm occasionally on loan to the TV side and also to CNN.com's enterprise desk for more in-depth data analysis-type stories. With the medical unit we are currently all Obamacare all the time. Prior to this I worked in documentaries and in the investigative unit. There it was civil rights, terrorism, saints, serial killers, politics, history, the Middle East, you name it we got to write about it.
Are your stories usually assigned or do you also get to make suggestions? Do your managers also go to you for ideas?
Unless there is breaking news or a new medical story coming out, most often the stories are my own ideas and I'm lucky in my current news room most of my stories get a green light.
Is there a 'best part' about doing what you do in TV news?
I love the opportunity to take the first crack at writing what one anchor I used to work with used to call 'the first draft of history.' On the TV side I loved the collaboration it takes to work with some of the best photographers, editors and on-air talent to get great stories in tough situations like the war in Gaza or in New Orleans right after Katrina. To get to tell the stories other people have overlooked. To get to right a few wrongs and bring a voice to the otherwise voiceless that's what makes this my dream job.

What advice do you have for PR professionals who want to pitch you a story?
Develop real connections with journalists. We get over 1,000 emails a day on average so email pitches get lost often. Network with the press at professional association gatherings or when you see them out in the community. Talk to them there even when you don't have something to pitch. Or pitch right on the crest of the news wave.
What should they always do and never do?
If you do have to send a press release or do have to call -- the simpler the better. Bold face: who, what, when, where, how and why and a link to all that other detail they will seek out if they are interested in the story. Don't over promise. Don't delay a call back.
What's the best way for someone in PR to start a working relationship with you?
Come to my professional association gatherings like NLGJA. Or if that's not possible deliver an expert I need in the midst of breaking news.
What is the toughest part about being a journalist?
It is my dream job. I truly love going to work every day. But the money could be a little better. Doesn't everyone always say that?
Is there a career highlight that stands out among all?
There are a few: working on God's (Jewish) Warriors where I got to produce for the great Christiane Amanpour and travel through Israel and the West Bank; interviewing President Obama and his family and friends with Suzanne Malveaux for our documentary about his life right before he got into office; spending real time with the great civil rights legend Congressman John Lewis at his office with a Soledad O'Brien interview and on my own with him at the White House this summer listening to him tell stories about what Dr. Martin Luther King Jr. was really like; interviewing a "saint-maker" a lawyer in Rome, Italy with Drew Griffin, the "saint maker" would go before the Congregation of Saints to try and get a nun from Indiana recognized as a saint and then we went golfing with the saint's last miracle (the man was going blind, prayed to her and now can see, and Mother Guerin did become a saint), and walking with a man through his gutted family home in St. Bernard Parish which had been wrecked by Katrina.
Tell us about your role at the National Lesbian & Gay Journalists Association.
I'm the national board president of NLGJA. I've been a member since 1996. In my current role I help guide the board and the organization overall to fulfill our mission which is to provide fair and accurate coverage of the LGBT community and to provide professional development opportunities for LGBT journalists.
What's your advice for someone thinking of going into journalism and also for someone who's just starting out?
CNN.com's managing editor, Meredith Artley may say it best. She told Mizzou's graduating class of journalists this year:
"The truth is that there has never been a better time for you to be a journalist. There have been easier times. All this disruption equals opportunity."
Often reporters would come to my classes in college and say "don't become a journalist" or "this profession is too hard" or "TV news is dying" and I'd say don't believe them.
If you want it enough, if you can devote every waking minute of every day to your work and you can push yourself to read widely, listen closely and network constantly...if you are good to your photographers and editors and you are nice to the people you meet be it your bosses or the people you are interviewing, you'll learn which questions to ask, which sentences are graceful and which are not, and what story ideas are good and which are not. If you are willing to learn and work hard and play well with others you can and will succeed.
Do you use social media as part of your job?
All the time.
What type of experts do you prefer to work with? Do you prefer someone in a higher level role or is someone not as high acceptable? The difference between a CEO and general manager, for example?
Most journalists would probably say whatever expert can give you the facts, can tell a story without using too much jargon, someone who truly knows what they are talking about and can give me more than just talking points, someone who can get back to me quickly.
Have you ever thought of doing anything else besides journalism?
I love research and I love to write. I have only ever really wanted to be a journalist. I did, however, enjoy working at two policy analyst jobs. I worked briefly at the Chicago Board of Elections on census data and voter maps during college and I also worked for NATO's Atlantic Council office in London while I was attending the London School of Economics. At the Atlantic Council I got to help the wonderful Director Alan Lee Williams develop policy and speeches about the nonproliferation of nuclear weapons. I also worked in the theatre. I would love some day to finish some of the plays and book projects I've started but have had to put aside.
When you're not busy on the field, what do you do in your spare time?
I'm on the road a lot for work, but I have the travel bug. My partner and I are pretty thrifty and save up to take regular trips overseas. We love art museums especially and the theatre, archeology and live music. I also am a founding board member of Girls Rock Camp ATL a non-profit organization dedicated to empowering girls and women through music education. Essentially the group provides leadership opportunities; it builds self-esteem, and creates a culture of collaboration for the girls through rock music. It's amazing to watch them grow and change as quickly as they have to form a band at the start of the week, learn an instrument, write a song, and then perform it for a paying audience at the end of the week. It's a wonderful project.
Whether you're a reporter, blogger, author or other content creator, ProfNet can help you with your search for expert sources. You can send a query to tens of thousands of experts and PR agents, search the more than 60,000 profiles on ProfNet Connect, or get timely experts and story ideas by email -- all for free! Need help getting started? Email us at profnet@profnet.com