On Tuesday, Aug. 20, we hosted our latest #ConnectChat, "Inclusive Diversity in America's Newsrooms" with Jen Christensen (@jechristensen), a writer and producer for CNN and president of the National Lesbian & Gay Journalists Association (NLGJA).
Jen talked about the importance of diversity in newsrooms, how the NLGJA can help journalists ensure fair and accurate coverage of the community, the NLGJA's conference and much more.
Please follow @ProfNet and @editorev on Twitter for more information on future chats or check back right here on ProfNet Connect for details.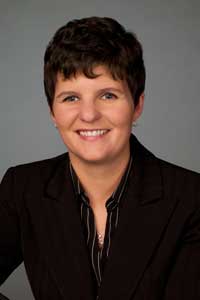 Welcome & thank you for joining today's #ConnectChat with @jechristensen! This is Evelyn Tipacti, taking over @ProfNet for the duration of the chat. Our guest today is Jen Christensen, a writer and producer for CNN and the president of the National Lesbian and Gay Journalists Association. Hi, Jen! Thanks for being our guest on today's #connectchat.
Great to be joining #connectchat. Thanks for having me. #NLGJA is happy to have this opportunity to talk about its important mission.
Jen, please tell us about yourself and how you landed at CNN.
Thanks for asking. I started out working in local news at #WXIN in Indianapolis. I was still in college at the time @ButlerUniversity and some brave news director put a 20 year old in charge of his newsroom on the weekends. I also worked as a segment producer, promotions producer, and show producer, it was a great first gig. I went on to work as a show producer @WTVQ in Lexington, Kentucky. Then my great news director came to me and asked if I wanted to help him start @WTVQ's first investigative unit. From there it was the investigative unit @WSOC and then through #NLGJA I met the main motivator to go to Atlanta: the Georgia chapter president. #CNN hired me to work as a producer at @CNNNewsource, CNN's connection to 800+ affiliates around the world. It was back to running a weekend newsroom. I went on to work as an investigative producer with CNN's Special Investigation Unit, CNN Productions (documentaries), medical unit, & now CNN.com . The job's been great –it's given me a chance to travel the world, interview presidents, and working at CNN has given me the chance to work with some of the smartest people in the business.
Jen, you're also the president of the National Lesbian & Gay Journalists Association (NLGJA) -- that's a pretty big responsibility. Can you please tell us about that role?
I work closely with our great executive director @MichaelTune & board to help guide the organization in the right direction. NLGJA's got a great mission & a wonderful staff & volunteers. NLGJA's got some of the best journalists in the business and some of the most thoughtful people I know.
What's the NLGJA's mission?
#NLGJA's mission is to work within the media industry to foster fair and accurate coverage of the LGBT community. #NLGJA also works to provide professional development & networking opportunities for LGBT media professionals. Read all about #NLGJA's mission here: www.nlgja.org/about .
Jen, what do you think are the most significant problems you see facing today's newsrooms in relation to diversity?
It's the same problems everyone is faced with in our business right now: We're asked to do more with less. If you don't have money & resources it's hard to further diversity -- whether it is in terms of hiring or training to promote people to the next level. We don't know exactly what will be the perfect business model to "monetize the content" as one manager called it. There is good news though. I think CNN Digital's VP & managing editor, @Meredith Artley said to Mizzou's graduating class "The truth is that there has never been a better time for you to be a journalist. There have been easier times. All this disruption equals opportunity..." Conventions like the ones @NLGJA, @AAJA, @NAJA, @NAHJ, @NABJ give members a training & networking advantage.
All of these conferences are worth attending for any journalist either starting out or experienced.
Why is it crucial for newsrooms to have LGBT journalists?
Generally, you want newsrooms to reflect the entire population we cover. LGBT journalists bring a different voice to the conversation –just like any member of a minority population. We can see things others might miss. Working from within we can stop media organization faux pas –which often happen, inadvertently. Sometimes people don't know the right terminology. For example, an #NLGJA member told me she was reading some copy that was supposed to be for pride month. The article was a nice profile of a business owner. It didn't, however, use terms that were all that gay friendly. In fact some of the terms were offensive. It wasn't the person who read this' job, but because she saw it and knew it could hurtful so she spoke up. Managers were glad she did. The reporter meant no offense and was horrified to know, thankfully there was someone in the newsroom watching out for them.
What has the NLGJA done to assure fair and accurate coverage of the LGBT community?
#NLGJA has a rapid response task force people can contact to report unfair or inaccurate coverage. People can contact #NLGJA's RRTF address is Rrtf@nlgja.org. #NLGJA RRTF then works behind the scenes to contact the media organization to let them know about the problem reporting. Often the media organization fixes the problem or works with the reporter to use fairer language in their future coverage NLGJA's also got a style guide (www.nlgja.org/resources/stylebook &...) to help journalists know the right language for covering the community. #NLGJA also works directly with newsrooms to help staff better understand the LGBT community. #NLGJA has a Heartland project that will work with @AAJA to diversify coverage in NE through a generous Ford Foundation grant.
Newsrooms continue to cut staff -- it seems fair and accurate are almost impossible these days. What can we individually do to ensure fair coverage?
I always tell reporters and editors in our newsroom who ask about LGBT issues the same thing the nuns told me -- there is no dumb question. If someone is unsure about the right word to use when covering the LGBT community, tell them to ask their LGBT colleague or friend or use our style guide. We don't want to be the word police, but you don't want to inadvertently seem biased or offensive. I advise widen your social circle to be as diverse as possible, that way you can quickly "phone a friend" for insight. If you see something that doesn't read right or seem fair, be sure to speak up. Most people don't mean to offend. NLGJA's Blogger forum is sponsored by the Haas Foundation.
Jen, have you seen any improvement within the past few years, despite the challenges?
Polls show more Americans think same sex marriage should be legal, as that's changed we've seen fewer letters to #NLGJA's RRTF. Most of the coverage that falls short these days involves trans issues. We are working especially hard right now to help reporters and editors better understand the trans community.
Do you think employers are starting to realize the importance of having a diverse staff?
I do think many managers believe in diversity and I think that will get even better in the future. I heard a speech from a marketing manager with a diversity specialty she said something really insightful. She said millennials have a hard time watching programs that don't have staff that reflects their world. Millennials, she said, expect diversity. Without it, the work doesn't ring true. At my company the slogan was "diversity drives innovation" and they weren't just paying lip service to that motto.
Well said and a good point.
Without mentioning specific outlets, what have been the worst scenarios you can mention regarding LGBT coverage?
Offensive language, biased coverage, one-sided reporting, salacious stories, insensitive portrayals of people in the community.
I know we all want to know more, but we'll leave it at that. ;)
Why do you think there's so much incorrect information out there regarding the LGBT community?
I don't think there is "so much" incorrect information, thankfully, not so much anymore, but when there is coverage that falls short it's often because the reporter or editor doesn't know someone from the LGBT community.
Jen, besides lack of LGBT journalists in America's newsrooms, what other issues does the community face?
We actually don't have hard data on how many LGBT journalists are in American newsrooms. I hope to fix that. We'd love a survey along the lines of ASNE's survey of minority journalists which calculates how many of us are out there. As far as LGBT issues journalists face, it's pretty much the same for all journalists: too much work, not enough resources, etc.
What are some of the biggest misconceptions about the LGBT community?
Often we'll get complaints about coverage of pride –the cameras focus solely on the scantily clad and stereotypes. There is an idea that all gay people are wealthy or white -neither is true. We'd love more in-depth and thoughtful coverage, but we've come a long way.
This year's convention is coming up -- where is it, what can we expect and can we still register?
This year's #NLGJA convention is in Boston August 22 to 25 www.nlgja.org/2013. The #NLGJA convention's keynote speaker is the New York Times' great @JillAbramson. #NLGJA has a great LGBT media summit on August 22. The #NLGJA convention offers dozens of panels that help journalists do their job better. And yes you can register on site –#NLGJA would absolutely love to see you there.
How is this year's #NLGJA conference different from the last one?
#NLGJA is in Boston for the first time in our history -this means we get to tap into all sorts of great local experts.
If someone is on the fence about becoming a member of NLGJA, why should they join and can non-LGBT members join as well?
#NLGJA provides the best networking and professional development opportunities for LGBT journalists & their friends. #NLGJA has a friendly set of volunteers and it truly is a wonderful group of people who are thoughtful and a whole lot of fun.
Jen, thanks so much for being our guest today!
Thank you. It's been a lot of fun.
Thanks as well to all who joined today and we'll see you next time!
Whether you're a reporter, blogger, author or other content creator, ProfNet can help you with your search for expert sources. You can send a query to tens of thousands of experts and PR agents, search the more than 60,000 profiles on ProfNet Connect, or get timely experts and story ideas by email -- all for free! Need help getting started? Email us at profnet@profnet.com