Media News Highlight shares articles and stories from the worlds of media and journalism that may be of interest to professionals who work in said industries and newsrooms across the country. We hope these links will help you stay aware of what's happening in these fields and also provide some advice to help you.
Please feel free to share your own relevant links in the comments section after the entry.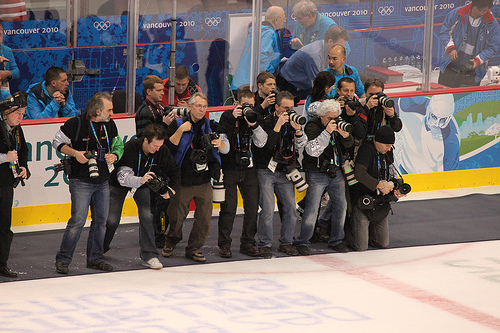 #ConnectChat Recap: Hispanic Media 2012 (via ProfNet Connect by Evelyn Tipacti)

"On Tuesday, Sep. 25, we hosted "Hispanic Media 2012," a #ConnectChat featuring Hugo Balta (@HugoBalta), coordinating producer at ESPN and president of The National Association of Hispanic Journalists. Hugo discussed various issues affecting the Hispanic media community including content creation, finding a job, media competition and much more."

New York Times reporter, photographer fooled by Cornell students giving false names (via Poynter by Andrew Beaujon)

"Courtney Rubin interviewed Cornell University students Michelle Guida and Vanessa Gilen for a New York Times article about the changing world of college bars."

How People Get Local News and Information in Different Communities (via Journalism.org)

"In January, 2011 the Pew Research Center's Project for Excellence in Journalism and Internet & American Life Project, in partnership with the Knight Foundation, conducted a nationally representative telephone survey of U.S. adults exploring local news consumption habits."

Female Editors-in-Chief Make $15,000 Less Than Men (The Atlantic Wire by Alexander Abad-Santos)

"The only thing equal is the job title. Even though there are stories of editors like Anna Wintour and Janice Min pocketing seven-figure salaries, Folio magazine's annual compensation survey found that on average, male editors-in-chief made about $15,000 more than their female counterparts last year."

SPOTLIGHT: Cheryl Simone, All News 99.1 WNEW, CBS Radio (via ProfNet Connect by Evelyn Tipacti)

"Welcome to our SPOTLIGHT feature, where we highlight a journalist and ProfNet user to share their personal story and insight with you. This SPOTLIGHT belongs to Cheryl Simone, a news anchor and reporter at ALL News 99.1 WNEW (CBS Radio)."

Cuban journalist arrested for his investigative reporting (via The Guardian by Roy Greenslade)

"The Paris-based press freedom watchdog, Reporters Without Borders (RSF), is concerned that the detention of Cuban reporter Calixto Ramón Martínez Arias is a return to darker days."

LA Times Will No Longer Attend USC or UCLA Practices as Schools Continue Battle with Newspapers (via Big Lead Sports by Jason McIntyre)

"The LA Times, in a bold move, has decided to stop covering USC and UCLA football practices. On the surface, this seems like a puzzling decision – readers will be outraged! – but the media landscape in 2012 is significantly different than it was 10 or 20 years ago. Athletic programs used to want to be chummy with the media in hopes of maybe getting more favorable coverage."

FT Has More Social Media Followers Than Customers (via FOLIO by TJ Raphael)

"More people interact with business newspaper The Financial Times through of social media than directly with the brand, according to a recent infographic released by the publication."

The genuine article (via Columbia Journalism Review by Kira Goldenberg)

"The news story is suffering an identity crisis. For a century at least, it was secure in the knowledge that its discrete inverted pyramid, with novel information at the top, was the best and only way to share scoops. But the news story has been Rip van Winkled&mda**** form no longer fits the platforms people are using to read it (or, increasingly often, to not read it)."

ESPN Has Most-Viewed 'SportsCenter' Following Controversial 'MNF' Game (via Broadcasting & Cable by Tim Baysinger)

Following its coverage of the Green Bay Packers-Seattle Seahawks Monday Night Football contest, which featured a controversial ending, ESPN's 90-minute postgame edition of SportsCenter drew 6.5 million viewers, making it the most-viewed on record (airing 20 minutes or longer).
ProfNet, a service of PR Newswire, has helped journalists and experts connect since 1992. Writers can search the ProfNet Connect database of more than 50,000 profiles; send a ProfNet query by email to thousands of subscribers around the globe; or get timely experts and story ideas by email.
Photo by Flickr user Robert Scoble