Media News Highlight shares articles and stories from the worlds of media and journalism that may be of interest to professionals who work in said industries and newsrooms across the country. We hope these links will help you stay aware of what's happening in these fields and also provide some advice to help you.
Please feel free to share your own relevant links in the comments section after the entry.

The New USA Today is Here (via Fishbowl NY/mediabistro by Chris O' Shea)
"Well, here it is. The all new USA Today. What do you think?"

Univision/ABC news website goes live… quietly (via Media Moves by Veronica Villafañe)

"There were no formal announcements. No press releases. Yet, today, the Univision/ABC News website was very quietly launched – the same day that Univision held its first "Meet the candidate" event with Republican candidate Mitt Romney."

Captivating Coverage: The Most Memorable Televised Moments (VIDEO - - via ABC News)

"Television united viewers to watch some of the most gripping moments in recent history."

Pew Study Looks At Photo, Video Sharing Habits (via 10,000 Words/mediabistro by Meranda Watling)

"There's a lot of pressure on journalists and news organizations to be everywhere, not just when it comes to feet on the ground reporting but also when it comes to tweets, pins, posts, etc. on all form of social media."

Journalists 'can't work without social media,' study shows (via Phys.org)

"More than a quarter of UK journalists are unable to work without social media despite an increasing number of concerns about productivity, privacy and the future of journalism, according to the 2012 social journalist study results."

Newspaper Jobs Shrink 40% In 10 Years (via MediaPost by Erik Sass)

"While plenty of industries have shrunk over the last couple of years, few have been hit as badly as newspaper publishing, which was already contracting before the economic downturn began. Since then, economic woes have simply reinforced the long-term trend."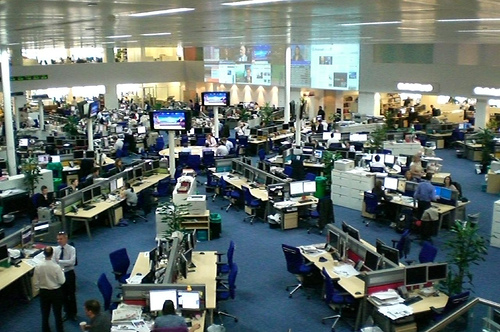 Why Newspapers Are Dying (via Cognoscenti by Ed Fouhy)

"It is a small and obscure agency in Washington, but the five-member Postal Regulatory Commission has just made a decision that could have a profound influence on the economic future of newspapers, including The Boston Globe."

When to blame your editor (via Columbia Journalism Review by Ann Friedman)

"Ugh. Being the one to raise these issues again and again gets tiresome, doesn't it? This is why some newsrooms, like NPR, are still investing in major diversity efforts—in the hopes that these sorts of questions will no longer be the province of the one or two nonwhite reporters in the room."

Increase Revenue By Offering Content That's As Diverse As Your Audience (via Editor & Publisher by Nu Yang)

"While content is still king at most newspapers, publishers faced with tight budgets, shrinking newsrooms, and scarce resources find themselves turning to third-party vendors to meet reader demand for specialized niche content."

'Daily News' touts gains with new national website (via CAPITAL New York by Joe Pompeo)

"Since the redesign and relaunch of the News homepage as "Daily News America" at the beginning of July, unique visitors to nydailynews.com have risen 21.6 percent to 19.1 million in August from 15.7 million in June, according to metrics from the web measurement firm comScore..."
ProfNet, a service of PR Newswire, has helped journalists and experts connect since 1992. Writers can search the ProfNet Connect database of more than 50,000 profiles; send a ProfNet query by email to thousands of subscribers around the globe; or get timely experts and story ideas by email.
Photo by Flickr user antony_mayfield