Media News Highlight shares articles and stories from the worlds of media and journalism that may be of interest to professionals who work in said industries and newsrooms across the country. We hope these links will help you stay aware of what's happening in these fields and also provide some advice to help you.
Please feel free to share your own relevant links in the comments section after the entry.
TV audiences go social as US Republican convention coverage wanes (via REUTERS by Christine Kearney)

"Howling wind, driving rain and potential damage in New Orleans from Hurricane Isaac hasn't yet dampened U.S. Republican convention media coverage, but early TV ratings proved only so-so while many people instead 'tuned in' to social networks."

Media get VIP treatment in N.C. (via Boston Herald by Joe Battenfeld and Hillary Chabot)

"President Obama doesn't really need to suck up to the media, but Democrats here are taking no chances. The Fourth Estate's finest, here to cover the Democratic National Convention, were treated to speeding-motorcade-style police escorts to a welcome bash hosted by the owners of the network Republicans love to hate: CNN."

What newspapers and other media could learn from Reddit (via GIGAOM by Matthew Ingram)

"Although it has a pretty wide following within a certain community of geeks and web natives, Reddit achieved another whole level of mainstream status recently when President Obama agreed to do one of the site's crowdsourced 'Ask Me Anything' interviews."

How journalists can take advantage of iPhone photography (via Poynter by Mallary Jean Tenore)

"Increasingly, photojournalists are turning to their iPhones and apps like Hipstamtic and Instagram to capture images."

Newspaper Publisher Journal Register Files for Bankruptcy and Plans for a Sale (via The New York Times by Christine Haughney)
"The Journal Register Company, whose newspapers include The New Haven Register and The Trentonian, has again filed for bankruptcy protection and hopes for a quick sale, said Digital First Media, which operates the company along with the MediaNews Group."

News orgs want journalists who are great at a few things, rather than good at many (via Nieman Journalism Lab by Bill Grueskin)

"It's the start of the school year, which means students are returning to journalism programs around the country. As the media industry continues to evolve, how well is new talent being trained, and how well are schools preparing them for the real world?"

The rules of the freelance game (via Columbia Journalism Review by Ann Friedman)

"Quick! Off the top of your head, name five editors you know will recognize your name and open your pitch emails. If you can't, it's too soon to go full-time freelance. Every profession is about connections, and journalism is no exception."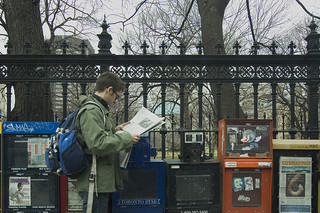 News boxes not welcome at new Journalism building (via The Daily Texan by Bobby Blanchard)

"As the Belo Center for New Media works to gear students up for the new digital age of journalism, some faculty and students are concerned it is leaving the print age behind."

Joanna Coles Named Editor-in-Chief of 'Cosmopolitan' (via mediabistro by Vicki Salemi)

"As Kate White steps down as editor-in-chief of Cosmopolitan, the magazine made famous by the late Helen Gurley Brown will have a new editor in charge."

Tor Project Offers a Secure, Anonymous Journalism Toolkit (via Idea Lab by Karen Reilly)

"'On condition of anonymity' is one of the most important phrases in journalism. At Tor, we are working on making that more than a promise. The good news: The Internet has made it possible for journalists to talk to sources, gather video and photos from citizens, and to publish despite efforts to censor the news."


ProfNet, a service of PR Newswire, has helped journalists and experts connect since 1992. Writers can search the ProfNet Connect database of more than 50,000 profiles; send a ProfNet query by email to thousands of subscribers around the globe; or get timely experts and story ideas by email.
Photo by Flickr user striatic