Media News Highlight shares articles and stories from the worlds of media and journalism that may be of interest to professionals who work in said industries and newsrooms across the country. We hope these links will help you stay aware of what's happening in these fields and also provide some advice to help you. Please feel free to share your own relevant links in the comments section after the entry.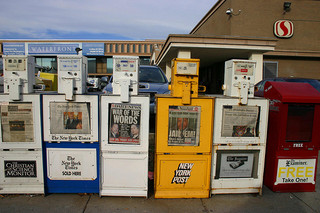 Saving CNN (via the New York Post by Michael Shain)

"Suffering its worst ratings in 20 years, CNN is going Hollywood. In the past few weeks, the No. 3 cable news channel has started seeking out reality-show ideas and big-name stars not afraid to talk politics. They have even begun working on a late-night talk show, The Post has learned."

Buckley to Sell WOR-AM in New York City to Clear Channel (via Radio Ink Magazine)

"Buckley Radio President and CEO Joseph Bilotta says, 'For more than 23 years, Buckley Radio has been the steward of one of the most legendary radio stations in broadcasting history and I would like to sincerely thank all of the wonderful people who devoted their time, energy, and efforts over the years to WOR Radio...'"

Game changer: AP Stylebook moves faster than Merriam-Webster as linguistic authority (via Poynter by Steve Myers)

"Merriam-Webster has officially sanctioned a bunch of words by adding them to the dictionary, hereby removing most of the fun of saying things like 'F-bomb' and 'sexting.' Merriam-Webster paints this as a way of keeping up with the changing nature of language, but of course we all know that it's a direct challenge to the AP Stylebook, which every cardiganed copy editor knows is the true arbiter of a journalist's vocabulary."

The Next Frontier In TV: English News For Latinos (via NPR)

"Jorge Ramos has a humbling problem. He is one of the best-known Hispanics in the U.S. and a respected news anchor for the Univision networks on which millions of Americans routinely rely. And yet, in Ramos' telling, his 14-year-old son, Nicolas, and his 25-year-old daughter, Paola, don't watch his newscasts."

On Univision's Nightly News, a Plea for Presidential Debate on Latino Issues (via The New York Times by Amy Chozick)

"Univision will use its nightly news broadcast on Wednesday to plead with both presidential campaigns to accommodate an additional debate, on Univision, directed at the issues of concern to Latino viewers."

WaPo levels false charge against Zakaria (via POLITICO by Dylan Byers)

"The Washington Post's Paul Farhi has leveled an inaccurate charge of plagiarism against Fareed Zakaria, the Time magazine columnist and CNN host whose credibility has been called into question following a separate admission that he lifted words from The New Yorker."

Show, don't tell
Sometimes the way data is visualized is as important as the data itself (via Columbia Journalism Review by Anna Codrea-Rado)

"Behind every great interactive is an even greater chart. Charting, the graphical representation of data, is the crux of any effective information visualization. In March, ProPublica built an interactive diagram about election results that at first glance looks complicated and intricate but is in fact a rather straightforward chart. A linked explanatory blog post helps readers understand the interactive. ProPublica's, like any other visualization, shouldn't merely dazzle with its graphic savvy—first and foremost, it must inform."

Wired Stands By Jonah Lehrer (via BuzzFeed by Ben Smith)

"Jonah Lehrer, the New Yorker ideas writer forced out for fabricating Bob Dylan quotes in a nonfiction book, is set to re-emerge as a writer for Wired, where he spent several years and wrote the Frontal Cortex blog, a magazine spokesman confirmed Wednesday."

Top 25 Most Popular Apps For Freelancers (via mediabostro/10,000 words by Meranda Watling)

"When it comes to software and apps to help them work, it's no surprise freelancers like free apps. But here's another non-surprise from a recent survey of about 100 freelancers conducted by BestVendor: They also love cloud computing. Most of the top 25 most popular apps from that survey were a combination of both."

Fox TV executive David Haslingden leaving company (via the Los Angeles Times by Meg James)

"David Haslingden, a top Fox television executive who got his start in Australia and served in far-flung operations of Rupert Murdoch's empire for nearly 20 years, is leaving News Corp."
ProfNet, a service of PR Newswire, has helped journalists and experts connect since 1992. Writers can search the ProfNet Connect database of more than 50,000 profiles; send a ProfNet query by email to thousands of subscribers around the globe; or get timely experts and story ideas by email.
Photo by Flickr user Elvert Barnes