Our next #ConnectChat will be a special, fun event with plenty of chatting and hopefully, more fun! I'm calling it a "halfway through" update where we can focus on the challenges and the success we've had during the first half of 2012.
Back in November, we did the #ConnectChat in a similar "freestyle" format where we chatted with each other instead of having one special guest discussing a timely topic. In order to be one of our special guests, all you have to do is participate in the conversation! That's it.
"Halfway Through 2012" will take place on Tuesday, July 3, from 3 to 4:30 p.m. EDT. What did you achieve and where did you fall short? Are you pleased with what you've accomplished or do you have to work harder?

To submit questions in advance, please email profnetconnect@prnewswire.com or tweet your question to @profnet or @editorev.
Join us for the chat and see what advice your colleagues have for you. Tweet your question with the #connectchat hashtag, and answer questions from others participating in the chat. If you can't make it to the chat, don't worry -- a transcript will be provided on ProfNet Connect the next day.
We look forward to chatting with you!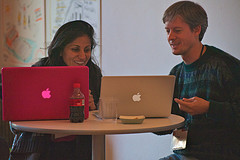 ProfNet, a service of PR Newswire, has helped journalists and experts connect since 1992. Writers can search the ProfNet Connect database of more than 50,000 profiles; send a ProfNet query by email to thousands of subscribers around the globe; or get timely experts and story ideas by email.
Image Credit: Ed Yourdon (2010) Flickr