Blog Notes is a weekly helping of blogs recently reviewed on PR Newswire for Bloggers. Would you like your blog reviewed? Tweet to PR Newswire media relations manager Christine Cube at @PRN4Bloggers.
It's getting cooler on the East Coast. When the temperature plummets, I think of my best friend in Texas, who's a master at knitting. She'd like a blog like Knitting to Stay Sane. The gorgeous knits and photos -- all are things an artist can appreciate. Knitting to Stay Sane is written by Glenna, a knitter near Toronto. "Having learned to knit as a child, I would say that I became a true "knitter" more than seven years ago while studying for my PhD, as a form of stress relief and distraction," Glenna writes. "I finished the PhD and kept on knitting anyway." She's since added knitting design and teaching to her repertoire and has produced "knitting patterns for self-publication and for independent yarn dyers for several years." Read the full post on PR Newswire for Bloggers here.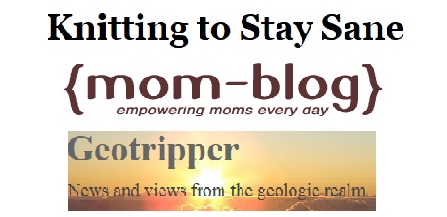 Mom-Blog covers special needs parenting, education and motherhood. It's written by Gina Badalaty. In her words: "I'm raising 2 amazing daughters with disabilities, and my mission is to inspire and encourage other moms of kids with special needs and difficult diets." Mom-Blog features posts on parenting, allergen-free lifestyle, special needs, just for mom items, and deals. Badalaty says she specifically enjoys working with brands that resonate with special needs parents in the areas of gluten-free, celiac friendly, eco-friendly and organic, and autism, to name a few. A couple recent interesting posts include Safeguarding Your Child's Special Diet this Halloween and Blessings, Love and Autism. Read the full post here.
The government shutdown in Washington has shone an unfortunate spotlight on a number of things. A huge number of my friends have been furloughed and are wandering around DC, taking advantage of the shutdown freebies and deals that stores and restaurants are offering federal workers. Then there are the national parks and sites that have been closed across the country. And I've noticed on social media, this appears to have been almost "the final straw." The ripple effect of what's happening in Washington is the reason I sought out today's blog to profile. Geotripper provides "news and views from the geologic realm." Teacher and blogger Garry Hayes recently wrote that due to the recent federal government shutdown, he's having to retool a planned overnight field studies trip to Sequoia and Kings Canyon. In this post, he writes about hitting the road and going to unexpected places. Hayes teaches geology at Modesto Junior College. He's also a former president of the National Association of Geoscience Teachers, Far Western Section. Read the full post here.
Christine Cube is a media relations manager with PR Newswire and freelance writer. You can follow her @cpcube or see what's happening over @PRN4Bloggers.