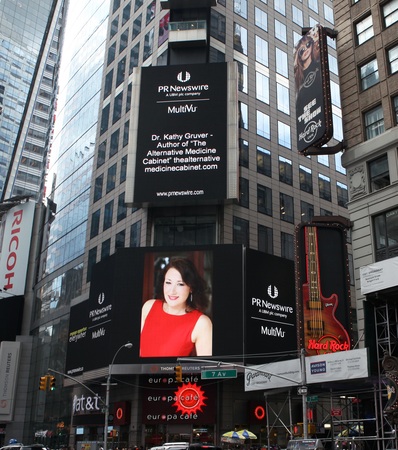 Congratulations to ProfNet member Dr. Kathy Gruver who was featured in Times Square as part of our Facebook promotion! Dr. Gruver is an award-winning writer, speaker, educator and practitioner. She is the author of "The Alternative Medicine Cabinet," and has contributed to numerous publications including Glamour, NPR and Men's Health to name a few.
Dr. Gruver shared her success stories on our Facebook page as part of our monthly promotion, whereby we choose our favorite success story from our Facebook wall each month and that person gets his/her picture on the Reuters sign in Times Square.
Thanks to ProfNet, Dr. Gruver was quoted in a Health.com article titled, "10 Things You Should Never Do When You're Angry." This article also appeared in Time.com and FOXNews.com. The story was then translated into about 15 different languages, giving her constant media notifications that her quotes were being read in different countries around the world.
"I initially hesitated to sign up with ProfNet. I was using some of the free services and wondered why I would need yet another. But wow! I have had so many amazing opportunities from ProfNet -- TV, radio, print, national and regional outlets. Well worth the money and yet another resource I can use to get my message of health out. And a billboard in Times Square! Yeah, it was worth it!" she said.
Want to see your picture in Times Square? It's easy:
Step 1: "Like" our Facebook page (go to www.facebook.com/ProfNetOnFB -- not the FB logo on the top of this page).
Step 2: Share your best success story on our wall.
That's it!
Make sure to post your success stories there every month, and you could be next!
Whether you're a reporter, blogger, author or other content creator, ProfNet can help you with your search for expert sources. You can send a query to tens of thousands of experts and PR agents, search the more than 60,000 profiles on ProfNet Connect, or get timely experts and story ideas by email -- all for free! Need help getting started? Email us at profnet@profnet.com