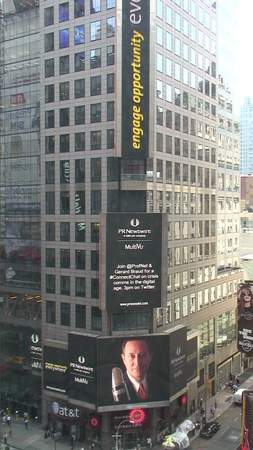 On May 27 we hosted a #ConnectChat with Gerard Braud, a media training and crisis communications expert, and the CEO of Braud Communications. During the chat he provided how to prepare for a crisis before it occurs, as well as tips for what to do when "it" hits the fan – especially now that we live in a digital age. To view the chat in its entirety, check out the #ConnectChat hashtag on Twitter.
What should all companies be doing now to help themselves *before* a crisis occurs?
Crisis communication in the age of social media requires a five-step process:
Step 1 – Conduct a Crisis Communications Vulnerability Assessment. A Vulnerability Assessment identifies your potential "it" when "it" hits the fan. Here is an article: bit.ly/1wfOG2W
Step 2 – Write the heart of your Crisis Communications Plan.
How long is your average crisis communications plan?
My average Crisis Communication Plan is about 50 pages long.
Step 3 – Create a library of pre-written news releases. In my plans, the addendum usually has 100-150 pre-written news releases. Most #PR people start with a blank computer screen on the day of the crisis. That leads to delayed responses from the corporation. Meanwhile social media is share to info – true and false. Usually there is no official corporate response for many hours. A PR person and corporation should be able to respond in one hour or less. Most delays result from executives proof reading the news. Yet in a social media world that is still 59 minutes too long. The traditional proof reading and edits take too much time. But a pre-written news release can be proof read years before it is needed. Use fill-in-the-blanks and multiple choice in these pre-written releases. Write in the facts that you know are always true for a crisis. Answer questions you know reporters will ask. The pre-written release can be used for all audiences. Use in this order:
Media who are on-site first -- read it to them news conference-style
Post to Web second
Email link to employees third
Email Web link to other stakeholders fourth
Post Links to website on social media fifth
Step 4 -- Crisis communications annual media training for all spokespeople.
Step 5 -- Crisis communications drill annually with mock news conferences.
Read more on crisis communications plan writing here: bit.ly/1jXY9aZ
How should a company go about developing a crisis communications plan, and how often should it be updated?
First – stop copying what other PR people have written. Most crisis communications plans are six pages long and useless. A crisis communications plan should not be just standard operating procedures. It should be clear and have sequential directions. It should be held and read while executed. Reading a crisis communications plan during crisis means nothing is forgotten. A crisis communications plan must be a living document and should be updated at least once a quarter and after any crisis event. When updated, it should include social media. A crisis communications plan must be tested at least once a year with a drill. During your #drill, use the pre-written news releases for you mock news conference.
What if your company has few followers and rarely utilizes social media? How should they approach using it in a crisis?
Many brands and companies are not attractive to a social media audience. I have no desire to follow my
bank, gas station, or electric company on a normal day. But during a crisis, I may check out their social media sites for updates. Many electric companies I work with are great examples. On a normal day, the electric company may have very few followers. But if there are tornadoes, snow storms, hurricanes, etc. and the power goes out, people turn to their cell phones. Most customers migrate to Facebook for information when the power goes out. Hence, a social media presence is important during a crisis, even if it is useless on a sunny day. Read more about social media when you are a small part of a bigger crisis: bit.ly/1huDypl
What are some ways that a company can respond to negative messages from their customers/audience?
Take the discussion offline if possible. Reach out with a person-to-person phone call. An online response cannot communicate the empathy and concern that a voice can on the phone. An online response moves the negative discussion up in news feeds, leading to more negative comments.
I do, however, like using YouTube to respond to other YouTube videos. YouTube is great for matching SEO if you respond quickly with identical title. Read more about SEO in a crisis here: bit.ly/1h9nVZX
How has social media made it more difficult to deal with a crisis? What are some examples?
BP spent a fortune on social media during their Gulf oil spill. BP's social media was useless because it was self-center and promotional. It showed too many pictures of the CEO congratulating workers. BP failed to show the reality and had very few followers. Read more about BP blunders here: bit.ly/1mlnMzM. Meanwhile, social media bashed BP with #oilspill & #BP.
When Domino's Pizza had a YouTube video posted, they responded slowly. The video showed a worker putting cheese in his nose. Domino's waited 2-3 days to respond on YouTube. Using a pre-written news release like I suggested earlier, the response could have been faster. Domino's could have used a smartphone and posted a video in minutes. They could have maximized SEO using the identical title but instead, they posted a bad, angry rant with the CEO reading a cue card. Read more on Domino's here: bit.ly/1puX8qj.
Burger King had their Twitter account hacked, but then failed to acknowledge the hack on their own Facebook page. BK customers were talking about it on the Facebook page, while BK was still promoting $25 coffee. BK told the media they would issue a statement later in the day. That's crazy! Issue the statement now. Use a pre-written news release. Read more about Burger King here: bit.ly/1mzm2og.
Social Media lights up when there is a school shooting. Schools send out text alerts, which are notification, not communications. Parents don't get actionable information and texts to parents in a school shooting cause panic. Schools fail to have a crisis communications plan and are slow with official information. Sadly, social media adds to confusion in a school crisis. A school may issue an all-clear, yet retweets are posting old information. Read more about social media confusion here: bit.ly/1ioneXi.
When Chobani had a food recall last year, they thanked people on Facebook who supported them. Each time a positive thank you was posted it generated hundreds of negative comments. Each positive and negative post pushed the discussion higher in everyone's news feeds. Sometimes in social media less is more in a crisis.
How has social made it easier during a crisis? Are there examples?
Direct tweets to reporters are highly effective. I've used direct tweets in many of the crises I've managed. Reporters often respond faster to a direct tweet than to a call, text or email. Weather events for electric companies are a good time to use social media. When the electricity goes out, people turn to their phones and to Facebook for info, so weather and power outages present a perfect time to communicate on Facebook. YouTube videos are a great way to convey empathy and concern in a crisis. YouTube videos are a great way to respond to a negative YouTube video. I often use social media to report on hurricanes in New Orleans. My social media posts lead to me to doing live reports on CNN and Weather Channel. Combine social media and technology and you have a complete package. Check out these tutorials: bit.ly/1jqvyFv.
Now that we know how social media has made crisis comms easier/more difficult, what do you do if it *is* the cause of your crisis?
Respond in kind through the same channels. We talked about Dominos earlier -- they should have responded on YouTube within one hour: bit.ly/1jqvyFv.
We talked about Burger King earlier – they took down their hacked Twitter feed, but failed to respond on their Facebook: bit.ly/1jqvyFv.
Sometimes there is just social media stupidity – for example Anthony Weiner. You can't undo a crisis on social media that you caused on social media. You can't Tweet your way out of a crisis. Social media can be a crisis communications tool, but you must still use traditional communications. Tried and true still beats shiny and new. News conferences and websites are critical: bit.ly/TQEcZ7.
People sometimes post unverified info in order to be first (instead of ensuring accuracy). What are your thoughts on this?
I hate that. It happens in mainstream media and social media. Social media spreads lies and rumors faster than anything that has ever come before it. Journalists need to stop reporting unconfirmed information from social media. When I was a reporter we confirmed everything with multiple sources. During Water Gate, everything was confirmed with three sources before it was reported. I miss the old days when it comes to integrity and confirmation of information. Being first and wrong has no virtue.
During a crisis, computer/Internet access can be limited. What are some ways to get the message out?
Smartphone technology is our best weapon when the electricity goes out. During Hurricane Isaac in 2012 I did five days of live reports to CNN and Weather Channel. I had no electricity for five days and no Internet, yet I filed live reports via iPhone and Skype. Here are 23 tutorials: bit.ly/1jqvyFv. Also mobile apps should allow you to update your official website. Smartphones make it easier than ever before to communicate during a crisis.
How should SEO play a part in writing an effective crisis communication plan?
Each crisis communications plan should have pre-written news releases. Call the event what it is. A fire is a fire, not an incendiary event. Corporate lawyers are notorious for trying to sterilize language. That's stupid. Title your website news release with the words people will search.
What are some of the key words to use – and ones to avoid – in your crisis tweets?
As with any crisis you want to avoid repeating the negatives. You must remain honest. You must avoid spin in a crisis. Title things with the words people would type into Google to find you. Read more about SEO in a crisis here: bit.ly/1h9nVZX.
Is it ever appropriate for a company to use humor when communicating a negative situation to their audience?
Humor can be dangerous. The written word does not communicate voice inflection or facial expressions. If the crisis was caused buy something humorous, ironic or silly, self-deprecating humor might work, but most crises are too serious to use humor.
When it comes time to speak to the media directly, who should do the talking, and how should a company choose?
First hour -- PR spokesperson should use a First Critical Statement. Download a free Frist Critical Statement if you don't have: bit.ly/1jXY9aZ.
Second hour -- Subject matter expert: If fatalities are involved, the CEO should speak after the crisis is under control. CEO should run company and manage crisis management team before running mouth. All spokespeople should go through media training at least once a year. All spokespeople should conduct mock news conferences during crisis communications drills. One of my most popular blog artilces is about picking the right spokesperson: bit.ly/1kc6cv8
To keep up with all of Braud's timely blog posts, bookmark his page here: blog.braudcommunications.com
Whether you're a reporter, blogger, author or other content creator, ProfNet can help you with your search for expert sources. You can send a query to tens of thousands of experts and PR agents, search the more than 60,000 profiles on ProfNet Connect, or get timely experts and story ideas by email -- all for free! Need help getting started? Email us at mailto:profnet@profnet.com