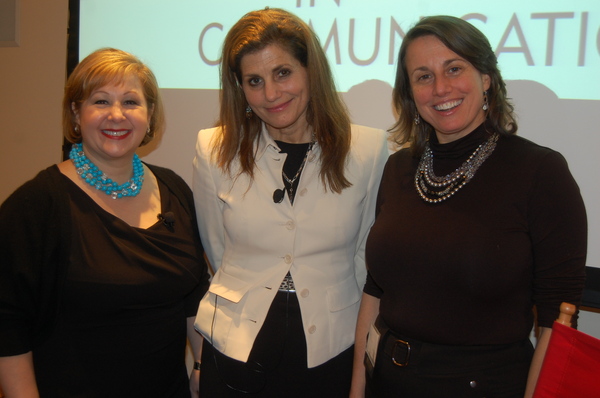 On Feb. 6 I attended a New York Women in Communications (#NYWICI) Cocktails & Conversations panel at Time Inc. The conversation between Linda Descano and Diane DiCostanzo was both interesting and informative for anyone who is curious about where content is headed. Descano is the managing director and head of content and social at Citi, as well as president and CEO of Women & Co., an award-winning digital publisher of financial lifestyle content. DiCostanzo is the vice president and editorial director of Time Inc. Content Solutions.
Companies are looking to create lasting impressions on customers with strategic content in order to leave an impact. "Brands more than ever feel they need to be out there with content marketing," DiCostanzo says, kicking off the conversation.
When coming up with a marketing campaign, it's important to ask yourself: Is this valuable from the consumer standpoint? "Content marketing is the new marketing currency. Content provides the vehicle to spark the conversation."
Understanding your audience and the consumer mindset on each channel is as important – if not more important – than what you say. "Think about where you can contribute to a conversation," Descano advises. But be transparent – make sure it's clear to consumers whether your content is advertorial or editorial.
Descano gave us a glimpse into what goes on behind the scenes of a large consumer business' social media strategy. First, she says to establish a voice for the company, and come up with editorial guidelines that keep the posts consistent and authentic on each different platform. You should build an "ecosystem" of regulators and lawyers to ensure that you adhere to FTC guidelines, and plan ahead of time how many posts you need per week, so that the regulators are aware of how much they will be reviewing.
One thing to keep in mind is the objective of your content. Is it targeted content that is meant to reach the company's bottom line or is it meant as a way to build trust between consumers and your product? See what type of conversations you're sparking with your audience. This helps the business maintain as well as extend its reach.
Remember that not all consumers will have nice things to say on your social media accounts. Be prepared for when people talk back by having feedback and feedforward. This will show people that you value them – in fact, many customers are pleasantly surprised that people acknowledge them and follow through in order to help solve their issues.
One final thing to keep in mind is that you must always be willing to learn – as well as unlearn – things as you go.
Whether you're a reporter, blogger, author or other content creator, ProfNet can help you with your search for expert sources. You can send a query to tens of thousands of experts and PR agents, search the more than 60,000 profiles on ProfNet Connect, or get timely experts and story ideas by email -- all for free! Need help getting started? Email us at mailto:profnet@profnet.com