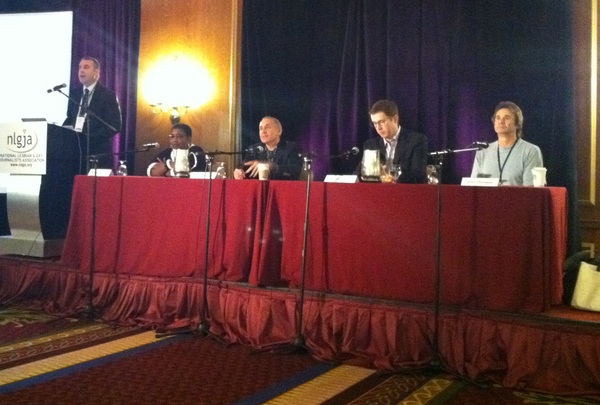 Journalists did remarkable work covering the stories surrounding the Boston attacks. As everyone knows, there were mistakes made due to the speed of reporting during that fast-paced week.
At the NLGJA 2013 National Convention [#nlgja13], we heard from the reporters who covered the stories as they were unfolding. These are the people who "kept people's smartphones buzzing around the clock." This is thanks to new media, which amplified how we received our news surrounding the events of the bombings.
For local reporters, though, this was their time to shine. Since everything was going on practically in their front yard, they were more aware of their surroundings than the national media. Here's what they had to say about that hectic week in a panel moderated by Geoff Dankert:
John Tlumacki – The Boston Globe
As a photographer for The Boston Globe, Tlumacki was at the finish line when the explosions occurred. From then on, he worked nonstop. When Obama came to Boston the next day he was on the scene to cover it.
"We're always waiting for the big one, and this was the big one. And we reacted." One way that they had to react was to change their way of thinking from a happy, citywide event, to a tragedy.
To keep up to date on the latest information, Tlumacki says they would listen intently to police scanners, then follow up with the source to confirm if the facts are correct.
Since covering these tragedies can surely have an effect on someone, he made a pact to document the recovery of some of the victims as well.
A takeaway from the events of that week, was that you should never underestimate human compassion. There could have been another explosion for all we knew, but so many people continued to help.
Since the city treats the Boston Marathon like its own holiday, Kelly thought the day would be light, with some happy reporting about the race.
For him, it was hard to process what he was seeing. He felt a sense of comfort in the number of heroes that were seen during the event, not knowing if there would be other explosions, yet still offering their help to the victims. Looking for the "helpers" in a situation is helpful in dealing with it.
Something that Kelly learned from the Boston Marathon was that you should always be involved in online media – not just Twitter. For them, the best feedback that they got was the information that they were putting out online – not just on TV.
Working online, Davidow says that he can be anywhere at any time, which is beneficial to his job. When the explosion occurred, they didn't have a disaster plan in place – he and his team just prepared to work quickly. He says that there was a quick saddle-up, but the most intense part about the experience was how long the event lasted.
"NPR might not have the most breaking news, but oh we're wicked smart." In that sense, Davidow says to report on what you know and "attribute, attribute, attribute." It's worth the extra minute to make sure your facts are straight before going on the air.
As far as social media, he says that there are some people who are fluent in it, and then there are some who parachuted into it. From a digital point of view, he believes that Twitter was "scanner crap," and that it's where you go to start your research – because then you still must verify the information.
To keep staff's wellness in mind during such events, it's important to remember to take care of those who are working around the clock. Setting up a rotation so that people can go home for a break is necessary – not only for their physical well-being, but also their emotional well-being during such a draining time.
Callie Crossley - Under the Radar
Throughout the week, Crossley believed that the local media was great – and that the national media didn't do as well. The local reporters know the sites and what to focus on. To her, excellent journalism is knowing your community. For the local Boston reporters, this was all happening practically in their backyards. Sometimes it's better to realize that the local media is doing a good job, and to just go with it.
Going forward media outlets should derive a disaster plan in case something like this ever happens again, since surprisingly a lot of newsrooms don't have plans in place.
Whether you're a reporter, blogger, author or other content creator, ProfNet can help you with your search for expert sources. You can send a query to tens of thousands of experts and PR agents, search the more than 60,000 profiles on ProfNet Connect, or get timely experts and story ideas by email -- all for free! Need help getting started? Email us at profnet@profnet.com