With all of the negativity that can be seen through social media, it is nice to find people whose words are uplifting and positive. Twice a month, I will spotlight a person (or organization) that is making an impact on their followers using social media as platform.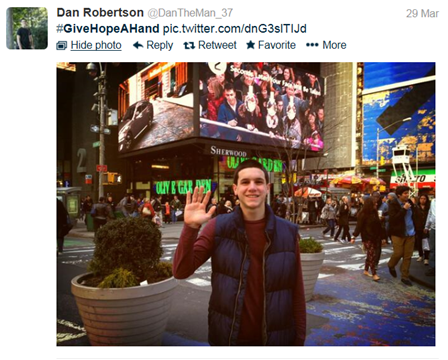 Hyundai Hope on Wheels has been committed to helping find a cure for childhood cancer, donating millions of dollars to pediatric cancer research over the course of 15 years. Their goal is to surpass $72 million by the end of this year – topping the impressive $58 million+ dollars that they've donated to the cause to date.
They have integrated a social media campaign into their cause, enhancing both awareness and participation from people all over the country. Their Facebook page, which has over 20,000 followers posts stats, inspirational quotes and photos of people lending their hand and getting involved. They also post photos on their Instagram account, and have videos from some of their various events on their YouTube page.
My favorite social media channel from the cause is their Twitter account, which in the past year has kicked off a unique campaign that allows people to show their support for pediatric cancer. By searching the hashtag #GiveHopeAHand (which can also be used on Instagram), you will be directed to a thread filled with photos of people's hands and their colorful handprints.
You may be wondering what the tie in between handprints and pediatric cancer is. The reasoning is described on the Hope on Wheels website, which states:
"There is nothing more personal than a handprint, each is distinctive in its own way. Whether it's completing a round of chemo, celebrating a beautiful new head of hair or receiving a clean bill of health, one child's milestone can be another's symbol of hope. And these handprints serve as our symbol."
Want to get involved? Follow them on Facebook, Twitter and Instagram and post a picture of your handprint and tag it by including #GiveHopeAHand.
Do you know of a company that is using social media in a distinctive way to better the community? Let me know! You may even be featured in an upcoming column.
Whether you're a reporter, blogger, author or other content creator, ProfNet can help you with your search for expert sources. You can send a query to tens of thousands of experts and PR agents, search the more than 60,000 profiles on ProfNet Connect, or get timely experts and story ideas by email -- all for free! Need help getting started? Email us at profnet@profnet.com